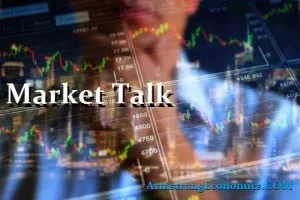 Am eager to get onto the US's reaction to weekend events, so will just briefly say that China markets performed on the back of strong PMI data – the highest in three months (52.7 against a previous 51.5). RBA left rates unchanged. The remainder of the trading day focused on US markets reaction to the weekends news of the North Korean hydrogen bomb test as the American reaction dominated Europe in afternoon trading. Europe was open Monday but with thin volume traders were reluctant to take markets too far. Worth a late mention is the strength of the yen in the safety run; yen last seen trading mid 108's (1% stronger on the day.
Even in Asian trading the futures markets were weak, but it was not until the cash market opened that attention was focused. Soon after the open the DOW was 170 points lower and after a brief bounce the selling returned. The United Nations is expected to make official comment soon after its emergency meeting. Many of Europe's core closed ahead of the US decline as they were caught by the mid-morning bounce. DAX actually closed higher and so will reflect its reaction in Wednesdays trading. FTSE, CAC and IBEX were all down around -0.5%. By the mid-session the DOW was off 270 points (-1.25%) with S+P and NASDAQ in similar territory. Volumes have increased to levels that should be taken seriously reflecting a very good chance that this move has only just begun. the afternoon session played just off the days lows and was anything but a reassuring bounce! Gold found support in the safety rush bouncing over 1% and was last seen $1345 ($+16).
Nerves are already running high on both sides of the Channel but today we heard that the Polish President Andrzej Duda. He commented that if the EU were to continue with its plans to integrate nations at differing speeds then the EU risks losing its allure. BREXIT obviously still a talking point but sounds like both sides are having to readjust their time-lines.
Bond market reaction has seen the flow into US treasuries with the spread between US and Germany tightening 7bp. Especially given we have the ECB in play later this week, its interesting why the Bund hasn't benefited in the 'current' flight to safety.
2's closed 1.29% (-5bp), 10's at 2.07% (-10bp), 30's 2.69% (-9bp), Bunds 0.33% (-3bp) which closes the US/Germany 10yr spread at +174bp (-7bp). France 0.64% (-4bp), Italy 1.99% (-4bp), Greece 5.39% (-4bp), Turkey 10.38% (+3bp), Portugal 2.78% (u/c) and Gilts 1% (-5bp).