Blog/Market Talk
Posted Sep 5, 2019 by Martin Armstrong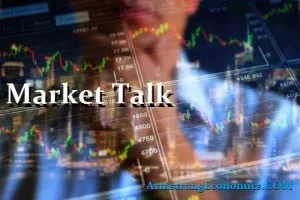 ASIA:
There was a somewhat successful call yesterday between US Treasury Secretary Steven Mnuchin and Chinese Vice Premier Liu He. The call concluded that the US and China will resume trade talks in person at the beginning of October. In the run-up to the event, the two countries will hold a discussion in order to prepare for the talks. Meanwhile, President Trump has told reporters at the White House, "Let me tell you, if I wanted to do nothing with China, my stock market, our stock market would be 10,000 points higher than it is right now … But somebody had to do this. To me, this is much more important than the economy … It was out of control. They were out of control." Later, Trump went on to order US companies to cut ties with China via Twitter and also threatened to federal law to make it illegal to do business with China.
Japan and South Korea are no closer to mending ties. The most recent spat is over a flag, the colonial rising sun, in which South Korea asked Japan to ban the flag in which they disagreed. The flag represents the Japanese Imperial conquest and occupation of parts of the Pacific and Mainland Asia in the 30s and 40s. A South Korean member of the Democratic party has likened the flag to Nazi Germany and said if the flags are allowed it will be "the most shameful event since the 1936 Nazi Olympics."
India has certified their stance with Russia after President Modi told reporters that any sanctions imposed on Russia with not have an effect on their trade with Russia. He went on to state that India has made significant investments in the oil and gas sector in Russia.
The major Asian stock markets had a mixed day today:
Shanghai increased 28.45 points or 0.96% to 2,985.86
Kospi increased 16.22 points or 0.82% to 2004.75
ASX 200 increased 60.20 points or 0.92% to 6,613.20
NIKKEI 225 increased 436.80 points or 2.12% to 21,085.94
Hang Seng decreased 7.70 points or -0.03% to 26,515.53
SENSEX decreased 80.32 points or -0.22% to 36,644.42
The major Asian currency markets had a mixed day today:
AUDUSD increased 0.0021 or 0.31% to 0.6817
NZDUSD increased 0.0019 or 0.30% to 0.6377
USDJPY increased 0.5730 or 0.54% to 106.9530
USDCNY decreased 0.0101 or 0.14% to 7.1359
Precious Metals:
Gold decreased 33.05 USD/t oz. or -2.13% to 1,518.76
Silver decreased 0.819 USD/t. oz or -4.18%% to 18.7135
Some economic news from last night:
Australia:
Exports (MoM) (Jul) remain the same at 1%
Imports (MoM) (Jul) increased from -4% to 3%
Trade Balance (Jul) decreased from 7.977B to 7.268B
Japan:
Foreign Bonds Buying increased from -910.3B to 1,495.7B
Foreign Investments in Japanese Stocks decreased from 3.9B to -89.5B
South Korea:
Current Account (Jul) increased from 6.38B to 6.95B
Some economic news from today:
Indonesia:
Consumer Confidence decreased from 124.8 to 123.1
EUROPE/EMEA:
The ECB expected incoming head Christine Lagarde has told the media that she urges rich country states to spend more to help central banks protect the economy. A "majority of countries in the euro area," she said, had "the capacity to use the fiscal space available to them" to invest in sectors such as infrastructure. She also alluded to the continuation of her predecessor Draghi in the massive bond-buying program as well as the potential to further lower rates.
The UK government has told those EU nationals living in the UK that they will have a grace period of three years in the event of a no-deal Brexit. The government announced the "temporary leave to remain" scheme will replace free movement. This would allow EU nationals who arrive before the end of 2020 to stay until December 2023. They concluded that online applications will be simple and free to do.
The EU has indicated that it is open for an extension to Brexit if the UK chooses to ask for one. Yesterday, we saw parliament vote for a block to a no-deal Brexit, which would cause PM Boris Johnson to ask for an extension from the October 31st date. Although he is adamant the UK will be out of the EU by that date.
PM Boris Johnson's brother has quit as MP and universities minister after he says he feels he is "torn between family loyalty and the national interest." He mentioned he was feeling "unresolvable tension."
The Iranian President Rohani, as expected, stated that Iran will enrich uranium in an accelerated way. "From Friday (6 September), we will witness research and development on different centrifuges … needed for enriching uranium in an accelerated way," he said. The EU was given a chance to help resolve the deal as the US walked out in 2018. The EU (or France) came up with a solution to offer a loan to Iran of 15 billion USD for sanctions relief. Meanwhile, the Israeli PM Netanyahu flew to London to sit down with PM Boris Johnson, urging them to stop talks with Iran over the nuclear deal – and to spurn any chance of the 15bn USD loan from going ahead.
The major Europe stock markets had a mixed day today:
CAC 40 increased 61.30 points or 1.11% to 5,593.37
FTSE 100 decreased 40.09 points, or -0.55% to 7,271.17
DAX increased 101.74 points or 0.85% to 12,126.78
The major Europe currency markets had a green day today:
EURUSD increased 0.0005 or 0.04% to 1.1038
GBPUSD increased 0.00755 or 0.62% to 1.23255
USDCHF increased 0.0060 or 0.61% to 0.9865
Some economic news from Europe today:
Swiss:
GDP (QoQ) (Q2) decreased from 0.4% to 0.3%
GDP (YoY) (Q2) decreased from 1.0% to 0.2%
Spain:
Spanish Consumer Confidence decreased from 97.0 to 86.0
Germany:
German Factory Orders (MoM) (Jul) decreased from 2.7% to -2.7%
US/AMERICAS:
The Dow rose early in the day after it was announced, yet again, that the US and China will resume trade discussions. As President Trump said last month, the public should reserve their judgments until an actual deal is finalized. The two disputing countries held a phone conversation this Thursday in which they agreed to meet face to face in October. A writer for the People's Daily, China's official communist censored newspaper, stated that he believes the trade talks will make "substantial progress" due to the US being "worn out by the trade war." Meanwhile, the US continues to maintain that they are benefitting from the increased tariffs on China, and it would come as no surprise if President Trump continued to tax China until a deal favorable to the US is reached.
August's jobs report is set to be released this Friday. Analysts are anticipating a summer slowdown or neutral report. Recent data reported to a manufacturing contraction last month, which will likely have an impact on that sector. Ahead of the official release, President Trump stated that the report was positive.
Deputy Governor Lawrence Schembri reiterated the Bank of Canada's position to maintain interest rates. Schembri confirmed that the Canadian economy is solid with "a welcome degree of resilience to possible negative economic developments." However, in addition to ongoing international trade disputes, the central bank cited other concerns that led them to maintain rates. Schembri noted a drop in business investment, which could be related to trade disputes, along with weaker consumer consumption. "Trade policy uncertainty has been weighing on business investment and exports for a couple of years now. And things could certainly get worse internationally, which would deliver a complex shock to our economy affecting both supply and demand," the deputy governor noted, reminding the Canadian public that the domestic economy is indeed interconnected to the global economy.
President Bolsonaro will be unable to attend the UN Amazon fire summit tomorrow. Bolsonaro is undergoing his fourth surgery since being stabbed in the abdomen in September 2018 during his last presidential campaign.
US Market Closings:
Dow advanced 372.68 points or 1.41% to 26,728.15
S&P 500 advanced 38.22 points or 1.30% to 2,976.00
Nasdaq advanced 139.95 points or 1.75% to 8,116.83
Russell 2000 advanced 25.99 points or 1.75% to 1,510.75
Canada Marker Closings:
TSX Composite advanced 125.97 points or 0.77% to 16,574.81
TSX 60 advanced 990.35 points or 0.93% to 990.35
Brazil Market Closing:
Bovespa advanced 1,042.11 points or 1.03% to 102,243.00
ENERGY:
Oil extended its recent run, moving up a further two percent, although initial numbers from API suggest that there is a surprise crude oil inventory build of 401,000 barrels of oil for the week ending Aug 29.  But of course, it was the news of open talks in October between the two largest economies which helped push up prospective global demand for the oil.
The oil markets had a green day today:
Crude Oil decreased 0.08 USD/BBL or -0.14% to 56.2524
Brent increased 0.11 USD/BBL or 0.18% to 60.8854
Natural gas decreased 0.008 USD/MMBtu or -0.33% to 2.4324
Gasoline increased 0.013 USD/GAL or 0.85% to 1.5485
Heating oil increased 0.0048 USD/GAL or 0.26% to 1.8887
Top commodity gainers: Orange Juice (4.14%), Oat (3.60%), Cheese(1.81%), and Wheat (1.53 %)
Top commodity losers: Silver (-4.18 %), Cocoa (-2.58%), Platinum (-2.16%), and Coffee (-2.14%)
The above data was collected around 14:40  EST on Thursday.
BONDS:
Japan -0.27%(+2bp), US 2's 1.54% (+11bps), US 10's 1.56%(+10bps), US 30's 2.07%(+11bps), Bunds -0.59% (+9bp), France -0.29% (+9bp), Italy 0.94% (+12bp), Turkey 14.95% (+9bp), Greece 1.56% (-1bp), Portugal 0.25% (+9bp), Spain 0.25% (+8bp) and UK Gilts 0.59% (+10bp).
US 4-Week Bill Auction decreased from 2.060% to 2.025%
US 8-Week Bill Auction decreased from 1.990% to 1.960%
UK 10-Year Treasury Gilt Auction decreased from 0.790% to 0.548%
French 10-Year OAT Auction decreased from -0.10% to -0.36%
Spanish 3-Year Bonos Auction decreased from -0.467% to -0.540%
Spanish 5-Year Bonos Auction decreased from -0.254% to -0.331%
Spanish 10-Year Obligacion Auction decreased from 0.300% to 0.180%