Blog/Market Talk
Posted Sep 5, 2018 by Martin Armstrong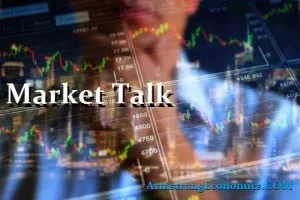 The uncertainty continued from the US back into Asia this morning resulting in more Asian selling. Although core Chinese markets are light on volume, the concerns of sudden price discovery is the fear running through all emerging markets. We saw a flicker of this today when the Shanghai declined over 1.7%, but the Hang Seng fell 2.7% over the day. Real estate and technology were main decliners, but then buyers start to back away and sellers are forced to chase bids. The strength of the USD is the basis for much of these declines and even now, only looks to have just begun. Emerging market currencies drift as original core investors reverse their investment themes after years of strong returns. The issue many countries maybe forced to consider is – do they repay their foreign currency debt or could they swap it for local currency debt! That seems to be a hot topic is some markets, as this situation seems to expand. The Nikkei closed lower again even as the Yen declined again. Last seem trading mid to high level 111's a surprise move here could exaggerate Asian worries. The SENSEX lost ground along with the others, but again the INR teeters on the brink. The trend remain firmly for weaker Rupee and a move towards 80 should well be considered. The A$ bounced a little, but sadly joins the others with a negative longer term trend.
European bourses were hit again as the demand for cash as more look to liquidate risk. The expansions many decided to take over the months and years is starting to hurt as demand for US Dollars increases. many can play this game for a while, just so long as no-one defaults! Once one goes, then goes the whole bunch – was one remark we heard today. Mid afternoon we did hear a little relief as news that Germany and the UK may have dropped some strong BREXIT plans which saw Sterling rally a little under 1%. However, towards the close these gains were eroded and we watch as 1.29 appears as resistance yet again. CAC, DAX and UK FTSE all lose over 1% with the CAC falling over 1.5% as tech, financials and consumers add to declines. Bonds held for Italian BTP's which takes it back to almost unchanged over the month, whilst Gilts, GGB's and PGB's start to see yields rise. Its the same concerns here in Europe as we are seeing around the globe. Worries over funds deployed within emerging markets, concerns over US trade talks and the rising strength of the USD on all the above and more.
US markets started a similar pattern to yesterdays movement after the initial weakness found they managed a recovery. That was however, except the NASDAQ which again suffers from uncertainty. The talk that regulatory will adopt a more stringent examination of regulation continues to have a detrimental affect on prices. Netflix fell over 6% which led the declines and burdened much of the index. The DOW and S+P were little influenced with even the DOW closing positive. Growth numbers and employment data on Friday, so still everything to play for.
Japan 0.11%, US 2's closed 2.65% (-1bp), US 10's closed 2.90% (u/c), US 30's closed 3.05% (-2bp), Bunds 0.38% (+3bp), France 0.71% (+2bp), Italy 2.92% (-8bp), Turkey 19.78% (-20bp), Greece 4.47% (-2bp), Portugal 1.86% (+2bp), Spain 1.44% (+2bp) and UK Gilts 1.45% (+2bp).