Blog/Market Talk
Posted Sep 4, 2019 by Martin Armstrong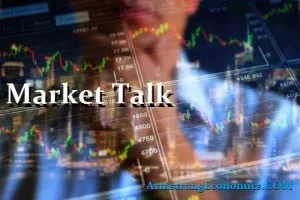 ASIA:
China today has officially filed a complaint with the World Trade Organization (WTO) as the US raised tariffs from 10 to 15 percent over the weekend on 300 billion USD worth of Chinese goods. China has asked for the WTO to act as a mediator to convince the US to reduce or end the tariffs.
China released economic data today, which showed some positives in the private services industry. The data presented the most positive results in the last 3 months. Hiring activity also showed positive signs with hiring at the fastest rate in over a year.
The Hong Kong leader has agreed to one of the protesters five key demands to formally withdraw the extradition bill, which enabled Hong Kong nationals to be extradited to China. She also vowed that she will try and get to the bottom of the causes of the protests and social ills.
There has been a mass boycott of Japanese goods in South Korea with the sales of Japanese beer and cars. Japanese beers sales nearly lost 97% and Japanese cars (Toyota and Honda) fell by 57% year over year.
The major Asian stock markets had a mixed day today:
Shanghai increased 27.26 points or 0.93% to 2,957.41
Kospi increased 22.84 points or 1.16% to 1988.53
ASX 200 decreased 20.40 points or -0.31% to 6,553.00
NIKKEI 225 increased 23.98 points or 0.12% to 20,649.14
Hang Seng increased 995.38 points or 3.90% to 26,523.23
SENSEX increased 161.83 points or 0.44% to 36,724.74
The major Asian currency markets had a mixed day today:
AUDUSD increased 0.0041 or 0.60% to 0.6798
NZDUSD increased 0.0025 or 0.39% to 0.6359
USDJPY increased 0.4700 or 0.44% to 106.3900
USDCNY decreased 0.0294 or 0.41% to 7.1470
Precious Metals:
Gold increased 6.71 USD/t oz. or 0.43% to 1,550.23
Silver increased 0.295 USD/t. oz or 1.53%% to 19.4869
Some economic news from last night:
Australia:
AIG Services Index (Aug) increased from 43.9 to 51.4
Services PMI decreased from 52.3 to 49.1
GDP (YoY) (Q2) decreased from 1.8% to 1.4%
GDP (QoQ) (Q2) remain the same at 0.5%
GDP Capital Expenditure (Q2) decreased from -0.7% to -1.7%
GDP Chain Price Index (Q2) decreased from 1.3% to 1.2%
GDP Final Consumption (Q2) increased from 0.4% to 1.0%
New Zealand:
ANZ Commodity Price Index (MoM) increased from -1.4% to 0.3%
Japan:
Services PMI (Aug) increased from 51.8 to 53.3
South Korea:
FX Reserves – USD (Aug) decreased from 403.11B to 401.48B
Hong Kong:
Manufacturing PMI (Aug) decreased from 43.8 to 40.8
China:
Caixin Services PMI (Aug) increased from 51.6 to 52.1
Some economic news from today:
India:
Nikkei Services PMI (Aug) decreased from 53.8 to 52.4
EUROPE/EMEA:
The Brexit bill passed its first stage today in aim of stopping Brexit occurring with a "no-deal." The vote was taken to the floor today in which 329 voted for and 300 voted against. The UK PM Boris Johnson then told the conservative MP's there must be a snap election and Britain WILL leave the EU on the 31st of October. The whole strategy from the UK is a mess, now obstructing a potential "no-deal" leaves the cards in the EU's hands to push for a deal they want. If the bill does get through, it would mean that the PM must ask for an extension beyond the 31st of October. Labour Leader Mr. Corbyn said that the PM was running down the clock and aiming for a no-deal Brexit and "hiding the facts" on what the consequences of a no-deal will do to food and medical supplies.
According to Al Jazeera, Iran has threatened Europe's inaction with regards to allowing them to sell oil abroad by stating, "Iran's third step is of an extraordinarily significant nature." The official decree is expected to be announced today or tomorrow. Iran has given Europe until Friday to come up with a solution.
Iran has said that it will free seven of the crew members of the seized British-flagged (but Swedish owned) tanker of the strait of Hormuz. The total crew numbers were 23 consisting of Indian, Russian, Latvian, and Filipino nationals – seven of which were allowed to debark and will be allowed to leave Iran soon. Meanwhile, the US has offered a cash bonus to any captain who is able to seize Iranian ships. In addition, they offered a 15 million dollars bonus for information which disrupts the finances of the Iranian Islamic Revolutionary Guard Corps, who earlier this year were designated a terrorist organization by the US.
The major Europe stock markets had a green day today:
CAC 40 increased 66.00 points or 1.21% to 5,532.07
FTSE 100 increased 43.07 points, or 0.59% to 7,311.26
DAX increased 114.18 points or 0.96% to 12,025.04
The major Europe currency markets had a mixed day today:
EURUSD increased 0.0055 or 0.50% to 1.1027
GBPUSD increased 0.01359 or 1.12% to 1.22199
USDCHF decreased 0.0061 or 0.61% to 0.9806
Some economic news from Europe today:
Norway:
Current Account (Q2) decreased from 73.1B to 30.6B
House Price Index (YoY) (Aug) increased from 1.50% to 2.60%
Spain:
Spanish Services PMI (Aug) increased from 52.9 to 54.3
Italy:
Italian Composite PMI (Aug) decreased from 51.0 to 50.3
Italian Services PMI (Aug) decreased from 51.7 to 50.6
France:
French Markit Composite PMI (Aug) increased from 52.7 to 52.9
French Services PMI (Aug) increased from 53.3 to 53.4
Germany:
German Composite PMI (Aug) increased from 51.4 to 51.7
German Services PMI (Aug) increased from 54.4 to 54.8
Euro zone:
Markit Composite PMI (Aug) increased from 51.8 to 51.9
Services PMI (Aug) increased from 53.4 to 53.5
Retail Sales (MoM) (Jul) decreased from 1.2% to -0.6%
Retail Sales (YoY) (Jul) decreased from 2.8% to 2.2%
UK:
Composite PMI (Aug) decreased from 50.7 to 50.2
Services PMI (Aug) decreased from 51.4 to 50.6
US/AMERICAS:
Former US diplomats expressed concern over a complete US withdrawal from Afghanistan, citing that the move could result in a "catastrophic" civil war. A spokesman for the Taliban declared that pre-planned attacks against the US would be called off in the event of a peace treaty. However, the Taliban spokesman said that they will continue to fight the Afghan "puppet" government and are against "any type of power sharing with the puppet Afghan government." If the US peace treaty is signed, 5,000 US troops will leave the country over the course of the next five months. According to a report released by the Pentagon in 2018, the war in Afghanistan costs US taxpayers $45 billion annually.
The Investor's Business Daily (IBD) TechnoMetrica Institute of Policy and Politics (TIPP) released their Economic Optimism Index for the US today of 50.8, marking a seven-month low. A reading beneath 50 tends to indicate a pessimistic outlook. The Personal Finance Index read 59.2, the most optimistic of the three readings, but veering beneath the 60-level for the first time since December 2017. The Federal Policies Index read 50.9, which seems rather neutral considering the ongoing interest rate debate.
The Bank of Canada will maintain the current benchmark rate of 1.75%. In an official statement, the Bank of Canada assured the public that the economy is "operating close to potential" but the current rate will remain in place largely due to global trade disputes. "Escalating trade conflicts and related uncertainty are taking a toll on the global and Canadian economies. In this context, the current degree of monetary stimulus remains appropriate," the official statement read. The central bank will deliberate again on October 30 to reassess their economic policy.
President Bolsonaro announced plans to increase nautical tourism in Brazil. The president tweeted that the country only receives seven cruises annually, but plans to increase that number to 40 by the end of 2022. Bolsonaro noted that the sector has added 40,000 new jobs since 2018.
US Market Closings:
Dow advanced 237.45 points or 0.91% to 26,355.47
S&P 500 advanced 31.51 points or 1.08% to 2,937.78
Nasdaq advanced 102.72 points or 1.30% to 7,976.88
Russell 2000
Canada Market Closings:
TSX Composite advanced 49.61 points or 0.30% to 16,448.84
TSX 60 advanced 2.12 points or 0.22% to 981.23
Brazil Market Closing:
Bovespa advanced 1,520.06 points or 1.52% to 101,200.89
ENERGY:
Somewhat positive news from China regarding economic data and a reaction from a recent low has helped Crude oil rebound today. China imported 10.64 million bpd in April, a new record for China, which represents an 8.8% increase YoY. This helped Crude oil move up by over 4%.
The oil markets had a green day today:
Crude Oil increased 2.31 USD/BBL or 4.28% to 56.3521
Brent increased 2.38 USD/BBL or 4.09% to 60.6622
Natural gas increased 0.077 USD/MMBtu or 3.27% to 2.4397
Gasoline increased 0.0604 USD/GAL or 4.11% to 1.5325
Heating oil increased 0.076 USD/GAL or 4.21% to 1.8762
Top commodity gainers: Crude Oil (4.28%), Brent (4.09%), Heating Oil(4.21%), and Gasoline (4.11 %)
Top commodity losers: Sugar (-1.61 %), Lumber (-1.05%), Corn (-1.36%), and Ethanol (-2.42%)
The above data was collected around 15:40  EST on Wednesday.
BONDS:
Japan -0.28%(-1bp), US 2's 1.44% (-2bps), US 10's 1.46%(-0bps), US 30's 1.96%(+1bps), Bunds -0.67% (+5bp), France -0.37% (+4bp), Italy 0.81% (-5bp), Turkey 14.86% (-11bp), Greece 1.57% (-5bp), Portugal 0.17% (+5bp), Spain 0.15% (+3bp) and UK Gilts 0.48% (+8bp).
German 5-Year Bobl Auction decreased from -0.790% to -0.880%