Blog/Market Talk
Posted Sep 4, 2018 by Martin Armstrong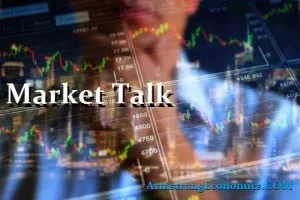 For much of the day, Asia was trading flat to a touch weaker. However, the core recovered into the close with renewed confidence that US and China would soon settle Trade uncertainties. Of course, these were only domestic rumours, but the news proved optimistic enough for an afternoon rally. Both Shanghai and the Hang Seng closed up around 1% with both making these gains in the afternoon session. The Nikkei could not repeat these performances even with a small decline in the Yen. Currently, the Yen declines towards the mid 111's as the USD appreciates. We are seeing more Asian currency weakness from Indonesian Rupiah, INR, NZ$ and even the Australian Dollar remain under pressure even as they support debt as well. The past few trading days the INR is challenging the 72 handle despite government talk and support. The SENSEX is holding its ground as the international value continues to cheapen. Difficult to buck this USD trend, so best just accept that its here for a while and plan accordingly.
In times of trouble you sell what you can and not what you should. That is what we are starting to se again in Europe as all the emerging market expansion for additional yield begins to unwind. We hear more talk of official plans to revive the Turkish and Argentinian economies, but things have gone beyond day to day trading and the losses held by externals are having significant impact around the globe. Fractions remain in Europe which is why events in Turkey is so closely scrutinised. Both the DAX and CAC fell over 1% today, as the race to cash accelerates. UK's FTSE lost -0.65% and with GBP trading negative for much of the day. Talk is that Bank of England governor, Mark Carney, may remain until BREXIT is in the rear view mirror, but talk is he may well sink with the ship. All currencies remain heavy as the flow into the USD increases for Q3. So far (today) we continue to see money still being deposited into the Bond market (BTP's -15bp), but Greece (+10bp) is not following suit suggesting there are cracks appearing still.
After an initial 160 point decline, the DOW managed a strong rebound to close only just in negative territory. Finishing a volatile session, it was an impressive recovery from the initial weak opening. The NASDAQ was in and out of positive prices for most of the day,, but it too finished lower. Volumes were again light but then we do have plenty to play for this week. Its not an impressive start to the final month of Q3 so we will be watching closely as we consolidate at these levels. Added to this is the constant demand for US Dollars and you can almost forgive stock indices as they tread water.
Japan 0.12%, US 2's closed 2.66% (+3bp), US 10's closed 2.90% (+4bp), US 30's 3.07% (+5bp), Bunds 0.35% (+2bp), France 0.69% (u/c), Italy 3.01% (-14bp), Turkey 19.98% (-39bp), Greece 4.49% (+10bp), Portugal 1.84% (-5bp), Spain 1.42% (-2bp), and UK Gilts 1.43% (+3bp).