Blog/Market Talk
Posted Sep 3, 2019 by Martin Armstrong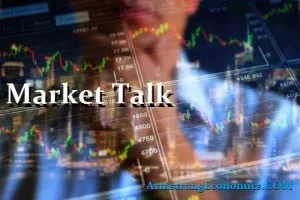 ASIA:
Over the weekend the U.S. imposed a 15% tariff on a range of Chinese goods. Today, China returned the favor by imposing new charges on US. products. US President Trump tweeted today regarding the progress of the US-Chinese trade talks: "We are doing very well in our negotiations with China. While I am sure they would love to be dealing with a new administration so they could continue their practice of "ripoff USA" ($600 B/year),16 months PLUS is a long time to be hemorrhaging jobs and companies on a long-shot…. …And then, think what happens to China when I win. Deal would get MUCH TOUGHER! In the meantime, China's Supply Chain will crumble and businesses, jobs and money will be gone!"
He further went on to criticize the European Union, tweeting later in the day: "For all of the "geniuses" out there, many who have been in other administrations and "taken to the cleaners" by China, that want me to get together with the EU and others to go after China Trade practices remember, the EU & all treat us VERY unfairly on Trade also. Will change!"
China, meanwhile, has warned Hong Kong that it could declare a state of emergency rule. The mainland also failed to rule out military intervention in Hong Kong. "Hong Kong's Basic Law allows for Hong Kong to request help or for the Standing Committee of the National People's Congress to declare a state of emergency," said a spokeswoman for Hong Kong, Xu Luying.
India has rescheduled Chinese foreign minister Wang Yi's visit for September 9th to discuss the Kashmir issue, there was no official reasoning as to why they wish to reschedule the dates.
The major Asian stock markets had a mixed day today:
Shanghai increased 6.05 points or 0.21% to 2,930.15
Kospi decreased 3.50 points or -0.18% to 1,965.69
ASX 200 decreased 6.00 points or -0.09% to 6,573.40
NIKKEI 225 increased 4.97 points or 0.02% to 20,625.16
Hang Seng decreased 98.70 points or -0.39% to 25,527.85
SENSEX decreased 769.88 points or -2.06% to 36,562.91
The major Asian currency markets had a mixed day today:
AUDUSD increased 0.0046 or 0.69% to 0.6759
NZDUSD increased 0.0019 or 0.31% to 0.6325
USDJPY decreased 0.2360 or 0.22% to 105.9740
USDCNY decreased 0.0139 or 0.19% to 7.1776
Precious Metals:
Gold increased 15.66 USD/t oz. or 1.02% to 1,549.10
Silver increased 0.663 USD/t. oz or 3.59%% to 19.1276
Some economic news from last night:
Australia:
Current Account (Q2) increased from -1.1B to 5.9B
Net Exports Contribution (Q2) increased from 0.2% to 0.6%
Retail Sales (MoM) (Jul) decreased from 0.4% to -0.1%
Retail Sales (QoQ) (Q2) increased from -0.1% to 0.2%
Japan:
Monetary Base (YoY) decreased from 3.7% to 2.8%
South Korea:
CPI (YoY) (Aug) decreased from 0.6% to 0.0%
CPI (MoM) (Aug) increased from -0.3% to 0.2%
GDP (QoQ) (Q2) increased from -0.4% to 1.0%
GDP (YoY) (Q2) decreased from 2.1% to 2.0%
Some economic news from today:
Australia:
RBA Interest Rate Decision (Sep) remain the same at 1.00%
Singapore:
Manufacturing PMI (Aug) increased from 49.8 to 49.9
New Zealand:
GlobalDairyTrade Price Index decreased from -0.2% to -0.4%
EUROPE/EMEA:
The European Union will call for a release of nearly 600 million euros from an emergency fund intended for storms and earthquakes, as it describes Brexit as a natural disaster.
Earlier in the day, Former Conservative Philip Lee moved from Conservatives to Liberal Democrat. This allowed PM Boris Johnson to lose his majority today in parliament. His excuse for moving was summed up in his following statement: "This Conservative government is aggressively pursuing a damaging Brexit in unprincipled ways. It is putting lives and livelihoods at risk unnecessarily and it is wantonly endangering the integrity of the United Kingdom. More widely, it is undermining our country's economy, democracy and role in the world. It is using political manipulation, bullying and lies. And it is doing these things in a deliberate and considered way."
This event today could potential push back a Brexit date or scrap a possibility of a no deal altogether, the MP's are currently debating whether they should move to allow a bill to prevent Brexit on the 31st of October.  The events of today pushed the GBPUSD down to 1.20 before recovering for the day at 1.21.
The US has not responded to the Iranian president's request to remove sanctions before talks. In fact, the US applied more sanctions on Iran today. The latest sanctions are targeting the Iranian Space Research Center and the Astronautics Research Institute. US Secretary of State Mike Pompeo said, "The US will not allow Iran to use its space launch program as a cover to advance its ballistic missile programs."
The major Europe stock markets had a negative day today:
CAC 40 decreased 26.97 points or -0.49% to 5,466.07
FTSE 100 decreased 13.75 points or -0.19% to 7,268.19
DAX decreased 42.92 points or -0.36% to 11,910.86
The major Europe currency markets had a mixed day today:
EURUSD increased 0.0006 or 0.05% to 1.0972
GBPUSD increased 0.0025 or 0.20% to 1.2091
USDCHF decreased 0.0036 or 0.36% to 0.9869
Some economic news from Europe today:
UK:
Construction PMI (Aug) decreased from 45.3 to 45.0
Swiss:
CPI (YoY) (Aug) remain the same at 0.3%
CPI (MoM) (Aug) increased from -0.5% to 0.0%
Eurozone:
PPI (MoM) (Jul) increased from -0.6% to 0.2%
PPI (YoY) (Jul) decreased from 0.7% to 0.2%
Spain:
Spanish Unemployment Change increased from -4.3K to 54.4K
US/AMERICAS:
Last week, Chinese representatives optimistically spoke about renegotiating the next round of US imposed tariffs on $160 billion worth of Chinese goods. President Trump previously delayed that round of tariffs until December 15, citing the holiday shopping season as his motive. However, the US-China trade war intensified over the weekend after the US hit China with an additional 15% tariff on $112 billion worth of Chinese goods. China placed a 5-10% tariff on a variety of US goods. "China's Supply Chain will crumble and businesses, jobs and money will be gone!" President Trump tweeted this Tuesday, further adding that he will not allow China to continue to "rip off' the US.
The US president also alluded that the EU may face new tariffs. The president stated that the EU treats the US "unfairly" and warned, "This will change."
US manufacturing contracted in August after the Institute for Supply Management's purchasing managers index declined to 49.1. A reading beneath 50 typically signals a contraction. This indicator will likely influence the Fed's interest rate decision later this month.
The wildfires in the Amazon are continuing to burn despite a large scale effort to control the flames. Brazilian President Bolsonaro has agreed to accept aid from the G7 if French President Macron apologizes for comments which he found offensive. Worsening the matter, Renzo Gracie, Brazil's tourism ambassador and former MMA fighter, posted a video online threatening to attack President Macron. Referring to the G7, Gracie stated, "That gang of clowns only open their mouths to speak badly about our country."
US Market Closings:
Dow declined 285.26 points or -1.08% to 26,118.02
S&P 500 declined 20.19 points or -0.69% to 2,906.27
Nasdaq declined 88.72 points or -1.11% to 7,874.16
Russell 2000 declined 22.56 points or -1.51% to 1,472.28
Canada Market Closings:
TSX Composite declined 42.84 points or -0.26% to 16,399.23
TSX 60 declined 3.34 points or 0.34% to 979.11
Brazil Market Closing:
Bovespa declined 944.91 points or -0.94% to 99,680.83
ENERGY:
The Crude oil price plunged today over the US-China trade sanctions as well as woeful economic optimism. At one point in the day, WTI was down around 3% before recovering slightly in the US hours. The energy price was down at multi-week lows.
The oil markets had a negative day today:
Crude Oil decreased 0.5583 USD/BBL or -1.02% to 54.1023
Brent decreased 0.31 USD/BBL or -0.53% to 58.2543
Natural gas increased 0.0474 USD/MMBtu or 2.05% to 2.3514
Gasoline decreased 0.0239 USD/GAL or -1.60% to 1.4726
Heating oil decreased 0.0072 USD/GAL or -0.40% to 1.8046
Top commodity gainers: Lean Hogs (4.72%), Wheat (4.35%), Silver (3.59%), and Coal (3.22 %)
Top commodity losers: Live Cattle (-5.60 %), Oat (-4.67%), Corn (-5.68%), and Ethanol (-2.79%)
The above data was collected around 15:00 EST on Tuesday.
BONDS:
Japan -0.27%(-1bp), US 2's 1.45% (-6bps), US 10's 1.46%(-4bps), US 30's 1.94%(-4bps), Bunds -0.72% (-2bp), France -0.42% (-2bp), Italy 0.89% (-8bp), Turkey 14.97% (-43bp), Greece 1.61% (+1bp), Portugal 0.13% (-1bp), Spain 0.13% (-1bp) and UK Gilts 0.41% (-0bp).
UK 5-Year Treasury Gilt Auction decreased from 0.367% to 0.225%
US 3-Month Bill Auction decreased from 1.950% to 1.930%
US 6-Month Bill Auction decreased from 1.840% to 1.825%