Blog/Market Talk
Posted Sep 29, 2021 by Martin Armstrong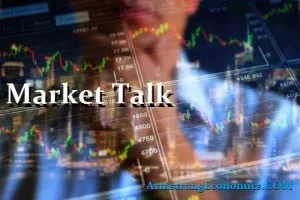 ASIA:
China's ambitious foreign infrastructure push has saddled poor nations with "hidden debt" worth $385 billion, and more than a third of the projects have been hit by alleged corruption scandals and protests, a study said Wednesday. Research from international development research lab AidData said that opaque deals with state banks and companies under President Xi Jinping's flagship investment drive — the Belt and Road Initiative — has left dozens of lower-income governments strapped with debt that isn't on their balance sheets. China has invested more than $843 billion to build roads, bridges, ports, and hospitals in some 163 nations since the program was announced in 2013, including many countries across Africa and Central Asia. Nearly 70 percent of this money has been lent to state banks or joint ventures between Chinese businesses and local partners in countries that were already deeply indebted to Beijing, AidData executive director Brad Parks said in an interview.
India's market regulator, the Securities and Exchange Board of India (SEBI) on Monday tightened risk management rules for mutual funds, including specifying guidelines to identify, measure and report various risks, in an effort to protect the interest of investors in a fast-growing industry. SEBI said the new rules mandate the appointment of a chief risk officer, creation of risk management committees, and maintaining metrics such as investment, liquidity, and credit risk for each scheme. The new framework comes a month after it barred Kotak Mahindra Asset Management, one of the country's largest mutual fund managers, from launching any fixed maturity plans (FMPs) for six months and fined it for breaking the rules.
The major Asian stock markets had a mixed day today:
NIKKEI 225 decreased 639.67 or -2.12% to 29,544.29
Shanghai decreased 65.92 points or -1.83% to 3,536.29
Hang Seng increased 163.11 or 0.67% to 24,663.50
ASX 200 decreased 78.90 points or -1.08% to 7,196.70
Kospi decreased 37.65 points or -1.22% to 3,060.27
SENSEX decreased 254.33 points or -0.43% to 59,413.27
Nifty50 decreased 37.30 points or -0.21% to 17,711.30
The major Asian currency markets had a mixed day today:
AUDUSD decreased 0.00580 or -0.80% to 0.71830
NZDUSD decreased 0.00890 or -1.27% to 0.68677
USDJPY increased 0.45 or 0.41% to 111.99
USDCNY increased 0.00710 or 0.11% to 6.47841
Precious Metals:
Gold decreased 8.47 USD/t oz. or -0.49% to 1,725.21
Silver decreased 0.876 USD/t. oz or -3.90% to 21.557
Some economic news from last night:
Some economic news from today:
EUROPE/EMEA:
The Bank of England has said it will withdraw the legal tender status of paper £20 and £50 notes on September 30 next year. It urged anyone who has them to spend or deposit them at a bank or Post Office. There are about £9 billion ($12.13bn) worth of paper £20 and £15bn worth of paper £50 notes still in circulation. Their withdrawal will mean polymer equivalents will become the only notes of this denomination in legal tender. BoE chief cashier Sarah John said the decision was made for security reasons – with the new notes "more difficult to counterfeit" – and that it would cause the public little inconvenience.
Europe's current burst of inflation is temporary and won't lead the European Central Bank to "overreact" by withdrawing stimulus or raising interest rates, ECB President Christine Lagarde said Tuesday. Lagarde reviewed reasons such as supply bottlenecks that have temporarily pushed up prices, and so-called base effects, the result of unusually low inflation in the year-earlier period due to very low oil prices and tax breaks during the depths of the pandemic. While longer-term forces could push inflation higher or lower, Lagarde was clear that the current round of higher readings would not budge the bank off its stimulus posture. The ECB stance contrasts with that of the US Federal Reserve, which has signaled it could announce as early as November that it will start withdrawing the extraordinary support it unleashed after the coronavirus paralyzed the economy. The US has recovered faster than Europe, which still hasn't recovered pre-pandemic levels of output.
The major Europe stock markets had a green day:
CAC 40 increased 54.30 points or 0.84% to 6,560.80
FTSE 100 increased 80.06 points or 1.14% to 7,108.16
DAX 30 increased 116.71 points or 0.77% to 15,365.27
The major Europe currency markets had a mixed day today:
EURUSD decreased 0.0088 or -0.75% to 1.15985
GBPUSD decreased 0.01060 or -0.78% to 1.34321
USDCHF increased 0.0052 or 0.56% to 0.93455
Some economic news from Europe today:
Germany:
German Import Price Index (MoM) (Aug) decreased from 2.2% to 1.4%
German Import Price Index (YoY) (Aug) increased from 15.0% to 16.5%
Spain:
Spanish CPI (YoY) increased from 3.3% to 4.0%
Spanish CPI (MoM) increased from 0.5% to 0.8%
Spanish HICP (YoY) (Sep) increased from 3.3% to 4.0%
Spanish HICP (MoM) increased from 0.4% to 1.1%
Spanish Business Confidence increased from 1.3 to 2.1
Italy:
Italian PPI (YoY) (Aug) increased from 11.2% to 11.6%
Italian PPI (MoM) (Aug) decreased from 2.9% to 0.5%
Swiss:
ZEW Expectations (Sep) increased from -7.8 to 25.7
UK:
BoE Consumer Credit (Aug) increased from 0.032B to 0.351B
M4 Money Supply (MoM) (Aug) increased from 0.1% to 0.5%
Mortgage Approvals (Aug) decreased from 75.13K to 74.45K
Mortgage Lending (Aug) increased from -1.76B to 5.29B
Net Lending to Individuals increased from -1.4B to 5.6B
Euro Zone:
Business and Consumer Survey (Sep) increased from 117.6 to 117.8
Business Climate (Sep) decreased from 1.74 to 1.72
Consumer Confidence (Sep) increased from -5.3 to -4.0
Consumer Inflation Expectation (Sep) increased from 31.1 to 33.1
Selling Price Expectations (Sep) increased from 37.2 to 38.2
Services Sentiment (Sep) decreased from 16.8 to 15.1
Industrial Sentiment (Sep) increased from 13.8 to 14.1
US/AMERICAS:
Republican senators have criticized the Biden's administration's proposal to force the Internal Revenue Service (IRS) to track every transaction Americans make over $600. Senator Cynthis Lummis presented privacy concerns, and reminded Secretary Janet Yellen, "Bank customers are not subjects to the federal government. Banks do not work for the IRS." Lummis noted that Americans may find alternative methods for transactions if they were required to disclose transactions due to privacy rather than cheating the government of taxes. "Do you distrust the American people so much that you need to know when they bought a couch? Or a cow?" the senator questioned. The Biden Administration claims they could secure an additional $463 billion in revenue over the next decade by micromanaging banking transactions.
JPMorgan Chase CEO Jamie Dimon voiced concerns about the debt ceiling causing a "potentially catastrophic event" if the US defaults. While the US has come close to defaulting in the past, such an event has never occurred in American history. In fact, the original J.P. Morgan personally helped the US rise from a debt crisis many years ago. Dimon is proposing a new plan – eliminate the debt ceiling entirely. "Every single time this comes up, it gets fixed, but we should never even get this close. I just think this whole thing is mistaken, and one day we should just have a bipartisan bill and get rid of the debt ceiling. It's all politics," Dimon stated.
US Market Closings:
Dow advanced 90.73 points or 0.26% to 34,390.72
S&P 500 advanced 6.83 points or 0.16% to 4,359.46
Nasdaq declined 34.24 points or -0.24% to 14,512.44
Russell 2000 declined 4.47 points or -0.2% o 2,225.31
Canada Market Closings:
TSX Composite declined 16 points or -0.08% to 20,158.14
TSX 60 advanced 0.6 of a point or 0.05% to 1,209.6
Brazil Market Closing:
Bovespa advanced 982.98 points or 0.89% to 111,106.83
ENERGY:
The oil markets had a mixed day today:
Crude Oil decreased 0.40 USD/BBL or -0.53% to 74.8900
Brent decreased 0.49 USD/BBL or -0.62% to 78.6000
Natural gas decreased 0.425 USD/MMBtu or -7.23% to 5.4540
Gasoline increased 0.030 USD/GAL or 1.36% to 2.2319
Heating oil increased 0.0237 USD/GAL or 1.04% to 2.3127
The above data was collected around 15:32 EST on Wednesday
Top commodity gainers: Cheese (6.82%) and Milk (6.72%), Corn (1.36%) and Cocoa (1.60%)
Top commodity losers: Coffee (-2.42%), Natural Gas (-7.23%), Lithium (-5.17%), and Silver (-3.90%)
The above data was collected around 15:40 EST on Wednesday.
BONDS:
Japan 0.074%(+0.1bp), US 2's 0.297%(-0.01%), US 10's 1.5392%(-0.69bps); US 30's 2.0924%(-0.00%),Bunds -0.2050% (-0.7bp), France 0.1470% (-0.8bp), Italy 0.8271% (-3bp), Turkey 17.92% (+0bp), Greece 0.8300% (-2.20bp), Portugal 0.344% (-0.30bp); Spain 0.466% (+1.99bp) and UK Gilts 1.007% (+0.8bp).