Blog/Market Talk
Posted Sep 28, 2017 by Martin Armstrong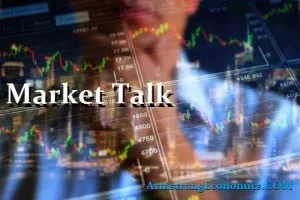 It was a mixed day for Asia even after we heard late news from the US on the proposed tax reforms. Having seen the Hang Seng and Shanghai markets closing better when others were weaker today we saw the opposite reaction. With declines for the HSI of -0.8% and just -0.1% for the Shanghai we saw the Nikkei, ASX KOPSI and SENSEX all closing higher. The strength of the USD was a common discussion and that was reflected in the Yen playing wit the 113 handle. As the trading day progressed west, the Yen did lose ground to close mid 112's as the DXY retreated. The financials and exporters gained ground in the Nikkei but still was not enough to have an y significant effect on JGB's or overall confidence, even despite the fact that the election is called for October 22nd election. Also, Reserve Bank of NZ kept rates unchanged at 1.75%.
They tended to take a more optimistic approach to the US tax reforms than we saw in Asia earlier today. Markets opened well with good buying interest probably because we saw initial Euro weakness. As the trading day progressed some positive ECB rhetoric and all seemed well – even with volumes still low. We hear the occasional comment from the BREXIT negotiations but again details are sketchy. The talk is that "some" progress is being made but many on both sides remain sceptical. BOE Governor said that his ability to mitigate BREXIT reactions are limited. most core finished +2% (CAC, FTSE and DAX) whilst IBEX closed small down (-0.15%). Important day for markets tomorrow with Week / Month and Quarter end.
We are close to half-way through silly season and the first half has brought almost no volatility at all! there is a thinking that October could make-up for that but lets see where the numbers finish tomorrow. We close the day with another marginal gain for the DOW, S+P and this time joined by the NASDAQ. The Russell set a record for the broader market. Its Thursday so we saw Initial Claims released marginally better than expected at +270k. The VIX continues to drift but remains with a 9% handle with this low volume.
2's closed 1.45% (-2bp), 10's 2.31% (u/c), 30's 2.87% (+1bp). Bunds at 0.48% (+1bp) which tightens the spread 1bp to +183bp. France 0.76% (u/c), Italy 2.11% (-3bp), Greece 5.61% (-7bp), Turkey 10.69% (-7bp), Portugal 2.37%, Spain 1.61% (-2bp), and Gilts 1.37% (-1bp).