Blog/Market Talk
Posted Sep 28, 2021 by Martin Armstrong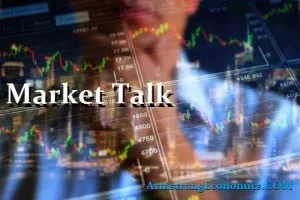 ASIA:
China remained on course to be more than 30% short of its 2021 commitments under the phase one trade deal with the United States with four months left, according to the latest analysis of trade data between the world's two largest economies. The phase one trade deal outlined in the agreement mention that China has to buy an additional US$200 billion worth of goods and services over 2020-21, relative to 2017 levels. But according to a report released by the Peterson Institute for International Economics (PIIE) on Monday, China's purchases of US goods from January to August reached only 69% of the year-to-date target based on Chinese import data, and only 62% of the target based on US export data – the same figures seen in May. According to the report, agriculture purchases under the phase one trade deal reached 92% of the 2021 commitment up until the end of August based on Chinese import data, and 89% of the target based on US export data.
India's government said on Monday it would stick to its borrowing plan for the current fiscal year despite an uptick in tax collection, suggesting New Delhi will continue to spend to revive Asia's third largest economy. It said it planned gross borrowing of 5.03 trillion Indian rupees ($68.15 billion) via bonds from October-March. It has already borrowed 7.02 trillion rupees from its overall target of 12.055 trillion rupees for 2021/22. Finance minister Nirmala Sitharaman and her officials have repeatedly promised in recent months to keep up spending to revive the economy. The borrowing estimates reflect her plan to lower the annual fiscal deficit to 6.8% of GDP from 9.3% last year, without cutting planned expenditure of 34.8 trillion rupees. Federal borrowing will be conducted in 21 weekly tranches of 230-240 billion rupees, the government said. More than 28% of the bonds will be issued with a 10-year maturity and the government will also issue new floating rate bonds with 7-8 years maturity on top of the existing 13-year ones, it added.
The major Asian stock markets had a mixed day today:
NIKKEI 225 decreased 56.10 or -0.19% to 30,183.96
Shanghai increased 19.39 points or 0.54% to 3,602.22
Hang Seng increased 291.61 or 1.20% to 24,500.39
ASX 200 decreased 108.60 points or -1.47% to 7,275.60
Kospi decreased 35.72 points or -1.14% to 3,097.92
SENSEX decreased 410.28 points or -0.68% to 59,667.60
Nifty50 decreased 106.50 points or -0.60% to 17,748.60
The major Asian currency markets had a mixed day today:
AUDUSD decreased 0.00430 or -0.59% to 0.72375
NZDUSD decreased 0.00510 or -0.73% to 0.69563
USDJPY increased 0.31 or 0.28% to 111.30
USDCNY increased 0.00150 or 0.02% to 6.46155
Precious Metals:
Gold decreased 12.99 USD/t oz. or -0.74% to 1,736.87
Silver decreased 0.214 USD/t. oz or -0.94% to 22.436
Some economic news from last night:
China:
Chinese Industrial profit (YoY) (Aug) decreased from 16.40% to 10.10%
Chinese Industrial profit YTD (Aug) decreased from 57.3% to 49.5%
South Korea:
Consumer Confidence (Sep) increased from 102.5 to 103.8
Australia:
Retail Sales (MoM) (Aug) increased from -2.7% to -1.7%
Some economic news from today:
Japan:
BoJ Core CPI (YoY) increased from 0.2% to 0.3%
India:
Foreign Debt (USD) (Q2) decreased from 570.0B to 0.0B
Hong Kong:
Exports (MoM) (Aug) decreased from 26.9% to 25.9%
Imports (MoM) (Aug) increased from 26.1% to 28.1%
Trade Balance increased from -34.9B to -26.3B
EUROPE/EMEA:
Wholesale gas prices have reached new all-time highs, stoking concern that a cold winter could deepen a crisis that has led to the collapse of multiple energy suppliers and raised fears of factory shutdowns and soaring bills. The cost of coal and carbon emissions permits also hit record levels on Tuesday, while crude oil exceeded $80 a barrel for the first time in three years, amid a widening global energy supply crisis. Europe-wide price rises have been compounded by the UK's unusually low gas storage capacity, as well as outages in the electricity system, including a fire at a key power import cable, leading to increased reliance on gas power plants. Consumers have been warned to expect higher bills and more household energy supplier failures, while heavy industry and the food and drink sector are facing the prospect of shutdowns and pre-Christmas product shortages.
Germany's center-left Social Democrats won the biggest share of the vote in a national election Sunday, narrowly beating outgoing Chancellor Angela Merkel 's center-right Union bloc in a closely fought race that will determine who succeeds the long-time leader at the helm of Europe's biggest economy. The Social Democrats' candidate Olaf Scholz, the outgoing vice chancellor and finance minister who pulled his party out of a years-long slump, said the outcome was "a very clear mandate to ensure now that we put together a good, pragmatic government for Germany." Despite getting its worst-ever result in a federal contest, the Union bloc said it too would reach out to smaller parties to discuss forming a government, while Merkel stays on in a caretaker role until a successor is sworn in. Election officials said early Monday that a count of all 299 constituencies showed the Social Democrats received 25.9% of the vote, ahead of 24.1% for the Union bloc. No winning party in a German national election had previously taken less than 31% of the vote.
The major Europe stock markets had a negative day:
CAC 40 decreased 144.41 points or -2.17% to 6,506.50
FTSE 100 decreased 35.30 points or -0.50% to 7,028.10
DAX 30 decreased 325.32 points or -2.09% to 15,248.56
The major Europe currency markets had a mixed day today:
EURUSD decreased 0.0013 or -0.11% to 1.16822
GBPUSD decreased 0.01660 or -1.21% to 1.35375
USDCHF increased 0.0022 or 0.24% to 0.92808
Some economic news from Europe today:
Germany:
GfK German Consumer Climate (Oct) increased from -1.1 to 0.3
Norway:
Core Retail Sales (MoM) (Aug) decreased from -3.1% to -3.8%
France:
French Consumer Confidence (Sep) increased from 99 to 102
US/AMERICAS:
A second Federal Reserve president announced abrupt plans to retire this week. Dallas Federal Reserve President Robert Kaplan announced that he will be stepping down on October 8 due to the recent controversy surrounding trades that he and other central bank members made concerning treasuries, despite the ongoing buying program, and COVID-sensitive equities that the members could have had inside knowledge about. "The Federal Reserve is approaching a critical point in our economic recovery as it deliberates the future path of monetary policy. Unfortunately, the recent focus on my financial disclosure risks becoming a distraction to the Federal Reserve's execution of that vital work," Kaplan stated. Although Kaplan remains his innocence, an ongoing investigation will ensue in addition to policy changes. Meredith Black will act as the interim Dallas Fed president until a permanent successor is selected.
Treasury Secretary Janet Yellen warned Congress this Tuesday that they have until October 18 to raise the debt ceiling of face default. "The full faith and credit of the United States would be impaired, and our country would likely face a financial crisis and economic recession," Yellen warned. The US has yet to default on its credit, leaving many to wonder what the full repercussions would be for the global economy. Republican lawmakers are asking Democrats to include a provision in their $3.5 trillion spending bill before agreeing to raise or suspend the debt ceiling. If lawmakers cannot come to an agreement, the government will once again shutdown at the end of the month.
Today, President Joe Biden boldly claimed that 97-98% of Americans must be vaccinated before the country can return to "normal." "A quarter of the country can't go unvaccinated and us not continue to have a problem," the president stated. Originally, Dr. Anthony Fauci said vaccinating 70% of the population would prevent a fall resurgence. It is unclear if Biden is also referring to booster shots. Vaccines remain preventative but far from a fail-safe at preventing infection as vaccinated individuals can still contract and infect others with COVID.
US Market Closings:
Dow declined 569.38 points or -1.63% to 34,299.99
S&P 500 declined 90.48 points or -2.04% to 4,352.63
Nasdaq declined 423.29 points or -2.83% to 14,546.68
Russell 2000 declined 51.22 points or -2.25% to 2,229.78
Canada Market Closings:
TSX Composite declined 289.28 points or -1.41% to 20,174.14
TSX 60 declined 16.97 points or -1.38% to 1,209.00
Brazil Market Closing:
Bovespa declined 3,459.16 points or -3.05% to 110,123.85
ENERGY:
The oil markets had a mixed day today:
Crude Oil decreased 0.75 USD/BBL or -0.99% to 74.7000
Brent decreased 0.94 USD/BBL or -1.18% to 78.5900
Natural gas increased 0.127 USD/MMBtu or 2.23% to 5.8330
Gasoline decreased 0.0305 USD/GAL or -1.37% to 2.1932
Heating oil decreased 0.0181 USD/GAL or -0.79% to 2.2779
The above data was collected around 12:12 EST on Tuesday
Top commodity gainers: Methanol (3.67%) and Coal (2.56%), Tin (2.57%) and Coffee (2.27%)
Top commodity losers: Palladium (-4.42%), Orange Juice (-4.16%), Lithium (-3.51%), and Lumber (-4.36%)
The above data was collected around 12:20 EST on Tuesday.
BONDS:
Japan 0.076%(+2.2bp), US 2's 0.31%(+0.027%), US 10's 1.5235%(+3.29bps); US 30's 2.06%(+0.058%),Bunds -0.1980% (+2.8bp), France 0.1510% (+3.2bp), Italy 0.8575% (+5.96bp), Turkey 17.79% (-2bp), Greece 0.8480% (+2.70bp), Portugal 0.352% (+3.30bp); Spain 0.451% (+3.5bp) and UK Gilts 0.998% (+4.1bp).