Blog/Market Talk
Posted Sep 28, 2020 by Martin Armstrong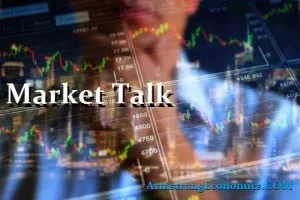 ASIA:
Profits at China's industrial firms grew for the fourth straight month in August, buoyed in part by a rebound in commodities prices and equipment manufacturing, the statistics bureau said on Sunday. Industrial firm profits grew 19.1% year-on-year in August to 612.81 billion yuan ($89.8 billion), the statistics bureau said. However, industrial firms' profits still face external pressures as rising tensions between US and China cloud the global trade outlook.
India plans to offer $4.6 billion in incentives to companies setting up advanced battery manufacturing facilities as it seeks to promote the use of electric vehicles and cut down its dependence on oil, Reuters reported. A proposal drafted by NITI Aayog, a federal think tank chaired by Prime Minister Narendra Modi, said India could slash its oil import bills by as much as $40 billion by 2030 if electric vehicles were widely adopted. The think tank recommended incentives of $4.6 billion by 2030 for companies manufacturing advanced batteries, starting with cash and infrastructure incentives of 9 billion rupees ($122 million) in the next financial year which would then be ratcheted up annually.
Standard and Poor's reaffirmed India's long-term sovereign rating at the lowest investment grade for the second time in four months on Friday, and it said it expects the economy to rebound from the impact of the COVID-19 pandemic. India's long-term foreign and local currency sovereign credit was affirmed by S&P at 'BBB-' with a stable outlook, while the short-term rating was held at 'A-3'. The Indian economy will experience a record contraction in the fiscal year to March 2021 on account of the global COVID-19 pandemic but real GDP will recover significantly in FY22, the ratings agency said.
SoftBank's robotics arm said on Monday it will bring a food service robot developed by California-based Bear Robotics to Japan as restaurants grapple with labor shortages and seek to ensure social distancing during the COVID-19 pandemic. The robot named Servi, which has layers of trays and is equipped with 3D cameras and Lidar sensors for navigation, will launch in January, SoftBank Group Corp said. Servi will cost 99,800 yen ($950) per month excluding tax on a three year plan.
The major Asian stock markets had a mixed day today:
NIKKEI 225 increased 307.00 points or 1.32% to 23,511.62
Shanghai decreased 1.88 points or -0.06% to 3,217.53
Hang Seng increased 240.63 points or 1.04% to 23,476.05
ASX 200 decreased 12.60 points or -0.21% to 5,952.30
Kospi increased 29.29 points or 1.29% to 2,308.08
SENSEX increased 592.97 points or 1.59% to 37,981.63
Nifty50 increased 177.30 points or 1.60% to 11,227.55
The major Asian currency markets had a mixed day today:
AUDUSD increased 0.00458 or 0.65% to 0.70723
NZDUSD increased 0.00104 or 0.16% to 0.65564
USDJPY decreased 0.0370 or -0.04% to 105.53
USDCNY decreased 0.01163 or -0.17% to 6.81118
Precious Metals:
Gold increased 21.5 USD/t oz. or 1.16% to 1,881.55
Silver increased 0.802 USD/t. oz or 3.51%% to 23.662
EUROPE/EMEA:
EU and UK officials are set to begin the final round of Brexit trade negotiations before a self-imposed deadline of Oct. 15. Talks have been stalled over competition rules and fishing quotas for months now, but British officials have signaled there may have been some "positive" developments in the last few days. The UK and the EU have been working toward new trade arrangements since March after the former exited the bloc in January. However, Britain stated that talks would only run until December — after which the current zero-tariff regime will come to an end. The Internal Market Bill — the legislation that would grant powers to any UK government to ignore what's already been agreed with the EU on state aid — will move to the House of Lords Wednesday.
Due to the coronavirus pandemic, German imports from Africa fell sharply to 10.4 billion euro ($12.1) from January to July 2020, according to Germany's Federal Statistical Office. That's a decline of nearly 3.6 billion euro, or 26%, compared to the same period in 2019, an online news agency reported. This negative trend is expected to continue for the rest of 2020. In addition, more than half of the German companies surveyed said they are planning to cut staff in South Africa and Nigeria, Germany's two top trading partners. German companies are also investing less in African countries. According to Germany's central bank, net direct investments by German companies in sub-Saharan Africa in the first six months of 2020 totaled 605 million euros, which is 144 million euros, or 23%, less than in the same period in 2019.
There will be no "preventive" nationwide lockdown in France before Christmas, Health Minister Olivier Véran said on Sunday, adding that any restriction of movement during the late October All Saints holidays would depend on "what we do" in the coming days. Asked about a proposal by Nobel Prize in Economics winners Abhijit Banerjee and Esther Duflo to impose a nationwide lockdown in the first 20 days of December to enable French people to get together with their families during the Christmas holidays, Véran ruled out such a scenario.
The major Europe stock markets had a green day today:
CAC 40 increased 113.61 points or 2.40% to 4,843.27
FTSE 100 increased 85.26 points, or 1.46% to 5,927.93
DAX 30 increased 401.67 points or 3.22% to 12,870.87
The major Europe currency markets had a mixed day today:
EURUSD increased 0.00297 or 0.26% to 1.16621
GBPUSD increased 0.00895 or 0.70% to 1.28320
USDCHF decreased 0.00422 or -0.45% to 0.92464
Some economic news from Europe today:
Norway:
Core Retail Sales (MoM) (Aug) decreased from 0.6% to -4.9%
US/AMERICAS:
President Trump is "strongly demanding" that Democratic presidential runner Joe Biden undergo a drug trust prior to their first debate. "His Debate performances have been record setting UNEVEN, to put it mildly. Only drugs could have caused this discrepancy???" President Trump tweeted over the weekend. Biden's campaign declined to comment but said that he would not agree to a drug trust. The two men will have their first debate tomorrow at Case Western Reserve University in Cleveland, Ohio.
Democratic Senator leader Chuck Schumer and Senator Elizabeth Warren are urging the next president of the United States to cancel up to $50,000 of individual student debt. This move would effectively eliminate 50% of current student debt in the US.
Wealth inequality in the US has declined by 3.1% over the past four years (2016-2019), according to new data from the Federal Reserve. However, the top 10% of families held around 71% of all wealth as of 2019, which changed little over the time period in discussion. The data was taken prior to the coronavirus pandemic when unemployment was significantly lower.
Various unions across the US are suing Germany-based Allianz, a major asset manager, for losses to pension funds that occurred over the coronavirus. According to Reuters, the numerous lawsuits filed against the company account for a loss of $4 billion. "While the losses were disappointing, the allegations made by claimants are legally and factually flawed, and we will defend ourselves vigorously against them."
US Market Closings:
Dow advanced 410.1 points or 1.51% to 27,584.06
S&P 500 advanced 53.14 points or 1.61% to 3,351.6
Nasdaq advanced 203.96 points or 1.87% to 11,117.53
Russell 2000 advanced 35.44 points or 2.4% to 1,510.34
Canada Market Closings:
TSX Composite advanced 177.46 points or 1.1% to 16,242.81
TSX 60 advanced 10.42 points or 1.08% to 976.6
Brazil Market Closing:
Bovespa declined 2,333.01 points or -2.4% to 94,666.37
ENERGY:
The oil markets had a mixed day today:
Crude Oil increased 0.37 USD/BBL or 0.92% to 40.6200
Brent increased 0.56 USD/BBL or 1.34% to 42.4800
Natural gas decreased 0.03 USD/MMBtu or -1.60% to 2.0900
Gasoline increased 0.0371 USD/GAL or 3.06% to 1.2508
Heating oil increased 0.0172 USD/GAL or 1.53% to 1.1421
Top commodity gainers: Silver (3.51%), Gasoline (3.06%), Ethanol(3.42%), and Platinum (3.66%)
Top commodity losers: Coffee (-3.61%), Oat (-3.58%), Lumber (-4.77%), and Bitumen (-3.26%)
The above data was collected around 16:47 EST on Monday.
BONDS:
Japan 0.02%(+2bp), US 2's 0.13% (+0bps), US 10's 0.66%(+1bps);US 30's 1.42%(+2bps), Bunds -0.53% (-0bp), France -0.24% (+2bp), Italy 0.89% (+1bp), Turkey 13.01% (+51bp), Greece 1.04% (+2bp), Portugal 0.28% (+2bp), Spain 0.25% (+6bp) and UK Gilts 0.21% (+2bp).
US 3-Month Bill Auction remain the same at 0.100%
US 6-Month bill Auction remain the same at 0.105%
French 3-Month BTF Auction decreased from -0.574% to -0.648%
French 6-Month BTF Auction decreased from -0.583% to -0.603%
French 12-Month BTF Auction decreased from -0.581% to -0.601%