Blog/Market Talk
Posted Sep 28, 2018 by Martin Armstrong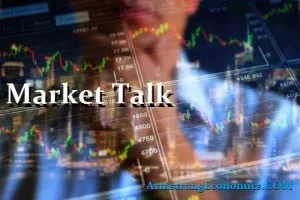 The Nikkei led the pack for Asia rallying 1.6% before a setback at the close. However, given the slight dip it still managed a 1.36% return raising the index to its highest since January. Ypu would have to go back to 1991 to see the Nikkei at these levels, but obviously it is and probably will be, at the expense of the currency. Some favourable economic data (employment, retail sales and output) all helped to propel the Nikkei to fresh yearly highs. The Hang Seng also joined the run, but was soon to lose steam as the Shanghai took over. HSI closed the day up just +0.3%, whilst the mainland Shanghai managed a +1.06% gain. The ASX is fighting back after some wobbles earlier in commodity prices, but a +0.43% today and a small bounce in the A$ (+0.4%) helps the cause. In India the SENSEX continues to struggle as does the INR, all as the USD starts its dominance.
Europe was a buzz with the Italian budget being three times greater than the previous governments plans. The new proposal will be presented to the EU in October, but the news was not taken well by FTSE MIB, BTPS yields or even the Euro. At one stage the stocks market was off nearly 4%, the 10yr Bonds were 35bp wider and the Euro was struggling at the 1.1560 level. Italian banks took the news quite poorly also, with declines of around 8% for Bank Intesa Sanpaolo SpA, which is now down around 20% over the year. BTP's did make a recovery by the close, but still closed 23bp wider at 3.12%. Banks in other countries are also suffering as concerns over balance sheet exposure to peripheral Europe and emerging markets continue to ring alarm bells. Deutsche Bank was down nearly 4% today which brought the DAX lower, but also BNP and Credit Agricole lost around 4% as financials took the brunt of European concerns.
US futures were expecting a much weaker session than materialised, but that just shows the flow of capital into the USA. Despite the first days result of the Ryder Cup, confidence is still abundant for US exposure as demonstrated when the cash market opened. Even though the gains today were limited, it has been a strong quarter for the S+P. Gaining over 7% for Q3 brings the YTD number to 9% and the year on year up to 16%.
Japan 0.12%, US 2's closed 2.81% (-2bp), US 10's 3.04% (-1bp), US 30's 3.18% (u/c), Bunds 0.47% (-6bp), France 0.80% (-4bp), Italy 3.14% (+26bp), Turkey 17.31% (u/c), Greece 4.12% (+12bp), Portugal 1.87% (+1bp), Spain 1.49% (-1bp) and Gilts 1.57% (-3bp).