Blog/Market Talk
Posted Sep 26, 2016 by Martin Armstrong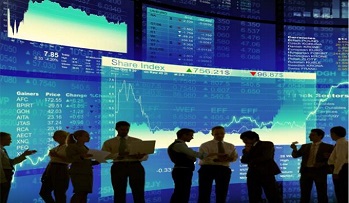 A weaker opening for Asia with the Nikkei 0.7% lower mid-morning and just kept drifting having heard Mr Kuroda inflation expectations and his possible "lower interest rates" comments. The Hang Seng and Shanghai indices traded heavy also as confidence was lost once the Shanghai broke the psychological 3k level. All core Asian indices closed between 1.25 and 1.75% on the day and that certainly did not help the European opening.
Angela Merkel's comment about not supporting Deutsche Bank if the need were to arise certainly did not bode well with investors in this mornings markets. By lunchtime the DAX was around 1.5% lower and the afternoon took it even further closing over 2% lower. Deutsche Bank itself lost 7% in todays trading but also stated that they intend to sort any problems they may or may not have out for themselves. In 2007 DB shares were trading at 80, today they closed at 10.53. Other exchanges were also lower with FTSE, CAC and IBEX all between 1.25 and 1.75% weaker. Doubt, uncertainty and a lack of direct leadership currently haunts the direction for Europe as they search for tangible benefits! Mario Draghi addresses the Bundestag on Wednesday which may also provide some further clarity on QE guidance.
Todays uncertainty also dragged the US markets lower given the heavy sentiment and ahead of the first presidential debate to be held later this evening. It will be interesting to see how markets react to debate (the first of three) but as we approach it sounds as though the market makers want Hilary whilst the market takers vote Trump. DOW, S+P and NASDAQ were all lower but certainly held-in better than either Europe or Asia. Later this evening we see Asian futures have lost another 0.65% from he close with cash finding its way into the core Bond markets again.
The US curve returned to the bull flattening with 2's dropping 2bp (closing 0.735%, not bad considering they auctioned today) whilst 10's closed 1.58% -3.5bp. In Europe 10yr Bunds rallied to -0.12% (3.5bp move) which closes the US/Germany spread at +170bp. Italy closed 10yr at 1.18% (-3bp), Greece 8.23% (+1bp), Turkey 9.57% (+28bp Moody's cut to junk status), Portugal 3.35% (u/c) and UK Gilt 10's closed 0.695%.