Blog/Market Talk
Posted Sep 26, 2019 by Martin Armstrong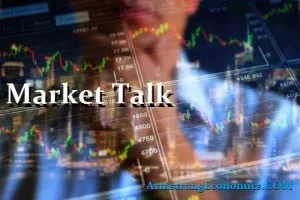 ASIA:
The People's Bank of China auctioned 10 billion yuan dated six months out in order to secure the yuan exchange rate in Hong Kong today. Also today, the Chinese Ministry of Finance reopened a 4.5 billion yuan sovereign bond issue in Hong Kong.
Meanwhile, the Chinese commerce said today that they have started discussing details about the upcoming trade talks to ensure "positive progress" during the negotiations in October. China already told the media that Chinese firms are making significant purchases of US pork and soy beans in an attempt to improve cooperation between the two countries.
The US and Japan have agreed an initial trade deal that will lower the tariffs on select items traded amongst the two countries. US President Trump was quick to praise the deal calling it "tremendous." President Abe of Japan said that he had assurances that car tariffs will not be imposed by the US. The deal outlined that over 90% of the food imported into the US will be free from tariffs or receive preferential tariff access, according to the USTR.
According to the Times of India, the Indian border security force are on red alert after reports suggesting that Pakistan is using Chinese drones to send weapons across the border to terrorist camps. "It is a new modus operandi of Pakistan to smuggle arms, ammunition and explosives in India for triggering terror. We have activated our forces to keep a hawk's eye on movement of drones along the IB," BSF officials said. Meanwhile, Indian external affairs minister Jaishankar has accused Pakistan of using terrorism as a tool to bring India to the negotiating table.
The major Asian stock markets had a mixed day today:
Shanghai decreased 26.34 points or -0.89% to 2,929.09
Kospi increased 1.13 or 0.05% to 2,074.52
ASX 200 decreased 32.60 points or -0.49% to 6,677.60
NIKKEI 225 increased 28.09 points or 0.13% to 22048.24
Hang Seng increased 96.58 points or 0.37% to 26,041.93
SENSEX increased 396.22 points or 1.03% to 38,989.74
The major Asian currency markets had a mixed day today:
AUDUSD increased 0.0022 or 0.32% to 0.6772
NZDUSD increased 0.00432 or 0.69% to 0.63142
USDJPY decreased 0.2640 or 0.24% to 107.4960
USDCNY decreased 0.0001 or 0.00% to 7.1259
Precious Metals:
Gold increased 5 USD/t oz. or 0.33% to 1,507.83
Silver increased 0.0215 USD/t. oz or 0.12%% to 17.9471
Some economic news from last night:
South Korea:
Consumer Confidence (Sep) increased from 92.5 to 96.9
Some economic news from today:
Singapore:
Industrial Production (YoY) (Aug) decreased from -0.1% to -8.0%
Industrial Production (MoM) (Aug) decreased from 3.6% to -7.5%
Hong Kong:
Exports (MoM) (Aug) decreased from -5.7% to -6.3%
Imports (MoM) (Aug) decreased from -8.7% to -11.1%
Trade Balance increased from -32.2B to -28.0B
EUROPE/EMEA:
UK PM Boris Johnson confirmed today that the EU has reopened the withdrawal agreement. He spoke proudly, stating 64 days ago Brussels refused to reopen the withdrawal agreement and would never consider alternatives to the backstop agreement. Yet, here we are today discussing alternatives to the negotiations. He then went on to accuse Parliament of attempting to wreck the negotiations by taking the no-deal off the table. PM Boris Johnson later tweeted, "It's time to get Brexit done and move on so that we can invest more in the NHS and our schools and tackle violent crime #LeaveOct31st."
PM Boris Johnson dismissed Labour Leader Jeremy Corbyn as an indecisive individual about whether he wants to leave or remain in the EU. "He can't control his party, he can't decide whether he's for leave or remain, he's being held captive by his colleagues," Johnson said. He also added that Parliament will have an opportunity of casting a vote of no confidence should they wish to take it. If they do not, then he must be allowed to do his job, further adding, "If not then it will be taken as confidence in the government and the government will hopefully be allowed to get on with implementing its strategy and delivering Brexit on October 31."
Turkey is still awaiting confirmation from the EU and the UN after they suggested a safe zone with an area of 3 million people where Syrian refugees can settle. Turkey is complaining that there are more refugees entering the country from the northwest region.
Middle East tensions are rising. Today, the Saudi Arabian minister of state for foreign affairs said that a military response could be an option against Iran after they declared finding concrete evidence that the attacks were from Iran. Recently, a US assessment was conducted which claimed Iran was behind the attacks. This report has now been backed by the UK, France, and Germany. Iran continues to deny any involvement.
The major Europe stock markets had a green day today:
CAC 40 increased 36.77 points or 0.66% to 5,620.57
FTSE 100 increased 61.09 points, or 0.84% to 7,351.08
DAX increased 54.36 points or 0.44% to 12,288.54
The major Europe currency markets had a green day today:
EURUSD increased 0.00117 or 0.11% to 1.09527
GBPUSD increased 0.0001 or 0.01% to 1.2350
USDCHF increased 0.0002 or 0.02% to 0.9919
Some economic news from Europe today:
Germany:
GfK German Consumer Climate (Oct) increased from 9.7 to 9.9
Italy:
Italian Trade Balance Non-EU (Aug) decreased from 4.06B to 2.33B
Euro Zone:
M3 Money Supply (YoY) (Aug) increased from 5.2% to 5.7%
Loans to Non Financial Corporations (Aug) increased from 3.9% to 4.3%
UK:
Steel Production (Metric Ton) (Aug) decreased from 629.10K to 562.50K
US/AMERICAS:
Trade discussions with China are at a "confidence building" stage, according to US Trade Representative Robert Lighthizer. Chinese Vice-Premier Liu is scheduled to meet with Lighthizer and Secretary Steven Mnuchin on October 10. Certain actions point toward an increase in confidence between the two countries with the US delaying certain tariffs and China increasing their purchases of US agricultural products. Earlier in the week, President Trump suggested China may be ready to make a deal while firmly stating he would not accept a "bad deal" for the US. "You know they want to make a deal and they should want to make a deal. The question is, do we want to make a deal?" Trump questioned.
Later in the day, Chinese diplomat Wang Yi informed the press that China is willing to further increase US agricultural purchases if trade discussions progress in a mutually beneficial manner. "We hope both sides can take more enthusiastic measures, reduce pessimistic language and actions. If everyone does this, talks will not only resume, but will proceed and yield results," Yi told the United Nations General Assembly.
Ukrainian President Volodymyr Zelenskiy did not anticipate that the newly released transcripts of his call with US President Donald Trump would include his commentary. "I personally think that sometimes such calls between presidents of independent countries should not be published," Zelenskiy told reporters. The July phone call prompted House Democrats to inquire into impeachment proceedings. However, the move may have backfired as President Zelenskiy now plans to reopen the investigation involving Joe Biden's son Hunter.
Mexico's central bank, Banxico, dropped its interest rate 25 basis points to 7.75% today. Despite stagnant economic growth, the central bank predicts the Mexican economy will revitalize in the fourth quarter. Inflation is easing closer to Banxico's 3% target and has been steadily declining since it broke the 4% mark in June. Economy Minister Graciela Marquez noted that credit access has been a critical obstacle for Mexican businesses and he hopes the rate cut will address that issue.
US Market Closings:
The Dow declined 79.59 points or -0.30% to 26,891.12
S&P 500 declined 7.25 points or -0.24% to 2,977.62
Nasdaq declined 46.72 points or -0.58% to 8,030.66
Russell 2000 declined 17.33 points or -1.12% to 1,533.33
Canada Market Closings:
TSX Composite advanced 6.11 points or 0.04% to 16,790.40
TSX 60 advanced 0.52 of a point or 0.05% to 1,004.10
Brazil Market Closing:
Bovespa advanced 838.42 points or 0.80% to 105,319.40
ENERGY:
The US has added more sanctions on crude oil products coming from Venezuela; reports from Reuters is that they are still shipping Crude to neighboring Cuba. The price of Crude continues to fall from yesterday's surprise build and a better than expected recover from the Saudi oil fields.
The oil markets had a negative day today:
Crude Oil decreased 0.75 USD/BBL or -1.33% to 55.8129
Brent decreased 0.68 USD/BBL or -1.09% to 61.7220
Natural gas decreased 0.103 USD/MMBtu or -4.12% to 2.3969
Gasoline decreased 0.0032 USD/GAL or -0.20% to 1.6229
Heating oil decreased 0.0227 USD/GAL or -1.16% to 1.9350
Top commodity gainers: Bitumen (5.04%), Coal (2.06%), Palladium(1.46%), and Wheat (1.26 %)
Top commodity losers: Natural Gas;(-4.12 %), Corn (-1.54%), Steel (-1.43%), and Crude Oil (-1.33%)
The above data was collected around 10:50 am EST on Thursday.
BONDS:
Japan -0.24%(+1bp), US 2's 1.66% (-3bps), US 10's 1.69%(-4bps), US 30's 2.14%(-4bps), Bunds -0.59% (+0bp), France -0.29% (-1bp), Italy 0.83% (-0bp), Turkey 13.56% (-22bp), Greece 1.36% (+1bp), Portugal 0.17% (+1bp), Spain 0.14% (+1bp) and UK Gilts 0.53% (-1bp).
Italian 6-Month BOT Auction decreased from -0.217% to -0.224%
US 7-Year Note Auction increased from 1.489% to 1.633%
US 4-Week Bill Auction decreased from 1.950% to 1.880%
US 8-Week Bill Auction decreased from 1.950% to 1.860%