Blog/Market Talk
Posted Sep 26, 2017 by Martin Armstrong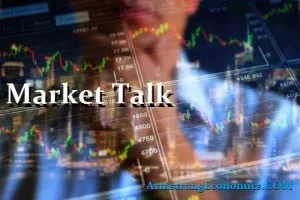 The late headline from North Korea yesterday spooked Stocks, Gold and Treasuries but had broadly lost most of that by the end of the Asian time zone. Both the KOPSI and Nikkei lost around -0.3% on the day with exporters and tech suffering in the afternoon session. US indices did manage to recover much of their losses but nerves remained stretched. The ASX also lost a small amount (-0.2%) following the trend but we did see small price gains for both the Hang Seng and Shanghai. The Yen gained with the geopolitical uncertainty reaching mid 111's during the Asian session and so with nerves easing last this evening has moved back to the mid 112's even as the BOJ minutes confirmed they would continue its monetary policy. Quietly, we have seen the A$ under pressure with late trade into the 0.78 range. SENSEX closed little changed.
The mood in Europe is quite mooted even as tensions built in the past few hours. It isn't the first time we have heard rhetoric like this from North Korea but it is never good in any circumstances. There were no stand-outs in European indices moves other than most closed small down. In Germany, Mrs Merkle is busy trying to form a party, Mrs May (UK Prime Minister) heard a response from Donald Tusk (European Council President) that the BREXIT talks had not progressed sufficiently to move to the next stage and in France Macron calls for a EU defence force. Under all of this it is probably not surprising the markets were subdued. The Euro lost another 0.5% today after yesterdays 1% decline. Gold has also been sold as the DXY starts to see buyers appear.
It has been touch and go all day as to whether the US indices close in positive territory or not! Despite Janet Yellen's speaking there were no new stories, Donald Trump spoke with Spanish PM at his press conference, Consumer Confidence released a touch milder than expected (119.8 v's 120.3) and a smaller gain than expected for New Home Sales. As we approach month end, the DXY looks as though it wants to set some ground to recover in October, Gold has drifted back from recent highs and stocks remain extremely light in volume even though levels remain high. One interesting note is that the oil 'contango' looks to be moving – worth keeping an eye on this at month end also.
2's closed 1.44% (+2bp), 10's at 2.23% (+1bp), 30's 2.77% (+1bp), Bunds 0.41% (+1bp) closes the spread unchanged at +182bp. France 0.7% (u/c), Italy 2.11% (+1bp), Greece 5.55% (+7bp), Turkey 10.68% (-7bp), Portugal 2.36% (-4bp) and UK Gilts 10yr at 1.33% (u/c).