Blog/Market Talk
Posted Sep 25, 2019 by Martin Armstrong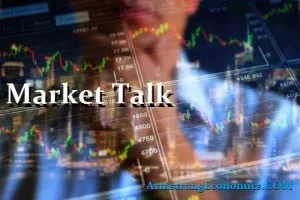 ASIA:
Regarding the US-China trade deal, Foreign Minister Wang Yi met with US Secretary of State Mike Pompeo today. Mr. Wang Yi expressed that China had no intentions of removing the US from the world leader status. However, he stressed that the US must "remove all unreasonable restrictions" with regards to the trade deal. He stressed that China is making bold moves in order to open up their economy to the rest of the world, but is not seeing an equal effort from the US to recognize their efforts. He concluded that he expects to see a positive outcome from the talks which are due next month.
US President Trump spoke at the United Nations yesterday, critiquing Chinese efforts in opening their economy. He also accusing China of large scale intellectual property theft and quoted a case of a friend of his whom had his IP stolen by businesses in China. He justified his tariffs of 500 Billion USD by  stating they have had enough of these practices. He stressed that he wants a good deal between the two countries. However, he touched upon the situation in Hong Kong, stating that China should respect Hong Kong's freedom and stated socialism was for the elite rather than the people.
Today, Indian Prime Minister Narendra Modi delivered a Keynote speech at the Bloomberg Global Business Forum. The event was attended by renowned business and political leaders including Bill Clinton, former International Monetary Fund chief Christine Lagarde, and several top CEOs of Fortune 500 companies. In his address, he called the recent corporate tax cut "revolutionary" and emphasized "restoring global stability." He reinforced his views that India is a destination for investment with a fast-growing ecosystem for infrastructure development. Also, he presented a report card of the country's progress over the last five years as a sales pitch to invite US industry to come and invest in India. After the Bloomberg summit, an investment round table is to be held by India, which will see the participation of 40 major global companies. The round table will have the government seek feedback on the companies' business plans for India.
The major Asian stock markets had a negative day today:
Shanghai decreased 29.91 points or -1.00% to 2,955.43
Kospi decreased 27.65 or -1.32% to 2,073.39
ASX 200 decreased 38.70 points or -0.57% to 6,710.20
NIKKEI 225 decreased 78.69 points or -0.36% to 22020.15
Hang Seng decreased 335.65 points or -1.28% to 25,945.35
SENSEX decreased 503.62 points or -1.29% to 38,593.52
The major Asian currency markets had a mixed day today:
AUDUSD decreased 0.0045 or 0.65% to 0.6755
NZDUSD decreased 0.0045 or 0.71% to 0.6276
USDJPY increased 0.7350 or 0.69% to 107.7850
USDCNY increased 0.0198 or 0.28% to 7.1252
Precious Metals:
Gold decreased 27.1 USD/t oz. or -1.77% to 1,504.56
Silver decreased 0.63 USD/t. oz or -3.39%% to 17.9670
Some economic news from last night:
New Zealand:
RBNZ Interest Rate Decision remain the same at 1.00%
Exports (Aug) decreased from 4.96B to 4.13B
Imports (Aug)  increased from 5.66B to 5.69B
Trade Balance (MoM) (Aug) decreased from -700M to -1,565M
Trade Balance (YoY) (Aug) increased from -5,490M to -5,480M
Japan:
Corporate Services Price Index (CSPI) (YoY) remain the same at 0.6%
Some economic news from today:
India:
M3 Money Supply increased from 9.9% to 10.1%
Japan:
BoJ Core CPI (YoY) decreased from 0.6% to 0.4%
EUROPE/EMEA:
In the UK, MPs returned to work after the historic Supreme court ruling. There were some heated exchanges within the Parliament with Attorney General Geoffrey Cox stating that Parliament was a disgrace and is "dead" for acting too cowardly to hold another election of no-confidence. The attorney general said the government's approach to suspending Parliament was in good faith and that he would consider disclosing his advice to the general public over the coming days.
There are reports that many MPs are trying to force Boris Johnson to ask for an extension earlier than the 30th of October, which is a matter of days away from the unofficial cut off date to hand in a proposal for the withdrawal agreement. Parliament has changed the law to force him to ask for a delay if a deal hasn't been done and dusted by the end of October.
The Scottish economic development agency has reported that it has seen a surge in the amount of applications for support ahead of Brexit. Scottish Enterprise said visits to a website offering the firm's help with the cost of Brexit had risen by 386%.
CNBC reported that the European Union is looking to slap tariffs on more than 4 billion USD worth of US exports in retaliation against President Donald Trump's trade policies, although not all of the EU members are in agreement.
Pakistani PM Imran Khan has told media that US President Donald Trump has asked him to be a mediator between the US and Iran. The Pakistani PM also said that he immediately spoke with Iranian PM Rouhani after the UN general assembly in an attempt to mediate the situation. "I immediately spoke to President Rouhani yesterday after the meeting with President Trump, but I can't say anything right now more than this except that we're trying and mediating," PM Khan said. Meanwhile, Secretary of State Mike Pompeo said, "The more Iran lashes out, the greater our pressure will be." He also mentioned that they are looking to sanction Chinese companies that are knowingly still doing business with Iran. Reuters has reported that Iranians are taking to bartering in order to get around the sanctions.
The major Europe stock markets had a negative day today:
CAC 40 decreased 44.52 points or -0.79% to 5,583.80
FTSE 100 decreased 1.44 points, or -0.02% to 7,289.99
DAX decreased 72.97 points or -0.59% to 12,234.18
The major Europe currency markets had a mixed day today:
EURUSD decreased 0.0073 or -0.66% to 1.0945
GBPUSD decreased 0.01317 or -1.05% to 1.23563
USDCHF increased 0.0066 or 0.67% to 0.9919
Some economic news from Europe today:
Norway:
Unemployment Rate (Jul) increased from 3.6% to 3.8%
France:
French Consumer Confidence (Sep) increased from 103 to 104
France Jobseekers Total decreased from 3,393.4K to 3,373.3K
Spain:
Spanish PPI (YoY) decreased from -0.7% to -2.5%
Swiss:
ZEW Expectations (Sep) increased from -37.5 to -15.4
UK:
Gross Mortgage Approvals decreased from 43.3K to 42.6K
CBI Distributive Trades Survey (Sep) increased from -49 to -16
US/AMERICAS:
House Democrats have opened an impeachment inquiry into President Donald Trump. According to the House, President Trump abused his presidential power to pressure the Ukrainian president to dig up dirt on Biden and his son. Certain reports claim Trump attempted to withhold military aid to Ukraine until his demands were met, but he vehemently denies the accusation. Trump has accused Biden of abusing his vice president position to fire Ukraine's chief prosecutor who was coincidentally investigating an energy company that employed Biden's son. Transcripts of the call were released this Wednesday; Trump says the transcripts prove his innocence while House Democrats view it as condemning.
Boeing has agreed to a settlement with the families of the 346 individuals killed during the two fatal 737 Max jet crashes in Ethiopia and Indonesia. Victim's families will each receive $144,500 from Boeing, but many feel that amount is not enough. Over a hundred lawsuits have been filed against the company for neglecting to prevent the crashes after having knowledge of the defective design. Private investigations into the flawed design revealed that numerous safety inspectors were not fully licensed to perform inspections. The Federal Aviation Administration (FAA) has denied all claims of negligence.
Expats are now eligible to vote in the Canadian elections. Trudeau's administration passed the law and it was approved by the Supreme Court of Canada at the beginning of the year. The ruling has come under harsh criticism with many feeling that those living outside of the nation should not have a say in future policies. Currently, over 31,700 Canadian expats are registered to vote in the upcoming elections.
US Market Closings:
The Dow advanced 162.94 points or 0.61% to 26,970.71
S&P 500 advanced 18.27 points or 0.67% to 2,984.87
Nasdaq advanced 83.76 points or 1.05% to 8,077.38
Russell 2000 advanced 17.07 points or 1.11% to 1,550.65
Canada Market Closings:
TSX Composite declined 14.04 points or -0.08% to 16,784.29
TSX 60 declined 0.19 of a point or -0.02% to 1,003.58
Brazil Market Closing:
Bovespa advanced 605.32 points or 0.58% to 104,480.98
ENERGY:
Crude oil lost around two percentage points today due to the report by the EIA that there was a surprise build of 2.4 million barrels of crude for the week to September 20th. The expectations on the street is that there would be a decline.
The oil markets had a negative day today:
Crude Oil decreased 0.77 USD/BBL or -1.34% to 56.5117
Brent decreased 0.7 USD/BBL or -1.11% to 62.4826
Natural gas decreased 0.002 USD/MMBtu or -0.08% to 2.5027
Gasoline decreased 0.0308 USD/GAL or -1.86% to 1.6230
Heating oil decreased 0.0145 USD/GAL or -0.74% to 1.9503
Top commodity gainers: Ethanol (3.64%), Sugar (2.96%), Lean Hogs(4.11%), and Coffee (2.12 %)
Top commodity losers: Silver(-3.39 %), Baltic Dry (-2.98%), Platinum (-2.90%), and Gasoline (-1.93%)
The above data was collected around 15:30 EST on Wednesday.
BONDS:
Japan -0.25%(-1bp), US 2's 1.68% (+7bps), US 10's 1.72%(+9bps), US 30's 2.17%(+8bps), Bunds -0.59% (+2bp), France -0.28% (+2bp), Italy 0.86% (+3bp), Turkey 13.78% (-41bp), Greece 1.35% (+1bp), Portugal 0.16% (+2bp), Spain 0.16% (+4bp) and UK Gilts 0.55% (+2bp).
German 10-Year Bund Auction increased from -0.700% to -0.610%
US 5-Year Note Auction increased from 1.365% to 1.600%