Blog/Market Talk
Posted Sep 25, 2018 by Martin Armstrong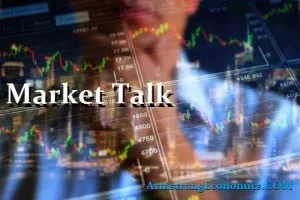 The Asian start seemed confused when opening lower, but it was not long before buyers stepped-in. In holiday subdued trading (Hong Kong and South Korea are closed) the Shanghai index traded heavy for much of the day. It was really only the Nikkei that found the strength to bounce and that probably on the back of a weaker FX rate. The Yen continues to flirt with the 113 handle, even as fears spread of the ongoing trade conflict. The FED starts its two day meeting today, but it is not until Wednesday do we hear comments and decision. Market has priced-in two more hikes for the year, so no surprises are expected. Much will be set by the FED tomorrow and closely followed by the Italian Budget, Quarter end closes and the rising yields in Bond Markets.
Most core highs were hit mid-to-late morning when energy and industrial metals were strong and positive BREXIT tones were abundant. However, these were to change slightly in the afternoon after GBP had already rallied, President Trump addressed the United Nations in New York and oil prices were off their highs. Early on BREXIT news led the confidence rally upon talks that Theresa May and Angela Merkel were optimistic of actually reaching a 'friendly' outcome. Sterling has rallied again today, recouping much of Mondays losses. However, it is still struggling to break above the 1.32 level it reached last Thursday. With US markets opening lower and the DOW suffering for the second day running, sentiment was cooled for Europe by the close of trading. However, as we have seen US markets recover in late trade, its all eyes on the FED tomorrow and the view of future guidance that's key.
US cash made up for the futures weakness, but was refreshing to see the NASDAQ making headway yet again. The Address that President Trump made in NY is probably a good rehearsal for Novembers mid-terms as it was clearly America first all the way. All this and yet the stock market continues to play near all time highs and confidence numbers (released earlier today) are at an 18-year high! The Treasury market is seeing higher yields even with 10's comfortable with a 3% handle. The curve flattens as the two-tier economy progresses, something that does not wish to stop just yet. Things are obviously not settled in Argentina after Luis Caputo, the Central Bank Head, quit today for personal reasons – the Peso dropped 5% on the news.
Japan 0.13%, US 2's closed 2.84% (+3bp), US 10's 3.10% (+2bp), US 30's closed 3.23% (+2bp), Bunds 0.54% (+3bp), France 0.85% (+2bp), Italy 2.87% (-7bp), Turkey 17.88% (-1bp), Greece 4.02% (-5bp), Portugal 1.88% (u/c), Spain 1.52% (u/c) and UK Gilts 1.63% (+2bp).