Blog/Market Talk
Posted Sep 24, 2019 by Martin Armstrong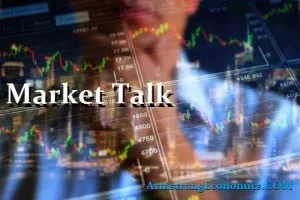 ASIA:
The Chinese government has waived some companies and the state to buy US soybeans tariff-free. According to Bloomberg, as much as 3 million tons were allowed to be purchased without the tariffs. Meanwhile, US Treasury Secretary Steven Mnuchin said that the trade talks will proceed after the Chinese delegation cancelation of a US farm visit put the meeting into doubt. However, Mr. Mnuchin says that the trade negotiations with Chinese Vice Premier Liu will still go ahead in two weeks.  He also reiterated that the US President Trump is looking for a deal, if he can get the right deal.
The US-Japan trade deal has run into some complications regarding the auto tariffs which are currently US's biggest attributor of the trade deficit with Japan. The total figure is just shy of 70 billion USD, with the US government threatening to impose a 25% tariff one both Japanese and European car manufacturers.
The Indian government last Friday cut the corporate tax rate by almost 10 percentage points in a bid to put the economy out of its current slump. The Sensex stock market had its largest point daily rise since records began. The RBI governor Mr. Das, welcomed the tax cut, stating it was a very bold measure and a highly positive step, increasing India's competitiveness compared with other emerging markets
In May 2019, India's current prime minister Narendra Modi beat Bhartiya Janata Party (BJP) in a landslide victory in the general elections for a consecutive term. This raised expectations that the prime minister would chart a new economic course in his second term. But just over 100 days in Modi's second term, the indications from the annual budget, parliamentary legislations, and Modi's public speeches are that the BJP's political and cultural agenda has taken precedence over economic concerns. And this has been their pressing agenda despite the country's GDP Growth rate slumping to 5 percent in the last quarter, the lowest in six years.
Early indications are that the BJP's second term will continue with the policy of expanding welfare schemes for the poor. Before the 2019 general elections, the Modi Government in its interim annual budget had predictably announced a slew of measures to target poor voters, including a quarterly cash handout to small and marginal farmers. One of the first acts of Modi's government upon re-election was to extend the scheme to all land-owning farmers.
The major Asian stock markets had a mixed day today:
Shanghai increased 8.26 points or 0.28% to 2,985.34
Kospi increased 9.34 or 0.45% to 2,101.04
ASX 200 decreased 0.80 points or -0.01% to 6,748.90
NIKKEI 225 increased 19.75 points or 0.09% to 22098.84
Hang Seng increased 58.60 points or 0.22% to 26,281.00
SENSEX increased 7.11 points or 0.02% to 39,097.14
The major Asian currency markets had a mixed day today:
AUDUSD increased 0.0029 or 0.43% to 0.6802
NZDUSD increased 0.0037 or 0.59% to 0.6328
USDJPY decreased 0.4460 or 0.41% to 107.0940
USDCNY decreased 0.0010 or 0.01% to 7.1080
Precious Metals:
Gold increased 10.69 USD/t oz. or 0.70% to 1,535.64
Silver decreased 0.0565 USD/t. oz or -0.30%% to 18.5979
Some economic news from last night:
South Korea:
PPI (MoM) (Aug) increased from 0.0% to 0.2%
PPI (YoY) (Aug) decreased from -0.3% to -0.6%
Japan:
Manufacturing PMI (Sep) decreased from 49.3 to 48.9
Services PMI decreased from 53.3 to 52.8
Some economic news from today:
Japan:
Leading Index increased from 93.6 to 93.7
EUROPE/EMEA:
The UK Supreme Court has ruled against UK Prime Minster Boris Johnson dismissing the parliament as being unlawful, void and of no effect, in what is a historic ruling. There are calls for PM Boris Johnson to be impeached with the Welsh Party Plaid Cymru leader Liz Saville stating, "Boris Johnson has already driven a bulldozer through the constitution, so no longer are ideas like impeachment far-fetched. I will tell other opposition party leaders, we need to be ready to impeach Boris Johnson if he breaks the law." This ruling could bring Parliament back within days to push Boris Johnson back on track to form a deal with the EU. Boris Johnson was naturally disappointed with the decision, stating that the court decision will make getting Brexit harder.
Google won a major case in the European Union today when the European top court ruled that the US internet giant doesn't have to extend the EU's "right to be forgotten" rules to its search engines outside the European zone.
Meanwhile, European and Chinese trade relations are being thrown into question with the EU Chamber of Commerce warning that European trading bloc should take "defensive" measures to protect its single market unless China starts working on "competitive neutrality" and "reforms" its state-run model.
Iran has rejected a joint statement by the leaders of France, Germany, and the UK who blamed the country for attacks earlier this month on Saudi oil installations. US President Trump today is expected to discuss the topic of Iran with the UN in a bid to get support for his tough stance against Iran. US President Trump said A lot of things are going to happen. "A lot more than you would know. A lot more than the media knows," Trump said regarding pressure against the Iranian regime.
The major Europe stock markets had a negative day today:
CAC 40 decreased 2.43 points or -0.04% to 5,628.33
FTSE 100 decreased 34.65 points, or -0.47% to 7,291.43
DAX decreased 35.18 points or -0.29% to 12,307.15
The major Europe currency markets had a mixed day today:
EURUSD increased 0.0026 or 0.23% to 1.1017
GBPUSD increased 0.0061 or 0.49% to 1.2490
USDCHF decreased 0.0045 or 0.46% to 0.9851
Some economic news from Europe today:
France:
French Business Survey (Sep) decreased from 103 to 102
Germany:
German Business Expectations (Sep) decreased from 91.3 to 90.8
German Current Assessment (Sep) increased from 97.4 to 98.5
German Ifo Business Climate Index (Sep) increased from 94.3 to 94.6
UK:
CBI Industrial Trends Orders (Sep) decreased from -13 to -28
Public Sector Net Borrowing (Aug) increased from -1.47B to 5.77B
Public Sector Net Cash Requirement (Aug) increased from -14.078 to 6.399B
US/AMERICAS:
President Trump addressed the United Nations this Tuesday. "Hopefully we can reach an agreement that will be beneficial to both countries. But as I have made clear I will not accept a bad deal for the American people," Trump said in reference to trade negotiations with China. Despite hopeful sentiments about reaching a deal, President Trump criticized China for taking advantage of the World Trade Organization's developing economy status. Furthermore, he criticized the nation for stealing intellectual property, and cited that China will need to play fair in order to make a deal.
Iran was discussed extensively during today's UN address. President Trump urged other nations to crackdown on Iran to make it known that the attack on Saudi Arabia's oil supply will not be tolerated. However, he stated that he does not want the feud to turn into a war, stating that "only the most courageous can choose peace." Iranian President Hassan Rouhani maintains that his nation is not responsible for the attacks. "This fight doesn't have anything to do with us and concerns the US, China and others. They are taking advantage of this to sign billion-dollar defense system contracts," Rouhani told reporters.
Huawei CFO Meng Wanzhou began Canadian court proceedings this week after being detained in Vancouver last December. Her lawyers claim that the Canadian authorities violated the defendant's rights by collaborating with the American authorities to gather information in a "covert criminal investigation." Furthermore, her lawyers claim the executive was not properly notified for the reason of her arrest and the Canadian authorities illegally searched her phone and computer. Although Meng is currently out on bail, she will face additional charges in the US for allegedly violating Iranian sanctions. Months ago, Trump loosely commented that he may consider using Meng's freedom as a leverage tool during trade negotiations with China, which caused her lawyers to claim that the arrest was politically motivated.
On Monday night, a 6.0 magnitude earthquake rattled Puerto Rico. The earthquake struck about 49 miles off the coast in the Atlantic. Luckily, authorities have reported that the earthquake did not cause any significant damage.
US Market Closings:
The Dow declined 142.22 points or -0.53% to 26,807.77
S&P 500 declined 25.18 points or -0.84% to 2,966.69
Nasdaq declined 118.83 points or -1.46% to 7,993.63
Russell 2000 declined 24.66 points or -1.58% to 1,533.59
Canada Market Closings:
TSX Composite declined 68.87 points or -0.41% to 16,798.33
TSX 60 declined 4.35 points or -0.43% to 1,003.77
Brazil Market Closing:
Bovespa declined 726.16 points or -0.73% to 103,875.66
ENERGY:
Brent and WTI Crude gave back some of their gains this week after some speculation to China slowing down with its crude stockpiling and that rumors of the Saudis lying about their production levels in order to prop up the market value of Crude. The Saudi Aramco IPO is likely to be delayed due to the attacks this year, according to Reuters who gained information from sources close to the company.
The oil markets had a negative day today:
Crude Oil decreased 1.36 USD/BBL or -2.32% to 57.2902
Brent decreased 1.74 USD/BBL or -2.69% to 62.9856
Natural gas decreased 0.01 USD/MMBtu or -0.40% to 2.5169
Gasoline decreased 0.0354 USD/GAL or -2.10% to 1.6457
Heating oil decreased 0.0326 USD/GAL or -1.63% to 1.9680
Top commodity gainers: Sugar (2.23%), Palladium (1.26%), Lean Hogs(1.19%), and Rubber (0.73 %)
Top commodity losers: Bitumen(-4.39 %), Brent (-2.69%), Palm Oil (-4.34%), and Crude Oil (-2.32%)
The above data was collected around 13:30 EST on Tuesday.
BONDS:
Japan -0.24%(-2bp), US 2's 1.65% (-2bps), US 10's 1.66%(-5bps), US 30's 2.12%(-4bps), Bunds -0.58% (-0bp), France -0.29% (+0bp), Italy 0.84% (+1bp), Turkey 14.15% (-22bp), Greece 1.37% (+4bp), Portugal 0.15% (-2bp), Spain 0.13% (-3bp) and UK Gilts 0.53% (-2bp).
German 2-Year Schats Auction increased from -0.890% to -0.730%
US 2-Year Note Auction increased from 1.516% to 1.612%
UK 30-Year Treasury Gilt Auction increased from 1.148% to 1.536%