Blog/Market Talk
Posted Sep 23, 2019 by Martin Armstrong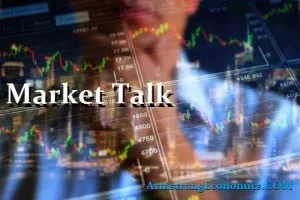 ASIA:
The Chinese government has announced that they will be sending employees to around 100 different companies in the tech hub of Hangzhou, according to state local media. The government is trying to help bolster the economy as part of their "New Manufacturing Plan." Of those companies Alibaba has accepted the government's proposal to entertain the government officials.
Australia is the latest country to voice their concern regarding the US-China trade war. Along with Singapore, Indonesia, and Canada, they are urging the end of the trade war due to its impact on the global economy. The group of countries are worried about the cost of protectionism and its impact to the global economy.
Still, the Hong Kong protests remain strong with a Chinese flag being destroyed in a shopping center as the protests run into the 16th straight week.
The major Asian stock markets had a mixed day today:
Shanghai decreased 29.37 points or -0.98% to 2,977.08
Kospi increased 0.18 or 0.01% to 2091.70
ASX 200 increased 18.90 points or 0.28% to 6,749.70
NIKKEI 225 closed (public holiday)
Hang Seng decreased 213.27 points or -0.81% to 26,222.40
SENSEX increased 1075.41 points or 2.83% to 39,090.03
The major Asian currency markets had a mixed day today:
AUDUSD increased 0.0003 or 0.05% to 0.6771
NZDUSD increased 0.0037 or 0.59% to 0.6293
USDJPY decreased 0.0640 or 0.06% to 107.4860
USDCNY decreased 0.0056 or 0.08% to 7.1131
Precious Metals:
Gold increased 6.35 USD/t oz. or 0.42% to 1,524.84
Silver increased 0.661 USD/t. oz or 3.68%% to 18.6786
Some economic news from last night:
Australia:
Manufacturing PMI decreased from 50.9 to 49.4
Services PMI increased from 49.1 to 52.5
Some economic news from today:
Singapore:
CPI (YoY) (Aug) increased from 0.4% to 0.5%
EUROPE/EMEA:
The world's oldest travel agency collapsed today, as customers are no longer seeking out travel agents to book their travels but instead using sites such as Booking and Expedia to manage their trips. The news came as a blow to those 150,000 stranded passengers who were told their return trips had been canceled. It is likely that the UK will come to the aid of those passengers and provide them alternative connections home.
UK Party Labour is split on whether they should be neutral or back the remaining side in any option deal negotiations, the party voted against backing the remain notion in any future referendum but there were calls for a recount within the party.
An EU Brexit negotiator told the media that talks are currently in a very sensitive stage and would be very "difficult" to solve. "Let me, therefore, put it clearly, based on the current UK thinking, it is difficult to see how we can arrive at a legally operative solution which fulfils all of the objectives of the backstop." He said at a joint press conference with the German Foreign minister Heiko Maas.
Junker also expressed that a no-deal Brexit would imply a hard border in Ireland, which would potentially lead to the unification of Ireland.
The UK government has told UK pensioners living in the EU that their healthcare will only be covered for a period of six months in the event of a no-deal. This understandably caused some protests in the UK.
Iranian foreign minister Zarif has given hope to a new direction with potential nuclear agreement with US President Trump. This comes about after the US placed sanctions on the Iranian central bank after they were accused of attacks on Saudi Arabia.
The UAE have announced a plan for "Emiratization of Dubai" in order to provide stable jobs for the local Emirati population. New details on how this will happen will be released soon.
The major Europe stock markets had a negative day today:
CAC 40 decreased 60.02 points or -1.06% to 5,630.76
FTSE 100 decreased 18.84 points, or -0.26% to 7,326.08
DAX decreased 125.68 points or -1.01% to 12,342.33
The major Europe currency markets had a negative day today:
EURUSD decreased 0.0023 or 0.21% to 1.0994
GBPUSD decreased 0.0044 or 0.35% to 1.2433
USDCHF decreased 0.0006 or 0.06% to 0.9901
Some economic news from Europe today:
France:
French Manufacturing PMI (Sep) decreased from 51.1 to 50.3
French Markit Composite PMI (Sep) decreased from 52.9 to 51.3
French Services PMI (Sep) decreased from 53.4 to 51.6
Germany:
German Composite PMI (Sep) decreased from 51.7 to 49.1
German Manufacturing PMI (Sep) decreased from 43.5 to 41.4
German Services PMI (Sep) decreased from 54.8 to 52.5
Spain:
Spanish Trade Balance decreased from -1.53B to -2.49B
Eurozone:
Manufacturing PMI (Sep) decreased from 47.0 to 45.6
Markit Composite PMI (Sep) decreased from 51.9 to 50.4
Services PMI (Sep) decreased from 53.5 to 52.0
US/AMERICAS:
Facebook recently announced that their new cryptocurrency, the Libra, will be primarily backed by the dollar. Half of Libra's reserves will be covered by the USD while the other 50% will include a basket of currencies including the yen, Singapore dollar, euro, and sterling. Notably omitted is the Chinese yuan, which many believe was a strategic move to allow the digital coin to operate more freely within the US. Libra is set to launch next year, despite some strong opposition.
Indian Prime Minister Narendra Modi visited the US over the weekend for the first time since his reelection. "India has a true friend in the White House," Modi said in reference to his close relationship with US President Trump. Trump had nothing but praise for PM Modi, and juxtaposed India's Pakistan border security concerns with the US-Mexico border issue.
Apple announced this Monday that they will manufacture the new Mac Pro computer in the USA. This will be the first Apple computer manufactured in the US as most of their products are made in China. Months ago, the Trump administration warned Apple that their products would not be exempt from tariffs if they chose to continue manufacturing in China. "We're working and investing currently in capacity to do so because we want to continue to be here," CEO Tim Cook told reporters in reference to the company's new domestic focus.
US Market Closings:
The Dow advanced 14.92 points or 0.06% to 26,949.99
S&P 500 declined -0.30 of a point or -0.01% to 2,991.77
Nasdaq declined 5.21 or -0.06% to 8,112.46
Russell 2000 declined 1.52 points or -0.10% to 1,558.25
Canada Market Closings:
TSX Composite declined 32.49 points or -0.19% to 16,867.20
TSX 60 declined 3.13 points or -0.31% to 1,008.12
Brazil Market Closing:
Bovespa declined 179.58 points or -0.17% to 104,637.82
ENERGY:
Most energy markets moved up today even with the Saudi's insisting that the Oil supply will be fully restored next week. Iran also allowed the UK seized tanker to leave today; as the region is still on edge after last week's attacks.
The oil markets had a green day today:
Crude Oil increased 0.46 USD/BBL or 0.79% to 58.4405
Brent increased 0.26 USD/BBL or 0.40% to 64.6672
Natural gas increased 0.002 USD/MMBtu or 0.08% to 2.5359
Gasoline increased 0.002 USD/GAL or 0.12% to 1.6793
Heating oil increased 0.0079 USD/GAL or 0.40% to 1.9901
Top commodity gainers: Silver (3.68%), Live Cattle (2.74%), Steel(2.25%), and Oat (1.18 %)
Top commodity losers: Rice (-2.31 %), Coal (-1.52%), Palm Oil (-0.62%), and Cocoa (-0.61%)
The above data was collected around 15:30 EST on Monday.
BONDS:
Japan -0.21%(-18bp), US 2's 1.66% (-5bps), US 10's 1.69%(-6bps), US 30's 2.14%(-6bps), Bunds -0.59% (-7bp), France -0.30% (-7bp), Italy 0.84% (-8bp), Turkey 14.37% (-8bp), Greece 1.33% (-1bp), Portugal 0.18% (-7bp), Spain 0.17% (-8bp) and UK Gilts 0.55% (-7bp).
US 3-Month Bill Auction decreased from 1.945% to 1.905%
US 6-Month Bill Auction decreased from 1.870% to 1.860%
French 3-Month BTF Auction increased from -0.573% to -0.567%
French 6-Month BTF Auction increased from -0.624% to -0.591%
French 12-Month BTF Auction increased from -0.624% to -0.609%