Blog/Market Talk
Posted Sep 22, 2017 by Martin Armstrong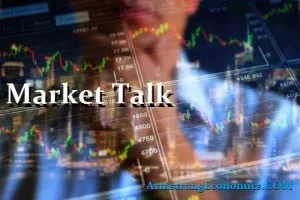 The Australian ASX was probably over-sold yesterday and therefore stood as the only core that performed today. Closing up +0.5% was a healthy recovery after yesterdays 1% decline. China's downgrade put a small dent in confidence for the cash markets which took the Hang Seng down
-0.8% while the Shanghai closed with just small loss. Geopolitical risks remain present after US President Donal Trump signed to expand measurers to target North Korean trade. the Nikkei although closed lower (-0.25%) was off of its earlier lows as news of the speech-plays increased between the two nations. Having seen gold break the psychological $1300 mark yesterday, today we traded comfortably below that level all day. The Yen has dipped back below 112 again as talks of possible missile launches were circulating ahead of the weekend.
A quiet European session with the only action centred around UK Prime Minister Theresa May conference on BREXIT. GBP did rally close to the 1.36 level on expectation but that was shot down once delivered. Most of the evening session played a little over the 1.35 level but next week will be key as we approach month and quarter ends. FTSE liked what it heard finishing +0.65% better on the day but again, was probably more a reflection of sterling at that time. Gold could not breach $1300 and remains heavy even with the possible geopolitical uncertainties over the next couple of days. We did see some good economic data from France and a more broader European PMI which were both better but only tended to support markets rather than push them better. German elections of Sunday and it will be interesting to see where the youth decide to vote. Watch the peripheral groups to see who the coalition fits with.
Despite the lack of volume the price continues to rally regardless of all around it. Earlier in the session we had seen a weaker market which had the potential to run at one stage but the lack of liquidity, coupled with so few players that the follow-through just was not there! The enthusiasm for Apple appears to be weighing on confidence with a 5% price decline this week. Lots of talk about the slack in the IPhone 8 uptake and also slow watch turnover but in all the market is at contract highs – so why not! Interesting that defence stocks have been bought this week, but lets hope this rally is short-lived. Geopolitical concerns are also creeping-in as treasuries find a bid late Friday afternoon, as did the JPY. Late in the day and after the US close Moody's downgraded the UK and we approach the end of trading with GBP on critical support at 1.3475.
2's closed 1.44 (u/c), 10's 2.25% (-2bp), 30's 2.79% (-1bp), Bunds 0.44% (-1bp) closes the spread +180bp (-2bp). France 0.73% (u/c), Italy 2.10% (u/c), Greece 5.45% (-4bp), Turkey 10.70% (+6bp), Portugal 2.38% (u/c) and Gilts 1.35% (-1bp).