Blog/Market Talk
Posted Sep 21, 2017 by Martin Armstrong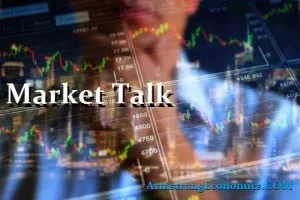 After the unchanged call from the Federal Reserve, within hours we hear the same from the Bank of Japan. Asian equity markets drifted broadly lower with profit-taking the main reason behind many of the moves. The Nikkei continues slightly under recent highs with another small gain (+0.2%) to add to recent advances and was helped by a 0.4% inflation print. The Yen was little changed on the day, having been back to the 112 figure but eased again as we approached the end of the US trading hours. Both the Shanghai and Hang Seng closed only marginally weaker even with rumours of a China downgrade floating around. The Australian ASX closed weakest of the crowd closing down almost 1%. It did bounce off of earlier lows but still finished the day weak.
It was the UK's FTSE that bucked the winning trend in Europe with a small decline of just -0.1%. Other core markets (DAX and CAC) both closed around +0.35% whilst the IBEX managed just +0.05%. Talk is investors are nervous with ongoing uncertainties and even with geopolitical concerns rising again in North Korea. What may be even more surprising is that the events in Catalonia are failing to have an impact of Spanish government debt. Under normal market conditions yields would need to back-up to attract capital, but if the ECB continues to buy even month – why bother to back it off? Other big market talk today was the discussions surrounding the possible merger of Commerzbank, BNP Paribas with possibly a little bit of UniCredit thrown in to the mix! Late in the day both the Euro and GBP rallied on the back of consumer confidence number but then US stocks were looking a little vulnerable as Europe closed.
It is quite unsettling to veteran players in the markets that volume are so low. Again today, we saw only a fraction of what we would normally see this time of year, without considering the potential geopolitical concerns, end of QE, rates edging higher, possible signs of inflation edging off the floor and US markets at historical highs. Into the close we did start to drift lower but even then the volume did not increase. Financials did hold-in marginally better than most other sectors, but then this time of year you just expect a wild swing occur for no reason and without warning. However, we have enough potential reasons just have plenty of investors sitting on the side-lines.
2's closed 1.44% (u/c), 10's at 2.27% (-1bp), 30's 2.80% (-2bp). Bunds 0.45% (+1bp) which closes the spread +182bp. France 0.73% (+1bp), Italy 2.10% (+4bp), Greece 5.49% (-1bp), Turkey 10.64% (+7bp), Portugal 2.38% (+3bp) and UK Gilts 1.36% (+2bp).