Blog/Market Talk
Posted Sep 20, 2017 by Martin Armstrong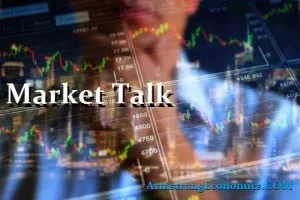 It is probably no surprise that markets are quiet ahead of the Federal Reserve announcement which is probably about to dictate the next chapter in the storey. Both the Shanghai and Hang Seng closed marginally firmer (+0.3%) on the day but added to the Asian mix is the Bank of Japan's monetary policy meeting also starts today with the minutes from previous released on the 26th. We are setting-up quite nicely for some month and quarter end numbers which, are beginning to identify themselves. Todays announcement will probably be the trigger to confirm these directions that will be confirmed at month end. The Nikkei hovers just under 2016 highs whilst the Yen plays comfortably mid 111's both very close to important monthly numbers, so both the BOJ and FED will determine events.
Europe was very much a similar wait and see game ahead of central bank decisions. All closing pretty much unchanged ahead of such market movers. So, let get straight on to what happened later in the day with the FED's unchanged announcement and the rhetoric surrounding their decision. The October reversal was unexpected and you can see the impact on both rates and FX markets. The DXY reversed recent trend with majors hit by at least 1%. The Euro rejected the 1.20 number earlier in the day and in late trading is seeing the mid 1.18's a comfortable range. The Yen has gapped through major 112 resistance and is even moving weaker as we closed the US trading day (112.50 last). Earlier UK Retail Sales numbers had taken the GBP back toward 1.36 level but was rejected later in the day and is currently on the days lows (mid 1.34's). Gold has lost around $30 this week with $10 of those lost today. Oil was moving better even before the FED as inventories but with a little increased demand as contracts rolled. In late treasury trading the market is pricing-in a greater-than 50% chance of a December hike even as 30yrs trade close to unchanged! We will need confirmation from Month and Quarter end numbers but is looking
like the move back into USD is upon us.
2's closed 1.44% (+4bp), 10's 2.28% (+4bp), 30's 2.82% (+1bp), Bunds 0.44% (-1bp), France 0.72% (u/c), Italy 2.06% (+3bp), Greece 5.50% (+6bp), Turkey 10.57% (+1bp), Portugal 2.35% (-3bp) and UK Gilts 1.34% (+1bp). The FED decision was heard too late for European cash markets to react and so we will look for that in Thursdays trading.