Blog/Market Talk
Posted Sep 17, 2019 by Martin Armstrong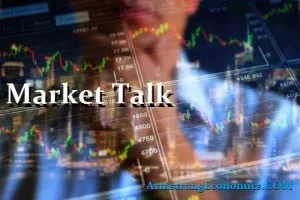 ASIA:
There are ongoing concerns regarding how the Chinese slowdown and rising oil prices will impact global economy. There was no real news emanating regarding progress with the US-China trade deal. However, due to the shortages of US pork, China announced they will release 10,000 MT of pork from its central reserves this week in order to stabilize the rising prices.
Yesterday, US President Donald Trump said he had reached an "initial" deal on tariff barriers with Japan in order to continue good relations between the two countries and fill the void of China who has cut down agricultural purchases since the US-China trade war. The agreement touches on Japan having access to US agricultural producers, and in turn giving the producers better access to the Japanese market. A recent report suggests that the purchase of rice will not be included in the agreement which loosely follows the TPP agreement Trump abandoned in 2017.
Outspoken India's foreign minister said today that the part of Kashmir controlled by Pakistan belongs to them. He expects India will gain physical control over the area one day, sparking more tensions between the two countries.
The major Asian stock markets had a mixed day today:
Shanghai decreased 52.64 points or -1.74% to 2978.12
Kospi increased 0.11 or 0.01% to 2062.33
ASX 200 increased 21.80 points or 0.33% to 6,695.30
NIKKEI 225 increased 13.03 points or 0.06% to 22001.32
Hang Seng decreased 334.31 points or -1.23% to 26,790.24
SENSEX decreased 642.22 points or -1.73% to 36,481.09
The major Asian currency markets had a green day today:
AUDUSD increased 0.0002 or 0.03% to 0.6866
NZDUSD increased 0.0012 or 0.18% to 0.6355
USDJPY increased 0.0590 or 0.05% to 108.1790
USDCNY increased 0.0235 or 0.33% to 7.0850
Precious Metals:
Gold increased 4.65 USD/t oz. or 0.31% to 1,502.84
Silver increased 0.15 USD/t. oz or 0.84%% to 18.0327
Some economic news from last night:
Australia:
House Price Index (QoQ) (Q2) increased from -3.0% to -0.7%
New Zealand:
Westpac Consumer Sentiment (Q3) decreased from 103.5 to 103.1
RBNZ Offshore Holdings (Aug) decreased from 50.50% to 50.40%
China:
House Prices (YoY) (Aug) decreased from 9.7% to 8.8%
Singapore:
Non-Oil Exports (MoM) (Aug) increased from 3.50% to 6.70%
Non-Oil Exports (YoY) (Aug) increased from -11.40% to -8.90%
Trade Balance increased from 2.830B to 3.790B
Some economic news from today:
Hong Kong:
Unemployment Rate (Aug) remain the same at 2.9%
New Zealand:
GlobalDairyTrade Price Index increased from -0.4% to 2.0%
EUROPE/EMEA:
In the UK, there have been many protests regarding the suspension of Parliament by UK PM Boris Johnson. The matter was even taken to court, whereby a Scottish court ruled that the five-week suspension was unlawful. However, today the UK Supreme court overruled the ruling and stated that Boris Johnson was "entitled" to suspend Parliament, even if it is for political reasons.
Judge Lord Keen QC for the government said, "It is not for the courts to overlay their views on when Parliament should or should not have [acted]… that would be to intrude over the boundaries of the separation of powers."
The US has reportedly identified locations in Iran from which drones and cruise missiles were launched against major Saudi oil facilities on Saturday. Intelligence suggests that there was no way the drones came from Yemen, but instead came from Southern Iran. The Iranian government denies any involvement.
The major Europe stock markets had a mixed day today:
CAC 40 increased 13.29 points or 0.24% to 5,615.51
FTSE 100 decreased 1.01 points, or -0.01% to 7,320.40
DAX decreased 7.70 points or -0.06% to 12,372.61
The major Europe currency markets had a green day today:
EURUSD increased 0.0070 or 0.63% to 1.1070
GBPUSD increased 0.0083 or 0.67% to 1.2511
USDCHF increased 0.00072 or 0.07% to 0.99322
Some economic news from Europe today:
Germany:
German ZEW Current Conditions (Sep) decreased from -13.5 to -19.9
German ZEW Economic Sentiment (Sep) increased from -44.1 to -22.5
Euro Zone:
ZEW Economic Sentiment (Sep) increased from -43.6 to -22.4
US/AMERICAS:
Edward Snowden released his memoir this Tuesday entitled "Permanent Record," but the Department of Justice (DOJ) wants it off shelves. Since banning a book would be too controversial for modern America, the DOJ filed a new lawsuit against Snowden for violating non-disclosure agreements he signed while employed by the NSA and CIA. The DOJ is also suing Macmillan Publishers to ensure that the author does not receive any proceeds from book sales. In an official press release, the DOJ stated, "The United States' lawsuit does not seek to stop or restrict the publication or distribution of Permanent Record. Rather, under well-established Supreme Court precedent, Snepp v. United States, the government seeks to recover all proceeds earned by Snowden because of his failure to submit his publication for pre-publication review in violation of his alleged contractual and fiduciary obligations." Snowden has spent the last six years of his life in exile after becoming one of the most notorious whistle blowers in US history.
Numerous nations and industries have ceased or limited their business with Brazil over the ongoing Amazon wildfires, which have been allegedly ignited by the Brazilian government's desire to rapidly industrialize the area. Quietly, the US and Brazil made a $100 million pledge to further industrialize the Amazon. Brazil's Foreign Minister Ernesto Araujo proclaimed that further development is the the only way to protect the forest. "So we need new initiatives, new productive initiatives, that create jobs, that create revenue for people in the Amazon and that's where our partnership with the United States will be very important for us," Araujo stated. US Secretary of State Mike Pompeo stated that the initiative will be fueled by the private sector and carried out over the next 11 years.
Reports surfaced in the South Korean press that North Korean leader Kim Jong-Un is bidding for US President Trump to visit Pyongyang. "I don't think we're ready for that," Trump said in response to the reports. Aside from Trump's brief visit to the Demilitarized Zone (DMZ), a sitting US president has never visited North Korea. The symbolism behind such a visit would likely be a deterrent to numerous global allies, especially South Korea and Japan. However, President Trump did seem willing to extend an invitation to Jong-Un to visit the US to continue the stalled nuclear power discussion.
US Market Closings:
The Dow advanced 33.98 points or 0.13% to 27,110.80
S&P 500 advanced 7.74 points or 0.26% to 2,005.70
Nasdaq advanced 32.47 points or 0.40% to 8,186.02
Russell 2000 declined 6.31 points or 0.40% to 1,578.29
Canada Market Closings:
TSX Composite advanced 83.44 points or 0.50% to 16,834.75
TSX 60 advanced 4.97 points or 0.50% to 1,006.85
Brazil Market Closing:
Bovespa advanced 936.45 points or 0.90% to 104,616.86
ENERGY:
Oil prices plunged today after a report said Saudi Arabia's oil production will be restored to normal levels faster than initially expected. Saudi is currently close to restoring 70% of the production lost due to the attacks, Reuters reported. The impact on Saudi oil exports has been "minimal" following the attack because of ample storage, Reuters said.
The oil markets had a negative day today:
Crude Oil decreased 3.58 USD/BBL or -5.69% to 59.2540
Brent decreased 4.65 USD/BBL or -6.74% to 64.3653
Natural gas decreased 0.017 USD/MMBtu or -0.63% to 2.6611
Gasoline decreased 0.0805 USD/GAL or -4.59% to 1.6687
Heating oil decreased 0.0974 USD/GAL or -4.67% to 1.9856
Top commodity gainers: Feeder Cattle (2.05%), Rubber (4.64%), Palm Oil(3.55%), and Live Cattle (1.58 %)
Top commodity losers: Brent (-6.74 %), Crude Oil (-5.69%), Heating Oil (-4.67%), and Gasoline (-4.59%)
The above data was collected around 14:45 EST on Tuesday.
BONDS:
Japan -0.14%(+2bp), US 2's 1.73% (-3bps), US 10's 1.80%(-4bps), US 30's 2.27%(-4bps), Bunds -0.47% (+0bp), France -0.18% (+2bp), Italy 0.93% (+8bp), Turkey 14.66% (-11bp), Greece 1.50% (-4bp), Portugal 0.32% (+4bp), Spain 0.30% (+3bp) and UK Gilts 0.71% (+1bp).
Spanish 3-Month Letras Auction decreased from -0.528% to -0.566%