Blog/Market Talk
Posted Sep 16, 2019 by Martin Armstrong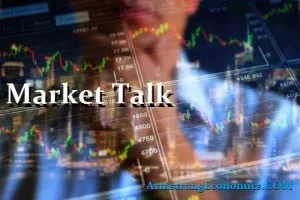 ASIA:
Chinese foreign ministry spokesperson Hua Chunying was quick to dispel rumors that Iran was responsible for the drone attacks on the weekend. "In the absence of conclusive investigation and results, we don't think it is responsible to blame anyone," a spokesperson said. "Our position is that we are against any action that aggravates or escalates tensions. We hope parties will refrain from actions that might escalate tensions. We hope parties will refrain from actions that might escalate tension. We hope they will exercise self-restraint."
Meanwhile, economic data was released from China showing industrial growth slumping to the weakest rate in over 17 years. The US sanctions are taking a toll with the industrial output slowing down to 4.4% down from 4.8% in July. Capital investments dropped to 5.5% growth for the first eight months of the year, down 20 bps year over year, according to the Guardian.
A new Reuters article suggests that Australian insiders within the intelligence agency have reason to believe that China was behind a recent cyber attack on its national Parliament and three other political parties before a general election in May.
The major Asian stock markets had a mixed day today:
Shanghai decreased 0.48 points or -0.02% to 3030.75
Kospi increased 13.02 or 0.64% to 2062.22
ASX 200 increased 4.30 points or 0.06% to 6,673.50
NIKKEI 225 closed (public holiday)
Hang Seng decreased 228.14 points or -0.83% to 27,124.55
SENSEX decreased 261.68 points or -0.70% to 37,123.31
The major Asian currency markets had a mixed day today:
AUDUSD decreased 0.0009 or 0.13% to 0.6868
NZDUSD decreased 0.0026 or 0.41% to 0.6349
USDJPY decreased 0.0590 or 0.05% to 108.0110
USDCNY increased 0.0180 or 0.26% to 7.0634
Precious Metals:
Gold increased 11.24 USD/t oz. or 0.76% to 1,498.70
Silver increased 0.468 USD/t. oz or 2.69%% to 17.8675
Some economic news from last night:
China:
Fixed Asset Investment (YoY) (Aug) decreased from 5.7% to 5.5%
Industrial Production (YoY) (Aug) decreased from 4.8% to 4.4%
Chinese Industrial Production YTD (YoY) (Aug) decreased from 5.8% to 5.6%
Retail Sales (YoY) (Aug) decreased from 7.6% to 7.5%
Chinese Retail Sales YTD (YoY) (Aug) decreased from 8.32% to 8.21%
Chinese Unemployment Rate decreased from 5.3% to 5.2%
South Korea:
Exports (YoY) (Aug) decreased from -13.6% to -13.8%
Imports (YoY) (Aug) remain the same at -4.2%
Trade Balance (Aug) decreased from 1.72B to 1.65B
Some economic news from today:
India:
WPI Food (YoY) (Aug) increased from 6.15% to 7.67%
WPI Fuel (YoY) (Aug) decreased from -3.64% to -4.00%
WPI Inflation (YoY) (Aug) remain the same at 1.08%
WPI Manufacturing Inflation (YoY) (Aug) decreased from 0.34% to 0.00%
Indonesia:
Export Growth (YoY) (Aug) decreased from -5.12% to -9.99%
Import Growth (YoY) (Aug) decreased from -15.21% to -15.60%
Trade Balance (Aug) increased from -0.06B to 0.08B
EUROPE/EMEA:
PM Boris Johnson had a busy day today, first discussing with the PM of Luxembourg, who declared the Brexit process as a "nightmare," and then later in the day failing to make a breakthrough with the backstop agreement whilst discussing the topic with European Commission President Jean Claude Juncker. A statement was later released by the European Commission, "President Juncker underlined the commission's continued willingness and openness to examine whether such proposals meet the objectives of the backstop. Such proposals have not yet been made."
The US has signaled Iran as the nation behind the attacks on the Saudi plants this weekend. President Trump tweeted that there is reason to believe that they know who the culprit is (referring indirectly to Iran). Secretary Pompeo, on the other hand, was more direct. He tweeted that Iran was behind more than 100 attacked on Saudi soil and there was no evidence the attacks came from Yemen (the Houthis claimed responsibility for a drone attack). Iran has denied involvement and said that Secretary Pompeo is responsible for "deceit." Iran also said that the President Rouhani stated that the attacks were a reciprocal response by Yemen. It will be interesting to see the response by the US/Saudi in the coming days.
Today President Rouhani, Turkish President Erdogan, and Russian President Putin met in Ankara, Turkey, to discuss the situation in Syria among this weekend's events.
The major Europe stock markets had a negative day today:
CAC 40 decreased 53.22 points or -0.94% to 5,602.23
FTSE 100 decreased 46.05 points, or -0.63% to 7,321.41
DAX decreased 88.22 points or -0.71% to 12,380.31
The major Europe currency markets had a mixed day today:
EURUSD decreased 0.0065 or 0.59% to 1.1008
GBPUSD decreased 0.0074 or 0.59% to 1.2426
USDCHF increased 0.0005 or 0.05% to 0.9907
Some economic news from Europe today:
UK:
Rightmove House Price Index (MoM) increased from -1.0% to -0.2%
Norway:
Trade Balance (Aug) increased from 6.5B to 6.7B
Italy:
Italian CPI (MoM) (Aug) decreased from 0.5% to 0.4%
Italian CPI (YoY) (Aug) decreased from 0.5% to 0.4%
Italian CPI Ex Tobacco (MoM) (Aug) increased from 0.2% to 0.3%
Italian HICP (MoM) (Aug) decreased from -1.8% to 0.0%
Italian HICP (YoY) (Aug) remain the same at 0.5%
Eurozone:
Reserve Assets Total (Aug) increased from 797.87B to 836.50B
US/AMERICAS:
The White House approved the release of oil from the Strategic Petroleum Reserve after the attack that destroyed a portion of Saudi Arabia's supply. Although no one has confessed to the crime, eyes are on Iran as the most likely culprit. Earlier today, President Trump stated that America is no longer dependent on the Middle East for oil and has surpassed other nations in energy exports. "We don't need Middle Eastern Oil & Gas, & in fact have very few tankers there, but will help our Allies!" the president stated.
Nearly 50,000 workers at General Motors (GM) who are in the United Auto Workers Union have gone on strike. GM initially offered the union workers higher pay and a $7 billion overall investment that would have been carried out over the next four years. A spokesman for the company claims they presented a" strong offer that improves wages, benefits and grows U.S. jobs in substantive ways and it is disappointing that the UAW leadership has chosen to strike at midnight tonight." During the last major GM strike in 2007, the company lost an average of $300 million per day. The company's stock decreased 4.2% this Monday.
The Canadian Real Estate Association foresees an uptick in home sales during the last quarter of the year. The association is forecasting a 5% YoY increase for 2019, totaling 482,000 home sales during the fiscal year. Declining long-term mortgage rates are the primary factor for the optimistic forecast. Despite new buyer incentives, home prices are continually rising throughout the nation. In Vancouver, the average home price, although down -8% YoY, has reached $983,1000. Not far behind, home prices in Toronto have grown 4.8% YoY and average $801,200. Excluding Toronto and Vancouver, the average price for Canadian real estate has grown 2.7% YoY to $393,000.
US Market Closings:
Dow declined 142.70 points or -0.52% to 27,076.82
S&P 500 declined 9.43 points or -0.31% to 2,997.96
Nasdaq declined 23.17 points or -0.28% to 8,153.54
Russell 2000 advanced 6.46 points or 0.41% to 1,584.60
Canada Market Closings:
TSX Composite advanced 68.89 points or 0.41% to 16,751.31
TSX 60 advanced 3.34 points or 0.33% to 1,001.88
Brazil Market Closing:
Bovespa advanced 179.23 points or 0.17% to 103,680.41
ENERGY:
It goes without saying that one of the biggest events of the year happened over the weekend when drones attacked the Saudi refiners. The attack caused a 5.7 billion barrel per day decline, which was a bigger disruption than the Iranian Revolution in 1978 and 1979, the Arab-Israeli war of 1973, or any other modern period of oil disruption for that matter.
All eyes are on the aftermath of the Saudi oil attack which propelled Crude prices up by nearly 15%. Prices came down after US President Trump declared they will release "emergency reserves" into the market to ensure a plentiful supply. Possible military action in the region will be the story of crude rising as the global slowdown will continue to put downward pressure on the price. The current stop to supply could take up to a month to reach full output but a third of the output losses are expected to be fixed today.
The oil markets had a green day today:
Crude Oil increased 6.82 USD/BBL or 12.43% to 61.6259
Brent increased 7.47 USD/BBL or 12.40% to 67.7790
Natural gas increased 0.064 USD/MMBtu or 2.45% to 2.6749
Gasoline increased 0.1671 USD/GAL or 10.76% to 1.7215
Heating oil increased 0.1718 USD/GAL or 9.15% to 2.0461
Top commodity gainers: Crude Oil (12.54%), Brent (12.67%), Gasoline(10.99%), and Heating Oil (9.29 %)
Top commodity losers: Oat (-3.19 %), Lumber (-1.31%), Lean hogs (-3.78%), and Copper (-2.24%)
The above data was collected around 15:55 EST on Monday.
BONDS:
 Japan -0.16%(+6bp), US 2's 1.76% (-4bps), US 10's 1.84%(-6bps), US 30's 2.32%(-6bps), Bunds -0.48% (-3bp), France -0.20% (-2bp), Italy 0.86% (-1bp), Turkey 14.77% (+18bp), Greece 1.54% (-48bp), Portugal 0.28% (-3bp), Spain 0.28% (-5bp) and UK Gilts 0.69% (-7bp).
US 3-Month Bill Auction increased from 1.920% to 1.945%
US 6-Month Bill Auction increased from 1.825% to 1.870%
French 3-Month BTF Auction increased from -0.609% to -0.573%
French 6-Month BTF Auction increased from -0.699% to -0.624%
French 12-Month BTF Auction increased from -0.729% to -0.624%