Blog/Market Talk
Posted Sep 15, 2017 by Martin Armstrong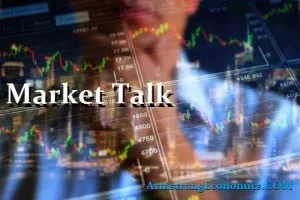 North Korea spooked markets yet again by launching a missile that reported flew over Japan, which came a day after North Korea claimed it would sink Japan. The events were short-livid however and after a brief flight to safety in gold, treasuries and the Yen markets quickly corrected back. The JPY traded into the low 110's but by US trading had drifted into the 111's. Gold did have a bid in Asian trading but by the late US session was testing $1320. The recovery had already taken place by the time Asia closed with the Nikkei closing in positive territory (+0.55%) with exporters and financials setting the pace. The Australian ASX closed down -0.8% led by industrials and miners. SENSEX and Hang Seng were both little changed but we saw a positive return for the core Shanghai index closing up +0.55% as the Yuan drifted again.
UK was the talk of the market today with both good and ad news. Sadly, there was an explosion on a London underground tube where it is to be people hurt and talk that it was terrorist attack. The markets were thin for about an hour but then returned to focus on a rallying Sterling and the declining FTSE. Late in the day the UK raised the terror threat level to critical. GBP made around 200 points against USD taking levels to 1.3610 before settling high 1.35's, a gain today of around 1.3%. Much of this was a direct result of weaker than expected US Retail Sales but the market does appear to be a positive spin top the latest BREXIT talks and the fact the BOE could be back in play soon. The forwards market now prices-in a 60% probability of a November move and February a done deal. Elsewhere in Europe both the CAC and DAX closed small down (-0.2%), while the Spanish IBEX was a little heavier losing -0.4% on the day.
US stocks hit yet more record highs even in the face of poor data but probably benefited on the back of marginally weaker currency against the basket. Retail Sales were 0.3% weaker than forecast at -0.2% and also the Industrial Production number was down almost 1% in August. We have just closed the week at record levels with the geopolitical uncertainty and US Dollar at almost the years lows. Volumes continue to be an issue but with many still on the side-lines, a market pullback is probably on many fund managers Christmas list. It must only be time before the pressures start to mount on the FED to step-up policy as stocks hit record after record – guess we will hear more on that next week.
2's closed 1.38% (+2bp), 10's at 2.20% (u/c), 30's 2.77% (-1bp), Bunds 0.43% (+2bp) closes the spread US/Germany at +177bp (-2bp). France 0.71% (+2bp), Italy 2.07% (+2bp), Greece 5.35% (+3bp), Turkey 10.44% (-1bp), Portugal 2.75% (-2bp) and UK Gilts 1.30% (+7bp)