Blog/Market Talk
Posted Sep 14, 2020 by Martin Armstrong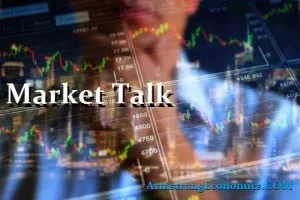 ASIA:
Byte Dance has abandoned the sale of TikTok in the United States on Sunday in pursuit of a partnership with Oracle Corp it hopes will spare it a US ban while appeasing the Chinese government. ByteDance had been in talks to divest TikTok's US business to either Oracle or a consortium led by Microsoft Corp after US President Donald Trump ordered the sale last month and threatened to shut down the popular short-video app in the United States if it was not sold. Under the proposed deal, Oracle will be ByteDance's technology partner and will assume management of TikTok's US user data, the sources said. Oracle is also negotiating taking a stake in the TikTok US assets, the sources added.
The Indian government may declare policy changes to comply with Indian companies that list overseas will have to later launch on a domestic bourse, Reuters reported. India said in March it would allow local firms to list abroad to better access foreign capital for growth directly, but the rules have yet to be decided. Currently, only certain types of securities such as depository receipts are able to be listed in foreign markets, and only after the companies go public in India. But in recent weeks Indian officials told global investors and companies in meetings they were considering mandating a secondary listing for local companies on Indian bourses after they list abroad, sources said. The time period under consideration for such a requirement ranges from 6 months to 3 years, as per sources familiar with the matter.
India said on Sunday it was considering granting an emergency authorization for a COVID-19 vaccine, particularly for the elderly and people in high-risk workplaces, as the country's number of reported infections passed 4.75 million. India's Health Ministry said "If there is a consensus, we may go ahead with it, especially in the case of senior citizens and people working in high-risk settings." The Health Ministry also said the timeline on Phase III trials could be shortened by giving emergency authorization, but stressed no corners would be cut in clinical trials and that a vaccine would only be made available when the government could ensure its safety and efficacy.
Soft Bank will sell its chip designer company- Arm to Nvidia for USD 40 billion. The deal will include USD 21.5 billion in Nvidia stock and USD 12 billion in cash, including USD 2 billion payable at signing. Nvidia will also issue $1.5 billion in equity to Arm employees.
The major Asian stock markets had a mixed day today:
NIKKEI 225 increased 152.81 points or 0.65% to 23,559.30
Shanghai increased 18.47 points or 0.57% to 3,278.81
Hang Seng increased 136.97 points or 0.56% to 24,640.28
ASX 200 increased 40.10 points or 0.68% to 5,899.50
Kospi increased 31.22 points or 1.30% to 2,427.91
SENSEX decreased 97.92 points or -0.25% to 38,756.63
Nifty50 decreased 24.4 points or -0.21% to 11,440.05
The major Asian currency markets had a mixed day today:
AUDUSD increased 0.0017 or 0.23% to 0.73002
NZDUSD increased 0.00482 or 0.72% to 0.67122
USDJPY decreased 0.47 or -0.44% to 105.67
USDCNY decreased 0.02596 or -0.38% to 6.80704
Precious Metals:
Gold increased 16.40 USD/t oz. or 0.84% to 1,957.90
Silver increased 0.45 USD/t. oz or 1.68% to 27.190
Some economic news from last night:
China:
House Prices (YoY) (Aug) remain the same at 4.8%
Japan:
Reuters Tankan Index (Sep) increased from -33 to -29
New Zealand:
External Migration & Visitors (Jul) decreased from -98.40% to -98.50%
Permanent/Long-Term Migration (Jul) decreased from 341 to -26
Visitor Arrivals (MoM) decreased from 60.8% to 8.8%
Some economic news from today:
Japan:
Capacity Utilization (MoM) (Jul) increased from 6.2% to 9.6%
Industrial Production (MoM) (Jul) increased from 1.9% to 8.7%
Tertiary Industry Activity Index (MoM) decreased from 7.9% to -0.5%
India:
CPI (YoY) (Aug) decreased from 6.73% to 6.69%
WPI Food (YoY) (Aug) decreased from 4.08% to 3.84%
WPI Fuel (YoY) (Aug) increased from -9.84% to -9.68%
WPI Inflation (YoY) (Aug) increased from -0.58% to 0.16%
WPI Manufacturing Inflation (YoY) (Aug) increased from 0.51% to 1.27%
Singapore:
Unemployment Rate (Q2) decreased from 2.9% to 2.8%
EUROPE/EMEA:
Boris Johnson has said the UK must reserve the right to override the Brexit deal to protect the country's "economic and political integrity." The Internal Market Bill is expected to pass its first parliamentary test later, when MPs vote on it at 22.00 BST, despite the reservations of many MPs that it gives the UK the power to break international law. A number of Conservative MPs have said they will not support the bill as it stands, and some could register their concerns by abstaining. The Internal Market Bill proposed by the government would override that part of that agreement when it comes to movement of goods between Northern Ireland and Britain and
would allow the UK to re-interpret "state aid" rules on subsidies for firms in Northern Ireland, in the event of the two sides not agreeing a future trade deal.
UK house prices are set to plunge next year as government support measures to kick-start the economy after lockdown expire, Bloomberg reported. Average house prices will fall by nearly 14% from 2020 levels, according to the Centre for Economics and Business Research. The decline will begin toward the end of this year and continue in the first half of 2021, though a brief spike is possible when a temporary sales tax break ends in March. The CEBR think tank initially suggested house prices could fall 13% this year. That was before the stamp duty holiday and other coronavirus support was announced by the government.
Germany has decided to focus on maintaining stronger partnerships with democratic countries in the Indo-Pacific region in order to promote the rule of Law, Nikkei Asia Review reported. Germany's drift towards the Indo Pacific strategy comes as Europe has expressed concern's over China's track record on human rights and its economic dependence on the Asian country.
Despite the increasing pressure to pull the plug on its controversial giant gas pipeline project with Russia, following the suspected poisoning of Russian opposition politician Alexei Navalny, experts say Germany is unlikely to stop its massive gas pipeline project. The project, Nord Stream 2, is over 94% completed after almost a decade of construction, which involved major German and European companies, and is necessary for the region's current and future energy needs. In this case, economic and commercial interests could trump political pressure to punish Russia. Germany's Foreign Minister Heiko Maas hinted last Sunday that Russia had to play its part during the investigation into the attack on Navalny.
The major Europe stock markets had a mixed day:
CAC 40 increased 17.74 points or 0.35% to 5,051.88
FTSE 100 decreased 5.84 points or -0.10% to 6,026.25
DAX 30 decreased 9.18 points or -0.07% to 13,193.66
The major Europe currency markets had a mixed day today:
EURUSD increased 0.00279 or 0.24% to 1.18729
GBPUSD increased 0.00787 or 0.62% to 1.28717
USDCHF decreased 0.00108 or -0.12% to 0.90752
Some economic news from Europe today:
Euro Zone:
Industrial Production (MoM) (Jul) decreased from 9.5% to 4.1%
Industrial Production (YoY) (Jul) increased from -12.0% to -7.7%
US/AMERICAS:
Treasury Secretary Steven Mnuchin declared that now is "not the time to worry" about the ever-growing Federal balance sheet. The Federal deficit exceeded $3 trillion for the first 11 months of the fiscal year, but the secretary has argued that the government needs to spend more money to help Americans recover from the coronavirus pandemic. "There was a time when the Fed was shrinking the balance sheet and coming back to normal. The good news is that gave them a lot of room to increase the balance sheet, which they did," Mnuchin told reporters at CNBC this Monday.
Trevor Reeve was appointed as director of the Division of Monetary Affairs by the Federal Reserve this Monday. The former deputy director joined the Federal Reserve in 1998 and had 16 years of experience working with the Division of International Finance. Chairman Powell praised Reeve's "wealth of experience in policy analysis and in facilitating the monetary policymaking process."
ByteDance, TikTok's parent company, ruled out Microsoft's bid to buy the video sharing platform. Instead, Oracle announced that it will partner with TikTok in the US after it was declared to be a "trusted technology partner" by the Treasury Department. The Trump administration initally threatened to shut down the video platform after claims that it was sending data to China's Communist Party.
Toronto, Canada's most densely populated city, announced plans to open a new voluntary self-isolation center for citizens presenting symptoms of coronavirus. The housing unit cost C$13.9 million to fund and currently hosts 140 rooms. Those who choose to isolate in the center will receive free lodging, food, and basic necessities as well as daily phone calls from a Toronto Public Health Communicable Disease Investigator.
On Friday, Canada reported zero deaths due to the coronavirus for the first time since March 15. The Public Health Agency announced 702 new cases on Friday but claimed there had been no coronavirus related deaths.
US Market Closings:
Dow advanced 327.69 points or 1.18% to 27,993.33
S&P 500 advanced 42.57 points or 1.27% to 3,383.54
Nasdaq advanced 203.11 points or 1.87% to 11,056.65
Russell 2000 advanced 39.7 points or 2.65% to 1,536.97
Canada Market Closings:
TSX Composite advanced 137.68 points or 0.85% to 16,360.14
TSX 60 advanced 6.31 points or 0.65% to 980.14
Brazil Market Closing:
Bovespa advanced 1,911.3 points or 1.94% to 100,274.52
ENERGY:
The oil markets had a mixed day today:
Crude Oil decreased 0.03 USD/BBL or -0.08% to 37.3000
Brent decreased 0.14 USD/BBL or -0.35% to 39.6900
Natural gas increased 0.059 USD/MMBtu or 2.60% to 2.3280
Gasoline increased 0.0111 USD/GAL or 1.01% to 1.1060
Heating oil increased 0.0016 USD/GAL or 0.15% to 1.0912
The above data was collected around 12:15 EST on Monday.
Top commodity gainers: Natural Gas (2.60%), Platinum (3.02%), Cotton (2.37%), and Bitumen (6.27%)
Top commodity losers: Ethanol (-2.76%), Coffee (-7.20%), Lean Hogs (-2.07%), and Oat (-4.26%)
The above data was collected around 12:20 EST on Monday.
BONDS:
Japan 0.01%(-2bp), US 2's 0.13% (+1bps), US 10's 0.66%(-0bps); US 30's 1.41%(-0bps), Bunds -0.49% (-1bp), France -0.21% (-2bp), Italy 1.00% (-3bp), Turkey 12.93% (-16bp), Greece 1.04% (-8bp), Portugal 0.28% (-3bp); Spain 0.26% (-5bp) and UK Gilts 0.19% (+1bp).
US 3-Month Bill Auction decreased from 0.115% to 0.110%
US 6-Month Bill Auction increased from 0.105% to 0.120%
French 3-Month BTF Auction decreased from -0.569% to -0.574%
French 6-Month BTF Auction increased from -0.577% to -0.576%
French 12-Month BTF Auction increased from -0.575% to -0.573%