Blog/Market Talk
Posted Sep 14, 2018 by Martin Armstrong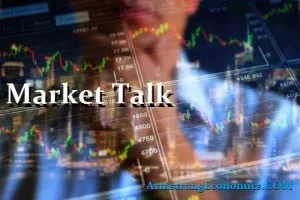 Asian markets ended the day strong, with the majority of the broader indexes increasing over 1%. Japanese Nikkei Index rose 1.2% albiet the manufacturing was slightly worse than expected; bringing the index to a 7 month high (Monday is a closed trading day). The exception to this case for a positive Asia was the Chinese Shanghai composite, the composite ended the day slightly negative and the week flat.
Due to increasing pressure and uncertainty from the US trade tarriff talks causing the index to lag amongst its peers.
A major chinese newspaper stated that China will not buckle to U.S. demands in any trade negotiations, whilst in the U.S. President Trump said on Twitter there was no stress for him to make a deal with China.
During the uncertanity, Chinese investors are thought to be prefering cash and bonds to equities. The index was down close to 20% since the Trump administration declared tarrifs on Chinese trade. Trading volumes have also halved since the beginning of the year.
Money into Chinese money market funds in July, was at the fastest pace this year pushing their assets over 10% in that month alone.
European markets were overall positive today. Some markets pushing their YTD to back into positive territory after a bad start to the month. This week the GBP/USD pushed to 1.31 due to positive Brexit talks, the highest in 6 weeks. Monday we have European CPI numbers released although a 2.0% figure is expected.
The US markets started positively opening up higher due to a positive day in global equities and the news that the US treasuries yields rose back above 3%. Later in the trading day Trump administration gives a green light to proceed with 200 billion dollars worth of tariffs on Chinese products entering the US. This caused the markets to U turn and proceed lower. US consumer beat expectations bringing about a 14 year high in confidence was enough to shift the markets positively before market close.
With commodities, the US Baker Hughes report came out indicating US energy companies cut nine oil drilling rigs due to falling crude prices since Monday, the biggest decline since May 2016. Brent was up 10% since the August low and now rests at 78.03. Tuesday next week we have the OPEC meeting so we can expect some volatility in the energy markets.
Japan 0.10% (-1bp), US 2's closed 2.78% (+1bp), US 10's closed 2.99% (+2bp), US 30's closed 3.13% (+2bp), Bunds 0.45% (+3bp), France 0.76% (+3bp), Italy 2.98% (+3bp), Turkey 18.19% (-118bp), Greece 4.04% (+6bp), Portugal 1.84% (-1bp), Spain 1.48% (+2bp) and UK Gilts 1.53% (+3bp)