Blog/Market Talk
Posted Sep 13, 2017 by Martin Armstrong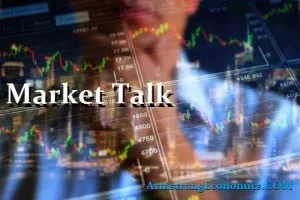 Having seen the US markets close on a high note Asia saw a little nerves appear at the opening but at least we are back to focusing on markets rather than having to price-in geopolitical risks. It was the Nikkei again that returned the best of the core (+0.5%) and this time with the currency relatively well behaved. Last seen the yen was trading mid 110's almost little changed from Tuesday close as the DXY gained against all majors. The Australian ASX was little changed, which was a good performance when you consider the declines in copper and nickel, whilst the A$ lost 0.5% to take it back below the psychological 0.80 level. It is arguable that the Hang Seng (+0.2%) and Shanghai (-0.3%)cancelled each other out while the Yuan lost small ground again today. SENSEX was also little changed so lets move onto Europe…
Europe also benefited from the firm US tone but we could probably describe the performance as mixed. Core indices closed DAX and CAC up +0.2%, IBEX +0.35% and FTSE down -0.3% while the Euro and GBP both lost -0.7%. The DXY has recovered a little this week (+0.9%) but has lost around 9% YTD. UK unemployment rate to a new low (4.3%) but saw average hourly weaker than expected. Jean-Claude Juncker, President of the European Commission in his State of the EU address spoke of stronger more democratic union by 2025. Within the address was the appointment of an overarching European Minister of Economy and Finance to promote reforms and step-in should any member be hit by recession or crisis. He also claimed the UK would soon regret BREXIT – talks resume next Monday 16th Sept. UK unemployment at 42year low.
US markets appeared to adopt a sideways, consolidation phase today holding onto recent gains. The currency has recovered even more making further gains against the Euro and GBP and even better headway against some second tier currency pairs. The volume still looks light as we await more tax details, but encouragingly banks and energy appear to be finding support. The recent safe-haven bid for gold appears to be evaporating as stocks plateau and the USD recovers. Earlier Producer Prices were a little below expectations but still plenty to see later in the week. Treasuries starting to rally again as stocks regain record highs, so the talk is that a December move should not be off the table.
2's closed 1.35% (+2bp), 10's 2.20% (+3bp), 30's 2.79% (+2bp), Bunds 0.4% (u/c), closes the spread +2 bp wider at +179bp. France 0.68% (-2bp), Italy 2.03% (+2bp), Greece 5.35% (-2bp), Turkey 10.38% (u/c), Portugal 2.78% (-3bp), Gilts 1.14% (+1bp).