Blog/Market Talk
Posted Sep 12, 2017 by Martin Armstrong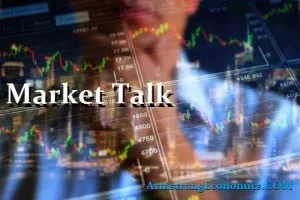 As the DXY continued its bounce, so Asian currencies returned their recent gains with the most noticeable move being in the Japanese yen. The currency in late US trading is seen with a 110 handle a decline of 0.6% on the day. The declines were counter-balanced by stocks that all rallied with the Nikkei 1.2% with exporters leading the way. The ASX also benefited as the A$ drifted, but held the 0.8 psychological support and stocks managed a +0.6% gain on the day. Core China and Hang Seng rallied again today but only a marginal +0.1% today. The weekend news is seen as positive but as only the first step in many to opening its market and purring reliance upon the institution as opposed to the state. We did see both on and off-shore level weaken a touch but having recovered all of this years losses todays move was negligible. SENSEX performed again rallying +0.9% upon expectations that the inflation number would be better than anticipated.
With the exception of the UK's FTSE most core markets closed higher on the day. The UK however, suffered as a result of better than expected CPI data which boosted the GBP (+1%) while having a negative effect on stocks (-0.2%). DAX and CAC were both led by banks and insurers as all watched the respective bond market yield creeping higher and steeper. Also in the UK there was the acknowledgment by lawmakers that UK law be extracted from EU law. Core European markets are starting to look stretched , but with the US fading into the close, expecting Asia to pull markets again on Wednesday looks to be a tall ask!
US continued the positive theme and we saw record highs as financials drove the move. Geopolitical fears seemed way off today as treasury the yield increases even encouraged the play. There is still news to come on the tax reform but we do hear sketchy headlines hitting the screens occasionally. Probably best we wait for confirmation of all the speculation as the rumour often outstrips the actual and after all, "Hopeful is hopeful"! Apple dominated much of the talk in afternoon trading but after the initial rally, the stock finished small lower (-0.4%).
2's closed 1.33% (+1bp), 10's 2.17% (+4bp), 30's 2.77% (+3bp), Bunds 0.4% (+6bp) closing the US/Germany spread at +177bp (-2bp). France 0.7% (+7bp), Italy 2.01% (+6bp), Greece 5.37% (-1bp), Turkey 10.38% (+5bp), Portugal 2.81% (+5bp) and Gilts 1.13% (+9bp).