Blog/Market Talk
Posted Sep 11, 2018 by Martin Armstrong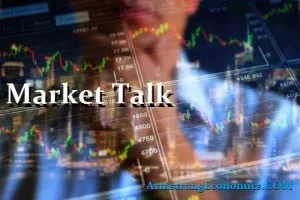 It did look as though we may have seen a better day for core Chinese markets initially, but sadly today was not that day! Having seen positive moves in early trade, price action returned negative following the regional trend. Shanghai (-0.2%) was disappointing but is trending lower as headlines seem to run confidence. The Hang Seng was led lower as exporters, real estate, financials and tech all saw sellers. Closing on its days low, the returns for the year are starting to raise a cause for concern. The SENSEX is one that many are starting to discuss. Losing another 1.3% today, the trend seemed steady until mid afternoon, bit sellers appeared towards the close. Obviously, the rally in oil prices is not helping, but added to this is the continued decline in the currency and that is nudging international investors to liquidate losses before they accelerate too much. The Nikkei (+1.3%) was a beacon of light as it had taken a beating recently. However, given that the currency is backing off yet again, much is only currency rebalancing.
Most European markets were still trading off of yesterdays optimisms created by Michael Barnier's UK comment. Headlines that there could be a deal within five or six weeks helped boost confidence yesterday which carried into today. A pretty mixed picture across both core and periphery stock indices, but not so in the fixed-income world. Bonds traded heavy today but more as prices had stabled rather than declined. The safe-haven bid looks to have passed as both core and periphery spreads lost similar. The bond sphere now looks to be focusing on absolute yield, as many welcomed the likelihood of UK financial support especially as USA yields rise. This evening as US shares approach historic levels, the bid for bonds in backing away globally. This could very well be the place to react first especially if the ECB attempts to back away after all this time.
US stocks saw similar patterns to global action, but the difference was they manage to turn and build upon gains as the day wore-on. Technology stocks found a renewed bid and were led all the way by the biggest of them all. Talk is some bullish forecasts are supporting prices which is encouraging the return of optimism. The cash continues to flow back home for many large US companies as the appeal to repatriate accelerates. Given that the US Dollar is recovering much lost ground, this is likely being reflected in emerging market weakness. Trade talks are also still affecting sentiment, but the longer this drags the less headline impact we may eventually see. As the broader S+P approaches recent highs we realise that the YTD return is over 8% and the YOY number is 16% with an appreciating currency – not a bad recipe!
Japan 0.10%, US 2's closed 2.74%, US 10's 2.98% (+5bp), US 30's 3.12% (+3bp), Bunds 0.43% (+3bp), France 0.73% (+2bp), Italy 2.94% (+4bp), Turkey 19.58% (+40bp), Greece 4.04% (-11bp), Portugal 1.88% (+1bp), Spain 1.46% (+1bp) and UK Gilts 1.50% (+3bp).