Blog/Market Talk
Posted Sep 10, 2019 by Martin Armstrong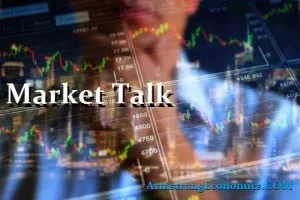 ASIA:
In a strategy to open Chinese markets to the international investors, China scrapped the rule that limits international funds to purchase Chinese stocks and bonds. The State Administration of Foreign Exchange said today that it has removed the 300 billion USD cap on international purchases of the assets. This is a significant step in giving depth to the stock and bond market so it can really compete on a global stage. Meanwhile, reports are stating that China has already agreed to 80% of demands for a trade deal, but the final 20% of US demands are seen by Beijing as an infringement on its sovereignty and impossible to accept.
Some economic data was released today with August exports falling 1% from a year earlier, the biggest fall since June this year. This comes on the back of a decent last month when the figure surprisingly jumped 3.3%. As for this month, analysts expected a 2.0% rise according to a Reuters poll.
The major Asian stock markets had a mixed day today:
Shanghai decreased 3.54 points or -0.12% to 3,021.20
Kospi increased 12.53 points or 0.62% to 2032.08
ASX 200 decreased 33.90 points or -0.51% to 6,614.10
NIKKEI 225 increased 73.68 points or 0.35% to 21,392.10
Hang Seng increased 2.28 points or 0.01% to 26,683.68
SENSEX closed today (public holiday)
The major Asian currency markets had a mixed day today:
AUDUSD decreased 0.0002 or 0.03% to 0.6859
NZDUSD decreased 0.0003 or 0.04% to 0.6419
USDJPY increased 0.2460 or 0.23% to 107.4760
USDCNY decreased 0.0051 or 0.07% to 7.1118
Precious Metals:
Gold decreased 9.45 USD/t oz. or -0.63% to 1,491.49
Silver increased 0.1005 USD/t. oz or 0.56%% to 18.0884
Some economic news from last night:
Australia:
NAB Business Confidence (Aug) decreased from 4 to 1
NAB Business Survey (Aug) decreased from 2 to 1
New Zealand:
Electronic Card Retail Sales (YoY) (Aug) increased from 1.6% to 2.8%
Electronic Card Retail Sales (MoM) (Aug) increased from -0.1% to 1.1%
China:
CPI (YoY) (Aug) remain the same at 2.8%
CPI (MoM) (Aug) increased from 0.4% to 0.7%
PPI (YoY) (Aug) decreased from -0.3% to -0.8%
Japan:
M2 Money Stock (YoY) increased from 2.3% to 2.4%
M3 Money Supply (Aug) increased from 1,806.6T to 1,808.9T
Some economic news from today:
Indonesia:
Retail Sales (YoY) (Jul) increased from -1.8% to 2.4%
Japan:
Machine Tool Orders (YoY) decreased from -33.0% to -37.1%
EUROPE/EMEA:
The UK Parliament officially recessed today until October 14th, leaving only around two weeks until the official "Brexit" cut-off date. The MPs were told to leave but it wasn't without some protests, with a lot of MPs holding a blank sheet with the word "Silenced." There were also some less aggressive singing by some Scottish MPs as they now enter their five week break. Jeremy Corbyn stressed that he wants an election and does not want to inflict the disaster of a no-deal on to the community, effecting jobs, services and rights.
The UK house speaker John Bercow, who is a funny character in his own right, announced he will be stepping down from his role on October 31st after 10 years. He expressed criticism at the suspension of Parliament, citing, "It is not standard. It's one of the longest for decades and it represents — not just in the minds of many colleagues, but huge numbers of people outside — an act of executive fiat."
China has criticized Germany for allowing the German Foreign Minister to meet with Hong Kong activist Joshua Wong. China called the meeting "disrespectful," as Wong urged countries to stand by the protestors. "It is extremely wrong for the German media and politicians to attempt to tap into the anti-China separatist wave," said Chinese Foreign Ministry spokeswoman Hua Chunying. "It is disrespectful of China's sovereignty and an interference in China's internal affairs."
The major Europe stock markets had a green day today:
CAC 40 increased 4.26 points or 0.08% to 5,593.21
FTSE 100 increased 32.14 points, or 0.44% to 7,267.95
DAX increased 42.61 points or 0.35% to 12,268.71
The major Europe currency markets had a mixed day today:
EURUSD decreased 0.0008 or 0.07% to 1.1039
GBPUSD increased 0.00003 or 0.00% to 1.23453
USDCHF decreased 0.0001 or 0.01% to 0.9918
Some economic news from Europe today:
France:
French Non-Farm Payrolls (QoQ) (Q2) decreased from 0.4% to 0.2%
French Industrial Production (MoM) (Jul) increased from -2.3% to 0.3%
Italy:
Italian Industrial Production (MoM) (Jul) decreased from -0.3% to -0.7%
Italian Industrial Production (YoY) (Jul) increased from -1.2% to -0.7%
Norway:
Core CPI YTD (Aug) decreased from 2.2% to 2.1%
Core Inflation (MoM) (Aug) decreased from 0.6% to -0.6%
CPI (MoM) (Aug) decreased from 0.7% to -0.7%
CPI (YoY) (Aug) decreased from 1.9% to 1.6%
PPI (YoY) (Aug) decreased from -8.6% to -9.4%
Norges Bank regional network Survey decreased from 1.57% to 1.35%
UK:
Average Earnings ex Bonus (Jul) decreased from 3.9% to 3.8%
Average Earnings Index +Bonus (Jul) increased from 3.8% to 4.0%
Claimant Count Change (Aug) increased from 19.8K  to 28.2K
Employment Change 3M/3M (MoM) (Jul) decreased from 115K to 31K
Unemployment Rate (Jul) decreased from 3.9% to 3.8%
US/AMERICAS:
US national security advisor John Bolton has stepped down from his position. In an online statement, the president said, "I informed John Bolton last night that his services are no longer needed at the White House. I disagreed strongly with many of his suggestions, as did others in the administration." In an interview with NBC on Tuesday, Bolton claimed he resigned this morning after sleeping on the decision. Once called a "war fanatic" by North Korea's foreign ministry, Bolton has harshly criticized Iran and often encouraged the US to act when potential threats arose.
Nearly a thousand employees at Amazon's headquarters in Seattle, Washington, are planning a walk out at the end of the month to protest climate change. The group called "Amazon Employees For Climate Justice" plans to vacate the headquarters on September 20 to prompt the international company to go to greater lengths to protect the environment. "Amazon employees receive an allotment of paid time off every year, and they can use this time as they wish," a spokesperson for Amazon commented.
In more Amazon news, the company announced this Tuesday plans to begin offering Prime two-day shipping to Brazil. In an attempt to cash in on one of Latin America's largest economies, the company will begin offering a restricted version of Prime to certain regions. Numerous Brazilian retail stocks declined after the announcement was made.
The Brazil, Russia, India, China and South Africa (BRICS) summit is poised to be held in Brazil November 13-14, 2019. Chinese President Xi confirmed that he will personally attend the event. "China recognizes in Brazil a key regional partner," Brazilian Vice President Hamilton Mourao stated. The two countries have increased their alliance amid the ongoing US-China trade war. President Jair Bolsonaro will likely visit China in October after he recovers from surgery.
US Market Closings:
Dow advanced 73.92 points or 0.28% to 26,909.43
S&P 500 advanced 0.96 of a point or 0.03% to 2,979.39
Nasdaq declined 3.28 points or -0.04% to 8,084.15
Russell 2000 advanced 18.76 points or 1.23% to 1,542.99
Canada Market Closings:
TSX Composite advanced 42.25 points or 0.26% to 16,537.34
TSX 60 advanced 2.93 points or 0.30% to 988.09
Brazil Market Closing:
Bovespa declined 149.09 points or -0.14% to 103,031.51
ENERGY:
Oil continued to move higher, even with negative economic news from China and the US markets moving down today. Yesterday's news regarding Saudi's new energy minister cutting production is helping to push up the price. Later, Trump's administration announced the firing of John Bolton who was pushing for a war with Iran, which helped to push the market price down.
The oil markets had a mixed day today:
Crude Oil decreased 0.37 USD/BBL or -0.64% to 57.4302
Brent decreased 0.25 USD/BBL or -0.40% to 62.2191
Natural gas decreased 0.004 USD/MMBtu or -0.15% to 2.5862
Gasoline increased 0.0038 USD/GAL or 0.24% to 1.5883
Heating oil increased 0.0025 USD/GAL or 0.13% to 1.9289
Top commodity gainers: Lumber (4.91%), Coffee (3.53%), Live Cattle (2.44%), and Corn (2.20 %)
Top commodity losers: Oat (-7.23 %), Cocoa (-0.76%), Crude Oil (-0.64%), and Platinum (-1.76%)
The above data was collected around 15:30 EST on Tuesday.
BONDS:
Japan -0.23%(+3bp), US 2's 1.64% (+6bps), US 10's 1.69%(+6bps), US 30's 2.16%(+6bps), Bunds -0.54% (+4bp), France -0.24% (+4bp), Italy 1.02% (+7bp), Turkey 15.37% (+20bp), Greece 1.66% (+6bp), Portugal 0.28% (+3bp), Spain 0.27% (+4bp) and UK Gilts 0.64% (+5bp).
US 52-Week Bill Auction decreased from 1.800% to 1.740%
US 3-Year Note Auction increased from 1.562% to 1.573%
Spanish 6-Month Letras Auction decreased from -0.534% to -0.563%
Spanish 12-Month Letras Auction decreased from -0.505% to -0.521%