Blog/Market Talk
Posted Sep 10, 2018 by Martin Armstrong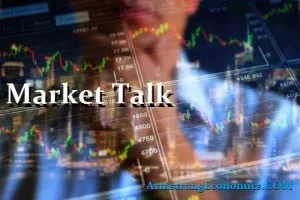 Interesting that China markets remain heavy even whilst the Nikkei managed a bounce. Both Shanghai and the Hang Seng suffered over 1% losses today. Obviously, President Trump mentioning of an additional $267bn late last week didn't help matters and that continues to nerve a broader audience again today. We continue to see money leaving the emerging market space and to make matters worse even the currencies are being dragged with them. The SENSEX lost 1.2% today, whilst the INR hit another new low of high 72's (72.67) following CAD data released last Friday. In Japan the Nikkei has bounced off of opening lows and has made steady progress throughout the day. Closing on the highs (+0.30%) we see futures edging even higher as US markets build on a strong session. Even saw Indian 10yr rates move out 13bp to 8.15% as cash leaves the geography. This takes the YOY rate higher by 160bp.
Europe benefited late in the day by headlines that the UK and EU may have a deal within the next couple of months! GBP rallied hard (+0.75%) on this talk, with the Euro also managing to recover 0.5% against the USD. The UK did have some supporting economic data earlier, so the news from Barnier just accelerated those gains. However, following the Swedish vote Sunday, this really did not help opening bond spreads, but this news has helped tighten them back in again. On the emerging market note, Turkey will announce rates on Thursday which will extremely closely watched. the BSI lost 1.4%, the Lira lost -0.75% and the 10yr notes gained +42bp to close at 19.12%.
Early gains were lost in the DOW whilst other indices held-in rather well. Finally, we saw the much anticipated rebound in tech helping the NASDAQ recover lost ground. We still have plenty of uncertainty surrounding US/Canada talks even as the USD pushes ahead. Tensions in trade, emerging markets and commodities confuse the outlook as we approach the end of Q3. Many are still calling for the US Dollar to end its bull run, but chances are this is what will halt many a recovery. The good news that most traded on today came from the EU and the potential BREXIT softening stance. This could very well be short-lived as 24hrs is a long time in politics these days.
Japan 0.11%, US 2's closed 2.71% (+1bp), US 10's 2.93% (-1bp). US 30's 3.09% (-2bp), Bunds 0.40% (+2bp), France 0.71% (-1bp), Italy 2.90% (-13bp), Turkey 19.18% (+48bp), Greece 4.15% (-9bp), Portugal 1.87% (-1bp), Spain 1.45% (-1bp), and UK Gilts 1.47% (+1bp).