Blog/Market Talk
Posted Oct 9, 2017 by Martin Armstrong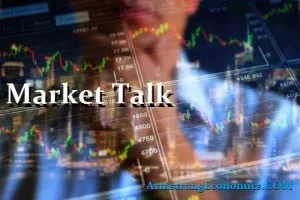 Generally a very quiet day in the markets, no real game changing events shocked the major markets today. German industrial production was announced with 2.6% MOM gain as opposed to a 0.7% forecast. ECB's Lautenschlaeger did have a speech and hinted at scaling back asset repurchasing next year with the view to scrap the program altogether. This caused very little action to the EURUSD, with the rate holding around the 1.17 area.
The biggest shock of the day occurred in the Turkish markets, with 10 year bond yields increasing by +43bps today bringing yields up to 11.23%, this was due to the Turkish diplomatic row with the US. The two nato countries, suspended each other's visas for their citizens. The Turkish lira subsequently lost 2.8% against the dollar – however since has regained some of its lost ground. The Turkish Borsa 100 temporally slipped below 100,000, it did manage to close above but still -2.73% for the day. When confidence is lost in an economy we see a "true bearish" market where both the currency and the stock market decline.
Asian markets performed well, Japan and Taiwan markets were closed due to a public holiday. Hang Seng the only non-performer on the day (-0.46%), pulling back from their decade highs (since 2005). As the losses occurred were with the heavyweights, suggesting international institutions taking profit. Of the developed indices Hang Seng is one of the best performers jumping 29% this year.
FTSE was the only loser among the top European indices, with the index losing 20 basis points. However, to counteract this the GBP strengthened against the dollar by 60 basis points, reversing Fridays losses. Therefore, on a net basis the UK is still holding up. The DAX and CAC 40 were up slightly, the Spanish IBEX on the back of the Catalan referendum did perform up 50 basis points with the French government declaring they would not recognise Catalan as an independent state as well as the mass protests for a united Spain occurring.
Fairly subdued in the US markets, the major markets opening higher then trundled down to a lower close by the end of the day, this ended a nine-day winning streak for the Nasdaq Composite.
Bond Markets were closed in the US, as today marks Columbus Day. Only one of two days in the calendar year where the US markets are open and the Bond markets are closed, the other being veteran's day. A slight lowering of yields across the board for the European bonds.
Commodities, at the time of writing we saw Gold up just shy of one percentage point perhaps a reaction from Fridays lows giving a hint to signs of life since its September peak. Crude intraday high was just short of 50 USD a barrel a level Crude seems to be converging with since mid-July.