Blog/Market Talk
Posted Oct 9, 2019 by Martin Armstrong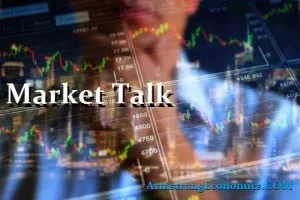 ASIA:
A Chinese official has told Bloomberg that China is not expecting an agreement with the US this week although talks are due to start tomorrow. However, there is an idea floating around for a partial deal, which would see some of the tariffs lifted, but they stressed that this would not be possible if US President Trump imposes any more tariffs. Meanwhile today, the US has stated that it will impose visa restrictions on Chinese officials who are accused of the repression of Muslim populations. Earlier this week, the US has already blacklisted 28 Chinese companies linked to allegations of abuse in the Xinjiang region.
Interesting article found today in the Asia Times, Lawyer Lawrence Ma, the executive council chairman of the Hong Kong legal exchange foundation, suggests foreign interference in Hong Kong. Ma pointed his finger at the US National Endowment for Democracy for aiding protest groups in Hong Kong.
Japan is bracing for what could be a very volatile weekend with typhoon Hagibis heading towards the Tokyo area. A US military forecasting agency has put the typhoon on par with a category 5 hurricane.
The major Asian stock markets had a mixed day today:
Shanghai increased 11.29 points or 0.39% to 2,924.86
Kospi closed (public holiday)
ASX 200 decreased 46.70 points or -0.71% to 6,546.70
NIKKEI 225 decreased 131.40 points or -0.61% to 21,456.38
Hang Seng decreased 210.59 points or -0.81% to 25,682.81
SENSEX increased 645.97 points or 1.72% to 38,177.95
The major Asian currency markets had a mixed day today:
AUDUSD decreased 0.0002 or 0.03% to 0.6726
NZDUSD decreased 0.0006 or 0.10% to 0.6290
USDJPY increased 0.4570 or 0.43% to 107.5270
USDCNY decreased 0.0213 or 0.30% to 7.1417
Precious Metals:
Gold increased 1.27 USD/t oz. or 0.08% to 1,506.25
Silver increased 0.03 USD/t. oz or 0.17%% to 17.7186
Some economic news from last night:
Australia:
Westpac Consumer Sentiment (Oct) decreased from -1.7% to -5.5%
Indonesia:
Retail Sales (YoY) decreased from 2.4% to 1.1%
Some economic news from today:
Japan:
Machine Tool Orders (YoY) increased from -37.0% to -35.5%
India:
M3 Money Supply decreased from 10.1% to 9.7%
EUROPE/EMEA:
EU Junker told the UK at the European Parliament hearing that it is also for the EU to agree on any deal that the UK put forward. "I would like to repeat, to the attention of our British friends, that there is not only a parliament in Westminster which has to agree, there is a parliament here." The president of the EU parliament suggested that any Brexit extension should give the UK public time to express their views through an election or referendum.
The Bank of England has warned that the trade war between the United States and China is harming the world economy. "The trade war has also increased downside risks to the global outlook. Global growth could slow more sharply if the trade war were to lead to a tightening of financial conditions or to further reductions in business confidence and investment. A broadening of the trade war beyond tariff measures to restrictions on technology and capital, and to other jurisdictions, would magnify global risks and fragment the global economy."
UK PM Boris Johnson has told his party, that if there is an extension to the Brexit date, that he would not pair Nigel Farage to force through a no deal.
Turkish warplanes have starting bombing parts of northern Syria as Turkish President Recep Tayyip Erdogan aim is to create a "safe zone" cleared of Kurdish militias which will be used an area safe for Syrian refugees. Still the US will be watching to see if anything out of the agreement in place, with US President Trump recently tweeting that they could cause economic damage to Turkey.
Iran's Foreign Minister Mohammad Javad Zarif stated Iran will not yield to economic pressure by the US. "I can assure you that the United States will not be able to bring us to our knees through pressure," he said during an interview at the weekend.
The major Europe stock markets had a green day today:
CAC 40 increased 42.52 points or 0.78% to 5,499.14
FTSE 100 increased 23.35 points, or 0.33% to 7,166.50
DAX 30 increased 124.06 points or 1.04% to 12,094.26
The major Europe currency markets had a mixed day today:
EURUSD increased 0.0021 or 0.19% to 1.0975
GBPUSD decreased 0.00092 or -0.08% to 1.22078
USDCHF increased 0.0029 or 0.29% to 0.9956
US/AMERICAS:
The US is implemented visa restrictions "on Chinese government and Communist Party officials who are believed to be responsible for, or complicit in, the detention or abuse of Uighurs, Kazakhs or other members of Muslim minority groups in Xinjiang, China," according to Secretary of State Mike Pompeo. The announcement came a day after the US blacklisted 28 Chinese AI surveillance companies under similar pretenses.
Fitbit announced plans this Wednesday to discontinue all manufacturing in China. US companies are increasingly pulling out of China to avoid tariffs and uncertainties regarding US-China relations. ""In 2018, in response to the ongoing threat of tariffs, we began exploring potential alternatives to China. As a result of these explorations, we have made changes to our supply chain and manufacturing operations and have additional changes underway," the company's CFO announced earlier in the day.
Job figures for August were revised today, suggesting the US economy may be slightly weaker than originally anticipated. According to the Job Openings and Labor Turnover Survey (JOLT), August job openings progressed at a rate or 4.4% at a level or 7.1 million jobs. "The number of job openings was little changed for total private and for government. The job openings level decreased in nondurable goods manufacturing (-49,000) and in information (-47,000). The number of job openings decreased in the Midwest region," the report declared.
California Governor Gavin Newsom authorized new legislation that limits annual rent increases to 5% plus inflation. The governor hopes the cap will reduce the state's current housing crisis. As the most populous state in America, over 17 million citizens rent in the state and the majority spend over 30% of their income on housing. The new law will also prevent landlords from evicting tenants who cannot pay due to rent increases. The only other state in the US offering rent control is Utah where the annual cap is restricted to 7%.
A mysterious oil spill occurred in Brazil this week that left its mark on nearly 1,200 miles of the Atlantic coast. President Bolsonaro believes this may be a result of environmental terrorism and an attempt to deter tourism from Brazilian beaches. The most recent reports claim that the oil did not come from Brazil.
US Market Closings:
Dow advanced 181.97 points or 0.70% to 26,346.01
S&P 500 advanced 26.34 points or 0.91% to 2,919.40
Nasdaq advanced 79.96 points or 1.02% to 7,903.74
Russell 2000 advanced 6.86 points or 0.47% to 1,479.46
Canada Market Closings:
TSX Composite advanced to 16,379.87 or 0.53% to 16,379.87
TSX 60 advanced 6.52 points or 0.67% to 979.34
Brazil Market Closing:
Bovespa advanced 1,267.38 points or 1.27% to 101,248.78
ENERGY:
Saudi Aramco has told the media at an event in London that they expect to fully recover from the attacks on the oil field by the end of November. The EIA report showed a build in crude of 2.9 million barrels for the week of October the 4th.
The oil markets had a mixed day today:
Crude Oil increased 0.02 USD/BBL or 0.04% to 52.5356
Brent increased 0.05 USD/BBL or 0.09% to 58.1910
Natural gas decreased 0.047 USD/MMBtu or -2.05% to 2.2360
Gasoline increased 0.0034 USD/GAL or 0.22% to 1.5871
Heating oil increased 0.0045 USD/GAL or 0.24% to 1.9157
Top commodity gainers: Ethanol (3.61%),Feeder Cattle (1.73%), Lean Hogs(1.86%), and Lumber (1.60 %)
Top commodity losers: Cotton(-3.19 %), Natural Gas (-2.05%), Cocoa (-1.63%), and Orange Juice (-4.45%)
The above data was collected around 16:10 EST on Wednesday.
BONDS:
Japan -0.20%(+0bp), US 2's 1.47% (+5bps), US 10's 1.59%(+5bps), US 30's 2.08%(+4bps), Bunds -0.56% (+3bp), France -0.27% (+3bp), Italy 0.99% (+4bp), Turkey 13.85% (+5bp), Greece 1.46% (-19bp), Portugal 0.14% (+2bp), Spain 0.18% (+4bp) and UK Gilts 0.47% (+5bp).
US 10-Year Note Auction decreased from 1.739% to 1.590%