Blog/Market Talk
Posted Oct 8, 2019 by Martin Armstrong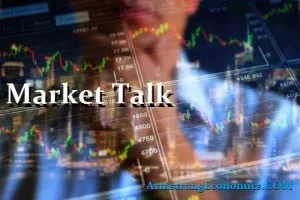 ASIA:
The US administration has sanctioned three of the world's largest facial recognition startups, prohibiting them from purchasing US products or maintaining relationships with American entities. The US is accusing China of unfair treatment of the Uighurs, which China is setting up a database using facial recognition software to keep tabs on its citizens in that region.
Chinese "golden week" attracts people from around the world travel to China to enjoy heavy discounts. Yet, this year's event has seen its lowest numbers in more than a decade. In addition, actual retail and catering sales rose at a decent 8.5%, but has been decelerating from last year's rate of 9.5% which marks the slowest growth since 2001. Naturally, the US-China trade deals as well as slow global growth have been to blame.
According to the FT, China's state broadcaster CCTV and Tencent, the main distributors of the NBA in the country, have halted plans to air the basketball league's pre-season games due to one manager of a team tweeting support for the Hong Kong protestors.
Indian Defense Minister Rajnath Singh received the first order of 36 Rafale fighter jets for the Indian Air Force (IAF). The Defense Minister stated the deal was "historic" and it is strengthening strategic ties between India and France.
The major Asian stock markets had a green day today:
Shanghai increased 8.38 points or 0.29% to 2,913.57
Kospi increased 24.52 points or 1.21% to 2,046.25
ASX 200 increased 29.80 points or 0.45% to 6,593.40
NIKKEI 225 increased 212.53 points or 0.99% to 21,587.78
Hang Seng increased 72.37 points or 0.28% to 25,893.40
SENSEX closed (public holiday)
The major Asian currency markets had a mixed day today:
AUDUSD decreased 0.0001 or 0.01% to 0.6730
NZDUSD increased 0.0008 or 0.13% to 0.6296
USDJPY decreased 0.0720 or 0.07% to 107.2080
USDCNY increased 0.0164 or 0.23% to 7.1498
Precious Metals:
Gold increased 8 USD/t oz. or 0.54% to 1,503.49
Silver increased 0.255 USD/t. oz or 1.46%% to 17.7038
Some economic news from last night:
Australia:
ANZ Job Advertisements (MoM) increased from -2.6% to 0.3%
NAB Business Confidence (Sep) decreased from 1 to 0
NAB Business Survey (Sep) increased from 1 to 2
China:
Caixin Services PMI (Sep) decreased from 52.1 to 51.3
Japan:
Average Cash Earnings (YoY) increased from -1.0% to -0.2%
Household Spending (YoY) (Aug) increased from 0.8% to 1.0%
Household Spending (MoM) (Aug) increased from -0.9% to 2.4%
Overall wage income of employees (Aug) increased from -1.0% to -0.2%
Overtime Pay (YoY) (Aug) increased from 0.10% to 0.90%
Current Account n.s.a. (Aug) increased from 2.000T to 2.158T
South Korea:
Current Account (Aug) decreased from 6.95B to 5.27B
Some economic news from today:
Japan:
Economy Watchers Current Index (Sep) increased from 42.8 to 46.7
China:
FX Reserves (USD) decreased from 3.107T to 3.092T
Hong Kong:
Foreign Reserves (USD) (Sep) increased from 432.80B to 438.70B
EUROPE/EMEA:
According to the BBC, a source has said a Brexit deal is "essentially impossible" after a call between the PM and Angela Merkel. The call was regarding the proposals PM Boris Johnson put forward to the EU. The call seemed as if a chance of the EU accepting the proposal was "overwhelmingly unlikely."
President of the European Council Donald Tusk tweeted publicly to PM Johnson, "What's at stake is not winning some stupid blame game. At stake is the future of Europe and the UK as well as the security and interests of our people." As time is running out, the relationship between the EU and UK officials seems to be worsening.
Meanwhile, the European Court of Auditors released an independent audit of EU spending, stating that the EU managed their budget effectively under Junker.  "In its latest report about the management of the EU budget, the European Court of Auditors – the independent auditor of EU spending – confirmed that the Juncker Commission had significantly improved the way it administered the EU budget. The auditors gave the EU annual accounts a clean bill of health for a 12th year in a row and a qualified opinion on the 2018 payments for a third consecutive year. This is a high assessment of the targeted efforts of the Juncker Commission to make sure that every euro from the EU budget is spent in line with the rules and generates added value for our citizens."
German police are investigating a man who drove a stolen lorry into a line of cars in Limburg in the western state of Hesse, injuring eight people. The man was of Syrian origin and the police are not ruling out the act as an act of terrorism.
The major Europe stock markets had a negative day today:
CAC 40 decreased 64.99 points or -1.18% to 5,456.62
FTSE 100 decreased 54.73 points, or -0.76% to 7,143.15
DAX 30 decreased 127.23 points or -1.05% to 11,970.20
The major Europe currency markets had a negative day today:
EURUSD decreased 0.0018 or 0.16% to 1.0953
GBPUSD decreased 0.0082 or 0.67% to 1.2208
USDCHF decreased 0.0004 or 0.04% to 0.9942
Some economic news from Europe today:
Swiss:
Unemployment Rate n.s.a. (Sep) remain the same at 2.1%
Unemployment Rate s.a. (Sep) remain the same at 2.3%
Germany:
German Industrial Production (MoM) (Aug) increased from -0.4% to 0.3%
France:
French Current Account (Aug) decreased from 0.20B to -2.50B
French Exports (Aug) increased from 42.2B to 42.8B
French Imports (Aug) increased from 46.9B to 47.8B
French Trade Balance (Aug) decreased from -4.5B to -5.0B
Spain:
Spanish Industrial Production (YoY) (Aug) increased from 1.2% to 1.7%
Italy:
Italian Retail Sales (YoY) (Aug) decreased from 2.4% to 0.7%
Italian Retail Sales (MoM) (Aug) remain the same at -0.6%
UK:
Labour Productivity (Q2) increased from -0.6% to -0.5%
US/AMERICAS:
Federal Reserve Chairman Jerome Powell announced that central bank plans to incrementally increase the reserve supply. Treasury bills will compose the majority of purchases, but Powell stressed that increases to the balance sheet will not result in Quantitative Easing. "I want to emphasize that growth of our balance sheet for reserve management purposes should in no way be confused with the large-scale asset purchase programs that we deployed after the financial crisis," Powell noted. Furthermore, Powell said this move is not an indication of future monetary policies (i.e. interest rates) and that he and his colleagues are reviewing all incoming data before the next FOMC meeting later in the month.
The US Federal deficit has reached a seven-year peak — $984 billion. Federal spending has surpassed revenue by an estimated $1 trillion. Year-over-year, the deficit grew 26% or $205 billion. Some point to President Trump's tax reductions as a reason behind the reduced revenue. Yet, both Democrats and Republicans have continually voted to increase spending. The Treasury Department will publish the official figures in the coming weeks.
Today, the US blacklisted 28 Chinese entities involved in AI government surveillance software from operating within the US. The Commerce Department noted that the banned entities violated human rights against Muslims and other minority groups within China. Commerce Secretary William Ross noted, "The US Government and Department of Commerce cannot and will not tolerate the brutal suppression of ethnic minorities within China." Hikvision, one of the world's largest surveillance companies with an estimated worth of $42 billion, claimed that the ban will have a negative effect on the US economy as a whole and "deter global companies from communicating with the US government."
US Market Closings:
Dow declined 313.98 points or -1.19% to 26,164.04
S&P 500 declined 45.73 points or -1.56% to 2,893.06
Nasdaq declined 132.52 points or -1.67% to 7,823.78
Russell 2000 declined 25.19 points or -1.68% to 1,472.60
Canada Market Closings:
TSX Composite declined 127.80 points or -0.78% to 16,293.95
TSX 60 declined 8.47 points or -0.86% to 972.82
Brazil Market Closing:
Bovespa declined 591.37 points or -0.59% to 99,981.40
ENERGY:
Crude oil had a down day dropping over 1% at the time of writing. Today, we look to see the provision report from the API on whether there is a US draw or build. Last week, the results were surprising when there was a large build while the market was expecting a draw.
The oil markets had a mixed day today:
Crude Oil decreased 0.4 USD/BBL or -0.76% to 52.4536
Brent decreased 0.39 USD/BBL or -0.67% to 57.8424
Natural gas decreased 0.009 USD/MMBtu or -0.39% to 2.2908
Gasoline increased 0.004 USD/GAL or 0.25% to 1.5759
Heating oil increased 0.0001 USD/GAL or 0.01% to 1.9070
Top commodity gainers: Ethanol (3.15%), Corn (2.07%), Lean Hogs(2.02%), and Baltic Dry (1.75 %)
Top commodity losers: Cotton(-5.42 %), Lumber (-1.82%), Coffee (-1.49%), and Orange Juice (-1.21%)
The above data was collected around 14:25 EST on Tuesday.
BONDS:
Japan -0.20%(+3bp), US 2's 1.42% (-4bps), US 10's 1.54%(-1bps), US 30's 2.01%(-3bps), Bunds -0.60% (-2bp), France -0.30% (-3bp), Italy 0.95% (-1bp), Turkey 13.40% (+0bp), Greece 1.49% (-16bp), Portugal 0.13% (-1bp), Spain 0.15% (-0bp) and UK Gilts 0.44% (-1bp).
Spanish 6-Month Letras Auction increased from -0.563% to -0.498%
Spanish 12-Month Letras Auction increased from -0.521% to -0.474%
US 3-Year Note Auction decreased from 1.573% to 1.413%
US 52-Week Bill Auction decreased from 1.740% to 1.600%