Blog/Market Talk
Posted Oct 7, 2019 by Martin Armstrong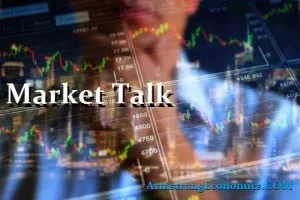 ASIA:
Hong Kong protests have entered in to the 18th weekend, in which there has been no slowing down to the protests and violence has been escalating. This weekend has seen protestors using petrol bombs against the police following the controversial face mask ban. The Chinese military based in Hong Kong issued a warning to Hong Kong protestors by raising a flag stating, "You are in breach of the law, you may be prosecuted." This is the first time there has been any correspondence between the Chinese military and protestors. The warning came about after protestors were shining lasers into the windows of the military barracks.
A fresh round of talks between China and US are expected to kick off later this week on October 10-11. The attendees are expected to be high-level, with Vice Premiere Liu expected to lead the negotiations after a pre-meeting with ministers already took place at the end of last month.
Taking cognizance of the worsening slowdown, India's central Bank, the Reserve Bank of India (RBI) on Friday cut its economic growth forecast for 2019-2020 to 6.1%. This is a huge downward revision of 80 basis points (bps) from the projection it made in the August policy meeting. If this turns into reality, India's gross domestic product (GDP) growth will be the lowest since 2012-2013, which could severely hit job creation and income growth in the near term. To achieve even this target, the economy will need to grow at 7% in the second half of the financial year. The drop in the central bank's outlook is more glaring if we look at the entire rate cut cycle. Over the eight months since February, the RBI has cut its growth forecast by 130 bps from 7.4% to 6.1% now.
The benchmark for Sensex that surged over 3,000 points in two days after the corporate tax cut announcement has pared most of its gains. It fell by 433 points on Friday after the announcement of the repo rate cut. The sentiment turned negative largely due to the revision in the economic projection for the financial year 2019/2020.
The major Asian stock markets had a mixed day today:
Shanghai closed (public holiday)
Kospi increased 1.04 points or 0.05% to 2,021.73
ASX 200 increased 46.50 points or 0.71% to 6,563.60
NIKKEI 225 decreased 34.95 points or -0.16% to 21,375.25
Hang Seng closed (public holiday)
SENSEX decreased 141.33 points or -0.38% to 37,531.98
The major Asian currency markets had a mixed day today:
AUDUSD decreased 0.0031 or 0.45% to 0.6738
NZDUSD decreased 0.0024 or 0.38% to 0.6292
USDJPY increased 0.1780 or 0.17% to 107.1080
USDCNY increased 0.0203 or 0.29% to 7.1322
Precious Metals:
Gold decreased 6.09 USD/t oz. or -0.40% to 1,495.27
Silver decreased 0.05 USD/t. oz or -0.28%% to 17.5037
Some economic news from last night:
Australia:
AIG Construction Index (Sep) decreased from 44.6 to 42.6
Japan:
Foreign Reserves (USD) (Sep) decreased from 1,331.6B to 1,322.6B
Some economic news from today:
Japan:
Coincident Indicator (MoM) (Aug) decreased from 0.2% to -0.4%
Leading Index (MoM) (Aug) decreased from 0.1% to -2.0%
Leading Index decreased from 93.7 to 91.7
Singapore:
Foreign Reserves USD (MoM) (Sep) decreased from 272.4B to 272.2B
Indonesia:
FX Reserves (USD) decreased from 126.50B to 124.30B
EUROPE/EMEA:
A Scottish court has rejected a request to force Prime Minister Boris Johnson to seek an extension to article 50 if he is unable to pass his deal through parliament. Already the Benn act is requiring the PM to write a letter to ask for an extension no later than the 19th of October – which will push Brexit to 31st of January 2020. Therefore, the court stated they had to take the UK government pledges at face value and allow them to do their job.
Meanwhile, PM Boris Johnson reinstated his claim that the UK will leave the EU at the end of the month. This is after the EU has rejected his latest Brexit plan. He also mentioned that the EU did not go into detail as to why they rejected the plan.
"Our proposal is very fair, very reasonable. What it does is respect the Good Friday agreement, the peace process in Northern Ireland. It makes sure there's no hard border, no checks at all at the border between Northern Ireland and Ireland. It also goes further in allowing Northern Ireland and Ireland in alignment, both for agrifoods, for cattle and so on, but also for industrial goods as well. That's a big step forward, big advance, big compromise by the UK government. What we are saying to our friends is, this is a very generous, fair and reasonable offer that we have made. What we would like to hear from you now is what your thoughts are. And if you have issues with any of the proposals that we've come up with, then let's get into the detail and discuss them."
HSBC plans to lay off up to 10,000 staff members as it looks to cut costs, citing Brexit, falling rates and global trade wars as the reasoning.
Contrary to last January, the US is stepping aside for Turkish attacks against Kurdish-led forces within north-east Syria. What is interesting is that the Kurdish led militias have been a key US ally, and in January US President Trump stated that any attack against the Kurdish group will lead Turkey into economic chaos. The US forces in the region are beginning to withdraw from the border where Turkey will create a "safe zone." Syria's main Kurdish-led group called the US move a "stab in the back," according to the BBC.
The Iranian oil minister has stated that China has pulled out of a five billion USD deal which intended to develop a large area of Iranian offshore natural gas field. The reasons cited were due to the relationship with the US and the sanctions applied to them.
The major Europe stock markets had a green day today:
CAC 40 increased 33.29 points or 0.61% to 5,521.61
FTSE 100 increased 42.50 points, or 0.59% to 7,197.88
DAX 30 increased 84.62 points or 0.70% to 12,097.43
The major Europe currency markets had a mixed day today:
EURUSD increased 0.0004 or 0.03% to 1.0980
GBPUSD decreased 0.0018 or 0.14% to 1.2315
USDCHF decreased 0.0002 or 0.02% to 0.9951
Some economic news from Europe today:
Germany:
German Factory Orders (MoM) (Aug) increased from -2.1% to -0.6%
Norway:
Manufacturing Production (MoM) (Aug) decreased from 1.0% to -1.1%
Industrial Confidence (Q3) decreased from -5.7 to -9.2
France:
French Reserve Assets Total (Sep) decreased from 181,918.0M to 177,969.0M
UK:
Halifax House Price Index (MoM) (Sep) decreased from 0.2% to -0.4%
Halifax House Price Index (YoY) (Sep) decreased from 1.8% to 1.1%
Euro Zone:
Sentix Investor Confidence (Oct) decreased from -11.1 to -16.8
Spain:
Spanish Consumer Confidence decreased from 86.0 to 80.7
US/AMERICAS:
US-China trade talks reopened this Monday, one week ahead of increased tariffs on $250 billion worth of Chinese goods. Joined by nearly 30 advisors, Vice Minister of Finance Liao Min visited the White House today to continue the controversial trade discussions. This will set the tone for high-level discussions set to commence on Thursday between Chinese Vice Premier Liu He, US Trade Representative Robert Lighthizer and US Treasury Secretary Steven Mnuchin. "Topics of discussion will include forced technology transfer, intellectual property rights, services, non-tariff barriers, agriculture and enforcement," said White House spokeswoman Stephanie Grisham.
General Electric announced plans to freeze 20,000 pensions in a last-ditch effort to reduce its $8 billion pension deficit. This move exposes the risks of single-employer pension plans. Beginning in January 2021, 20,000 GE employees can no longer contribute to their pension plans and earnings will be limited to the amount already accrued. To encourage employees to move over to 401K plans, GE is offering the option for employees to contribute 3-8% of their salaries for a 50% match. The United Auto Workers (UAW) have been on strike for three weeks, and this move is likely to escalate tensions.
Democratic presidential hopeful Bernie Sanders is out of the hospital and recovering after suffering heart complications. Although recovering at home, Sanders says he still plans to run for president. Joe Biden is leading most polls as the top Democratic candidate, however, Sanders' campaign managed to raise the most in donations to the tune of $25.3 million.
The US and North Korea failed to progress toward a nuclear treaty after talks resumed this weekend in Stockholm, Sweden. A North Korean representative called the discussion "sickening" and "made us [North Korea] think they have no political will to improve US relations and may be abusing the bilateral relations for their own partisan interests." Worsening matters, the North Korean Foreign Ministry claimed that the US has until the end of the year to find a viable solution to prevent an increase in long-range missile tests.
US Market Closings:
Dow declined 95.70 points or -0.36% to 26,478.02
S&P 500 declined 13.22 points or -0.45% to 2,938.79
Nasdaq declined 26.18 points or -0.33% to 7,956.29
Russell 2000 declined 2.91 points or -0.19% to 1,497.79
Canada Market Closings:
TSX Composite declined 27.60 points or -0.17% to 16,421.75
TSX 60 declined 1.77 points or -0.18% to 981.29
Brazil Market Closing:
Bovespa declined 1,978.55 points or -1.93% to 100,572.77
ENERGY:
Crude oil bounced a bit today on the restart to the US -Chinese trade talks this week. Meanwhile, Ecuador has announced they will leave OPEC as the country declares a state of emergency due to the political protests and they can no longer afford the costly 2 billion USD a year subsidy to OPEC.
The oil markets had a mixed day today:
Crude Oil increased 0.86 USD/BBL or 1.63% to 53.6177
Brent increased 0.74 USD/BBL or 1.27% to 59.1297
Natural gas decreased 0.025 USD/MMBtu or -1.06% to 2.3312
Gasoline increased 0.0114 USD/GAL or 0.72% to 1.5831
Heating oil increased 0.0244 USD/GAL or 1.29% to 1.9163
Top commodity gainers Orange Juice (2.85%), Lumber (1.80%), Crude Oil(1.63%), and Heating Oil (1.29 %)
Top commodity losers: Cotton(-4.69 %), Sugar (-2.59%), Coffee (-2.02%), and Lean Hogs (-2.16%)
The above data was collected around 12:45 EST on Monday.
BONDS:
Japan -0.22%(-1bp), US 2's 1.44% (+4bps), US 10's 1.54%(+2bps), US 30's 2.03%(+2bps), Bunds -0.58% (+1bp), France -0.27% (+1bp), Italy 0.96% (+12bp), Turkey 13.61% (+25bp), Greece 1.45% (-25bp), Portugal 0.14% (-1bp), Spain 0.13% (-2bp) and UK Gilts 0.45% (+1bp).
US 3-Month Bill Auction decreased from 1.840% to 1.680%
US 6-Month Bill Auction decreased from 1.795% to 1.690%
French 3-Month BTF Auction increased from -0.647% to -0.639%
French 6-Month BTF Auction decreased from -0.614% to -0.627%
French 12-Month BTF Auction increased from -0.632% to -0.628%