Blog/Market Talk
Posted Oct 5, 2018 by Martin Armstrong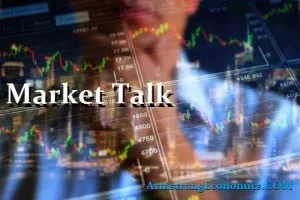 The draconian fear of rising rates being bad for stocks, was flushed through into Asia this morning with all core markets trading heavy. The Nikkei lost nearly 1%, having opened lower it could not find a confident bounce throughout the day. The Yen is treading water around the 114 figure level, but looks to be about to join other currencies suffering against the strong USD. In India we saw the INR lose yet more ground and although has survived printing a 75 handle – looks to be just wasting time for the inevitable. The Hang Seng did well to recover from a weak opening and eventually closed just -0.2% lower, but with China still on holidays the real test will be once core reopens. However, talk remains that USD are bid for 3M (three months – which takes it over year end) and that Asian banks are leading the bid. Also, talk that the CNH was played during late Asian/early European trading to bring it below 6.9.
European shares opened weak and just kept going. The Italian budget remains a key focal point as BTP's (Italian government paper) was sold off late in the day. 10yr BTP's lost another 10bp today, lifting it to yield 3.42%, its highest level since March 2014. Core equity markets closed on their days lows with all sectors adding to the weakness. The DAX, CAC and UK FTSE all closed down over 1%, but worrying still is that the Euro also remained weak. Closing this Friday below the 1.1550 support seen last month, reflects a continued negative theme. Sterling had a solid day on rumours BREXIT talks are moving favourably towards a 'soft' deal. However, next week could be a test as the Euro looks as though it will face a serious test.
The US employment report was weaker than expected, but the revision was huge! The [print came in at +134k, against an expectation of +185k, but the rate high a 1969 low of 3.7%, while wages grew to 2.8%. Much has been made of the 50yr low in unemployment rate and quite rightly, but I would mention that a revision of was 87k is an extremely large number. However, the market appears to be concentrating on the Treasury market and the seemingly unstoppable rise in yields. Although cash stocks opened positive, it was not long before attention was drawn towards the bond market. The afternoons ISM number accelerated the bond weakness with 10's adding 4bp to close at 3.23%.
Japan 0.15%, US 2's closed 2.88% (+1bp), US 10's closed 3.23% (+4bp), US 30's 3.41% (+6bp), Bunds 0.57% (+4bp), France 0.90% (+3bp), Italy 3.42% (+10bp), Turkey 19.68% (+8bp), Greece 4.45% (+1bp), Portugal 1.93% (+3bp), Spain 1.57% (+1bp) and Gilts 1.72% (+6bp).