Blog/Market Talk
Posted Oct 4, 2018 by Martin Armstrong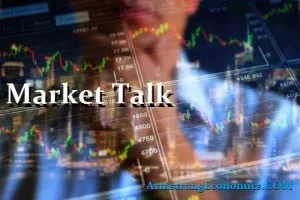 The FED was blamed for stopping yesterdays US rally in equities and has had a similar effect in Asia. Jerome Powell commented that they are a long way from neutral and that hit the long end of the Treasury curve. The ADP was probably enough to indicate economic strength, but then Jerome Powell light the fuse. Now the market must decide whether rising rates are bullish or bearish for stock markets! Sounds easy, but really depends how you view markets and liquidity. The Hang Seng lost 1.8% on the day, but worse still was the SENSEX that was down 2.24%. Worse for India is that the INR continues to be hit, with record lows (74.15) seen again today. The Nikkei held in rather well, falling just -0.56% whilst the Yen traded down to mid 114's. However, during US trading the currency saw a safety bid taking oit to mid 113's only to trade back to 114 by the US close. They is a lot of talk that USD funding is being bid-up now that we are over the 'Term' (Year end). Talk is that Chinese banks are aggressive buyers of dollars paying +50 for reasonable size. Currency could well be the key to watch Q4 developments.
Europe opened to weak global equities and a declining currency. The Euro had already breached 1.15 and was trading heavy even before peripheral debt started to trade. However, as the day wore on so we saw the currency bounce, as did Sterling but well off of the days highs. Both the CAC and UK's FTSE closed off around -1.3% whilst the DAX lost just -0.35%. The DAX did post a positive few hours in afternoon trading, but couldn't hold on and fell at the close. Worth keeping an eye on the Turkish BIST 100 as it fell 2.77% today, with the Lira also down 2%, but probably more worrying was that 10yr Bond fell (price) 108bp! Fixed-Income also lost ground rather than saw a flight to quality on concerns of inflation, but also Italian headlines yet again. Talk today is that the Italian proposal may well be as big as before, but that it may only be for one year – or so the storey goes. Been a long time since we have seen Greek 10yr rates move as wider as 10yr Gilts – both were wider by 9bp today, while Italy lost just 2bp.
US futures were heavy before cash opened, so a 200 point decline really was no surprise. The NASDAQ led much of today declines and even closed down -1.8%. The Russell 2k fell 1.5% as brokers jostled with volume. All indices climbed off of their days lows, but even the core DOW and S+P closed down -0.8%. Yesterdays ADP number scared markets and we wait to see what Fridays NFP will deliver. The market has been shaken by the rapid rise in Treasury yields and are still balancing the question of why is this negative for stocks! The global capital flow has been towards the USA for a while now and rising rates will only accelerate that demand. This is going to be interesting battle to watch and will probably be very volatile too!
Japan 0.15%, US 2's closed 2.87% (+2bp), US 10's 3.19% (+4bp), US 30's 3.35% (+5bp), Bunds 0.53% (+6bp), France 0.87% (+6bp), Italy 3.32% (+2bp), Turkey 19.60% (+108bp), Greece 4.44% (+9bp), Portugal 1.90% (+2bp), Spain 1.56% (+3bp) and Gilts 1.66% (+9bp).