Blog/Market Talk
Posted Oct 3, 2017 by Martin Armstrong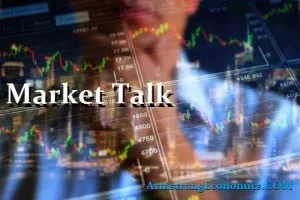 With core China market still closed, activity in Asia remains rather subdued. The trend is still constructive, following the steady US session but volumes continue low. The Nikkei closed up over 1% as currency drifts weaker and JGB's are a touch softer. Hong Kong played catch-up and traded strong all day, closing over 2.25% firmer on the day. Key banks and exporters led the rally, with property companies also claiming back some earlier losses. The RBA left rates unchanged again (no movement in over a year), which again softened the A$ to trade below the 0.78 figure and also weighed on the ASX (banks shares suffered).
Europe still bears the Catalan cloud which today was accelerated after we heard news of general strike throughout the region which raises expectations of possible downgrades! 10yr Bono's another 3bp wider today. The Euro managed a small bounce but the same was not of GBP which lost another -0.3%. The UK's FTSE made 0.4% today but as said, was countered by the currencies decline. UK data also released a touch soft (PMI 48.1 estimation was for 51+). BREXIT still weighs on the currency as we saw justified within the BOE minutes; todays data certainly will not help matters. IBEX closed only just in positive territory after recovering from a mid-morning sell off.
The DXY has risen again today making this a very strong opening for the week and quarter. You know when both the currency and equity perform week after week that it is something to take notice of! Yet more records today with the DOW, S+P and Russell all setting fresh intraday highs and following with strong record closes. Still lots of talk over the next FED Chair – with Janet Yellen still a possibility. Data was again strong (Vehicle Sales) but many will be anxiously awaiting Friday Non-Farms Payrolls number.
2's closed 1.48% (u/c), 10's 2.32% (-2bp), 30's 2.86% (-1bp), Bunds 0.46% (+1bp) closes the spread 2bp tighter at +187bp. France 0.75% (+2bp), Italy 2.15% (+1bp), Greece 5.49% (+3bp), Turkey 10.72% (+3bp), Portugal 2.37% (-2bp), Spain 1.71% (+3bp), and UK Gilts 1.35% (+3bp).