Blog/Market Talk
Posted Oct 30, 2017 by Martin Armstrong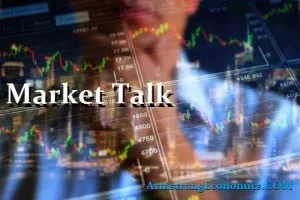 '
The Shanghai core index traded heavy in todays trading as concerns over the amount of IPO potentially coming to market start to take their toll. Shanghai closed down -0.8% with the Hang Seng losing -0.3%. One of the key topics discussed today was HSBC's $4.6bn earnings figure. Better than previous but shares closed around 1% lower on a higher costs outlook. Once costs are a focal point, the next move may come decisions on which markets to be involved in. Market are quietly waiting for major central bank decisions later in the week, but for the BOJ the release is immanent. The Nikkei did manage a small positive for the day, this after a lower Retail Sales report (2.2%) than was anticipated. The nervousness is also being reflected in the Yen where we are starting to see tests back at the 113 level again.
With the news from Spain over the weekend being relatively calm, and the march for Spanish unity a popular event, we saw a healthy 2.5% bounce in the IBEX. Other core indices played around unchanged with no clear direction, bit probably not really surprizing given where levels are. UK's FTSE drifted eventually closing just small down, but in the nearly ten years. GBP has rallied around 0.5% on the day breaking back above 1.32 level. We are seeing a small bounce in gold price, but from the low $1260 odd level. However, still trade heavy and even with the recent support has only taken it back to the mid $1270's. Oil has been in a quiet steady mood for the past few weeks, as the production reduction has helped maintained motioned stability.
US market had a heavier theme about it all day with bids being hit as apposed to buyers looking. The markets are not liking the idea that the proposed tax reforms could be implemented over time. The optimism that took stocks to new highs seemed to subside having seen new record highs Friday. Record were set last week on expectations of a 20% corporation tax but now the rumours that they may have to wait really has taken the wind out of their sales. The DOW and S+P lost -0.3% on the day whilst the larger Russell 2k closed down over 1%. Still we await the FED later and possible news on the next FED Chairperson which is expected to be unveiled before President Trump leaves for his Asia trip.
2's closed 1.57% (-2bp), 10's 2.37% (-5bp), 30's 2.88% (-5bp), Bunds 0.36% (-2bp), France 0.76% (-3bp), Italy 1.83% (-11bp), Greece 5.45% (+1bp), Turkey 11.51% (-8bp), Portugal 2.04% (-12bp), Spain 1.48% (-9bp) and Gilts 1.33% (-2bp).