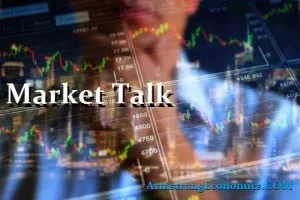 ASIA:
Chile has canceled the APEC summit due to domestic protests. The summit was due to take place next month where it was expected that the US and China may sign an agreement for "phase 1" of the trade deal. US Treasury Secretary Steven Mnuchin said today that the deal is still expected to be signed next month and everything was on track. Reuters later reported that US President Trump's demand for China to purchase 50 billion USD worth of agricultural products is also a cause for concern for the Chinese.
Singapore's central bank has said that growth will remain uneven through the end of the year as trade and manufacturing are showing weakness. But it said that it expects things to pick up next year in 2020. Therefore, they came to the conclusion that further monetary policy adjustments were not warranted at this time.
The US today gave the Japanese military a go-ahead to an upgrade package which services 98 of their aging F-15 fighter jet fleet. This upgrade is expected to cost 4.5 billion USD and will add more up to date military equipment to the jets.
South China Morning Post reported that Malaysia has lowered the threshold for foreigners to purchase residential properties from 1 million to 600k MYR (circa. 143k USD). This relaxing of the rule will take place from the 1st of January for 12 months. Unsold properties moved to 54k at the end of the first quarter. Malaysia is desperately trying to attract Chinese and wealthy Hong Kong residents who wish to flee the area.
The Asia pact is under some pressure as they say last minute hold ups from India are causing delays to the world's largest trade agreement. The agreement for the 16 nations is expected to go through next week.
The major Asian stock markets had a mixed day today:
Shanghai decreased 14.86 points or -0.50% to 2,939.32
Kospi decreased 12.42 points or -0.59% to 2,080.27
ASX 200 decreased 55.90 points or -0.83% to 6,689.50
NIKKEI 225 decreased 131.01 points or -0.57% to 22,843.12
Hang Seng decreased 119.05 points or -0.44% to 26,667.71
SENSEX increased 220.03 points or 0.55% to 40,051.87
The major Asian currency markets had a mixed day today:
AUDUSD increased 0.0010 or 0.15% to 0.6874
NZDUSD increased 0.0008 or 0.12% to 0.6362
USDJPY increased 0.0180 or 0.02% to 108.8880
USDCNY decreased 0.0075 or 0.11% to 7.0564
Precious Metals:
Gold increased 6.6 USD/t oz. or 0.44% to 1,491.38
Silver increased 0.0685 USD/t. oz or 0.38%% to 17.9006
Some economic news from last night:
Japan:
Retail Sales (YoY) (Sep) increased from 1.8% to 9.1%
Australia:
HIA New Home Sales (MoM) decreased from 7.3% to 5.7%
CPI (YoY) (Q3) increased from 1.6% to 1.7%
CPI (QoQ) (Q3) decreased from 0.6% to 0.5%
CPI Index Number (Q3) increased from 114.80 to 115.40
Trimmed Mean CPI (QoQ) (Q3) remain the same at 0.4%
Trimmed Mean CPI (YoY) (Q3) remain the same at 1.6%
Weighted mean CPI (QoQ) (Q3) decreased from 0.4% to 0.3%
Weighted mean CPI (YoY) (Q3) remain the same at 1.2%
EUROPE/EMEA:
Michael Barnier, EU chief Brexit negotiator warned, that there is still a risk that the UK leaves the EU without a deal. The agreement from the EU to extend the Brexit date until the end of January by no means confirms a deal will take place. Meanwhile, Brexit Party leader Nigel Farage said that he may not decide to run in a general election in a bid to help the conservatives secure the seats required in the general election. The UK media is calling PM Boris Johnson's decision to have a snap election in December a risk, as his predecessor Theresa May lost seats and eventually her career as a PM.
Two bills from the US were signed yesterday: the first which recognized the mass killings of Armenians by Ottoman Turks as a genocide; the second was a call for sanctioning senior Turkish military officers for their role in the recent military practices in Syria. Turkish President Erdogan and country officials said the decisions were the biggest insult against their nation.
Iranian sanctions from the US are causing some shortages in key medical supplies into the country. There has been a push from the EU for a nuclear deal to be reached. Meanwhile, the US has criticized the EU for downplaying Iran's threat against Israel.
The major Europe stock markets had a mixed day today:
CAC 40 increased 25.73 points or 0.45% to 5,765.87
FTSE 100 increased 24.52 points, or 0.34% to 7,330.78
DAX 30 decreased 29.39 points or -0.23% to 12,910.23
The major Europe currency markets had a mixed day today:
EURUSD increased 0.0010 or 0.09% to 1.1120
GBPUSD increased 0.00075 or 0.06% to 1.28725
USDCHF decreased 0.0029 or 0.29% to 0.9908
Some economic news from Europe today:
France:
French GDP (QoQ) (Q3) remain the same at 0.3%
French Consumer Spending (MoM) (Sep) decreased from 0.1% to -0.4%
UK:
Nationwide HPI (YoY) (Oct) increased from 0.2% to 0.4%
Nationwide HPI (MoM) (Oct) increased from -0.2% to 0.2%
Norway:
Core Retail Sales (MoM) (Sep) decreased from 0.1% to -0.1%
Swiss:
KOF Leading Indicators (Oct) increased from 93.1 to 94.7
ZEW Expectations (Oct) decreased from -15.4 to -30.5
Spain:
Spanish Business Confidence decreased from -5.3 to -8.9
Spanish CPI (YoY) remain the same at 0.1%
Spanish CPI (MoM) remain the same at 0.0%
Spanish HICP (YoY) (Oct) remain the same at 0.2%
Spanish HICP (MoM) increased from 0.4% to 0.6%
Germany:
German CPI (YoY) (Oct) decreased from 1.2% to 1.1%
German CPI (MoM) (Oct) increased from 0.0% to 0.1%
German HICP (YoY) (Oct) remain the same at 0.9%
German HICP (MoM) (Oct) increased from -0.1% to 0.1%
German Unemployment Change (Oct) increased from -10K to 6K
German Unemployment Rate (Oct) remain the same at 5.0%
German Unemployment (Oct) increased from 2.276M to 2.287M
German Unemployment n.s.a. (Oct) decreased from 2.234M to 2.204M
Italy:
Italian Business Confidence (Oct) increased from 98.8 to 99.6
Italian Consumer Confidence (Oct) decreased from 112.2 to 111.7
Euro Zone:
Business and Consumer Survey (Oct) decreased from 101.7 to 100.8
Business Climate (Oct) increased from -0.23 to -0.19
Consumer Confidence (Oct) decreased from -6.5 to -7.6
Consumer Inflation Expectation (Oct) increased from 19.5 to 21.5
Selling Price Expectations (Oct) increased from 1.4 to 1.6
Services Sentiment (Oct) decreased from 9.5 to 9.0
Industrial Sentiment (Oct) decreased from -8.9 to -9.5
US/AMERICAS:
The Federal Open Market Committee cut interest rates by 25 basis points to a target range of 1.5%-1.75%. This is the third time that the FOMC has voted to drop rates this year. Despite citing a strong labor market, inflation remains below the 2% target and manufacturing, as noted in a report released later in the day by the Commerce Department, has been declining. "This action supports the Committee's view that sustained expansion of economic activity, strong labor market conditions, and inflation near the Committee's symmetric 2 percent objective are the most likely outcomes, but uncertainties about this outlook remain. The Committee will continue to monitor the implications of incoming information for the economic outlook as it assesses the appropriate path of the target range for the federal funds rate," the committee noted in an official statement.
Economic growth in the US exceeded expectations during the third quarter according to data released by the Commerce Department this Wednesday. GDP rose to 1.9%, down -0.1% from the second quarter, but analysts had expected a growth of only 1.6%. Consumer spending, which accounts for two-thirds of GDP, spurred economic growth after rising by 2.9%. Government spending, unsurprisingly, also rose at a rate of 2%. The data was not all positive as manufacturing has continued to decline. Imports continue to supersede exports and the trade war is ever present in the economic data.
The Bank of Canada voted to maintain interest rates this Wednesday. The current 1.75% remains in effect, for now, but the bank cited in a separate report that they foresee the Canadian economy "will be increasingly tested as trade conflicts and uncertainty persist." Inflation remains relatively close to the targeted rate, but many believe the bank will feel compelled to cut if economic conditions lead to deflation. "In considering the appropriate path for monetary policy, the bank will be monitoring the extent to which the global slowdown spreads beyond manufacturing and investment," the central bank said in an official statement.
Brazil's Bovespa advanced to new highs this Wednesday as the country is successfully attracting foreign capital. Yesterday, President Bolsonaro announced that the sovereign fund of Saudi Arabia will invest up to $10 billion in Brazilian projects. Officials from Saudi Arabia said that they plan to use Brazil as a starting point to offer further investments in emerging Latin American markets.
US Markets:
Dow advanced 115.27 points or 0.43% to 27,186.69
S&P 500 advanced 9.88 points or 0.33% to 3,046.77
Nasdaq advanced 27.12 points or 0.33% to 8,303.97
Russell 2000 declined 4.23 points or -0.27% to 1,572.85
Canada Markets:
TSX Composite advanced 83.29 points or 0.51% to 16,501.43
TSX 60 advanced 6.05 points or 0.62% to 989.12
Brazil Market:
Bovespa advanced 851.28 points or 0.79% to 108,407.54
ENERGY:
The EIA report didn't follow suit with the IEA yesterday who reported a large build of Crude. The report helped push Brent down close to 2% but still holding on to the 60 USD region.
The oil markets had a mixed day today:
Crude Oil decreased 0.77 USD/BBL or -1.39% to 54.7854
Brent decreased 0.8 USD/BBL or -1.30% to 60.7035
Natural gas increased 0.081 USD/MMBtu or 3.12% to 2.6764
Gasoline decreased 0.012 USD/GAL or -0.71% to 1.6756
Heating oil decreased 0.0383 USD/GAL or -1.96% to 1.9154
Top commodity gainers: Natural Gas (3.12%),Cheese (7.67%),Milk (7.55%), and Lean Hogs (2.41 %)
Top commodity losers: Bitumen(-2.44 %), Heating Oil(-1.96%), Ethanol (-1.73%), and Crude Oil (-1.39%)
The above data was collected around 13:00  EST on Wednesday.
BONDS:
Japan -0.12%(-1bp), US 2's 1.64% (+0bps), US 10's 1.81%(-3bps), US 30's 2.30%(-3bps), Bunds -0.36% (-0bp), France -0.06% (-0bp), Italy 1.11% (+1bp), Turkey 12.84% (+5bp), Greece 1.21% (-50bp), Portugal 0.22% (-1bp), Spain 0.28% (-2bp) and UK Gilts 0.69% (-3bp).
German 5-Year Bobl Auction increased from -0.770% to -0.580%
Italian 5-Year BTP Auction increased from 0.26% to 0.42%
Italian 10-Year BTP Auction increased from 0.88% to 1.06%