Blog/Market Talk
Posted Oct 30, 2018 by Martin Armstrong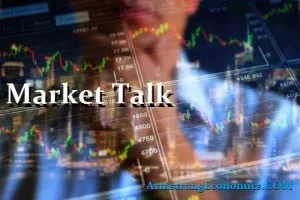 A similar trading pattern was seen in both the Shanghai and the Nikkei overnight opening at the days lows and positive correction for the balance of the day. The headline that regulators would encourage share buy-backs and promote M+A activity helped restore some much needed confidence to the market. Core China rallied just over 1% giving back a little towards the close. As the currency declined (last seen around 6.97) it pushes the 7 handle more into sight encouraging and balances the equity move. Weaker and weaker fixes have taken it to levels not seen consistently in nearly 10yrs. Trade headlines will continue to dominate tensions going forward, but it certainly looks as though china is planning for both eventualities. Japan's Nikkei recovered some of Tuesdays decline but only at the expense of the Yen weakness. During the day the currency gathered pace and eventually closed the US session in danger of changing handles to the 113 figure. A decline today of 0.5% gives the appearance this is the start of the next trend. Concerns over global trade and a declining Rupee are hanging over investor confidence in India. As money leaves the emerging market space the SENSEX needs to find domestic support to take-up the slack.
A mixed day for core European indices after weak economic data battled with strong corporate results. Growth slide in Q3 to 0.2% following Q2's 0.4% which put a bid under core European bond markets. BNP released marginally below expectation and watched its shares close down 2.8% managing a small bounce from earlier losses. On the positive side BP (FTSE listed) posted almost double expectation and closing up 2% on the day. This has provided a 4.5% YTD return and a YOY return of almost 9%. The Euro and GBP are under pressure as we approach the US close. Concerns over growth, Italy (again in the news following more budget headlines), peripheral budgets, BREXIT and the ensuing leadership figure head challenge following Merkel's fifth term rejection are all combining to pressure the economy whilst the US soldiers on. Italian BTP's lost another 15bp today following a less than impressive auction result.
A topsy-turvy day for US indices but did manage to spent most of their day in positive territory. One interesting development seen recently, is the falling level of Break-Evens and the seemingly refusal of Treasuries to follow them lower. This is implying the economy continues to slow as the spread gets narrower and narrower. Energy prices (-2%) were hit today also on fears of a slow-down, but can also be blamed on talk that Iran is front-loading exporting ahead of possibly more new sanctions. By the close all core indices had bounced around 1.65% as we monitor tomorrows month end closes. Data helped the bulls today when we saw Consumer Confidence produce the best number (137.9) in almost 20 years, whilst the previous release was marked down to 135.3. Month end tomorrow and NFP to be released Friday so still lots to play for. Interesting the capital flow continues heading to the USA, watch out for year end USD funding.
Japan 0.1%, US 2's closed 2.85% (+4bp), US 10's closed 3.12% (+4bp), US 30's 3.36% (+3bp), Bunds 0.37% (-1bp), France 0.74% (u/c), Italy 3.47% (+14bp), Turkey 17.30% (-36bp), Portugal 1.87% (+1bp), Spain 1.56% (+2bp) and Gilts 1.40% (u/c).