Blog/Market Talk
Posted Oct 3, 2019 by Martin Armstrong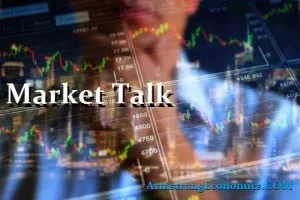 ASIA:
President Donald Trump said today that the Chinese delegation would be visiting the US next week for more trade talks. He also expressed that they are doing well. "I have a lot of options on China. But if they don't do what we want, we have tremendous power," he told media.
Hong Kong's authority is planning to place a ban on face marks, after the city has faced one of its worst weeks of violence after the 70th year anniversary of communist China.
The media has got a wind of the estimate that Southeast Asia's internet economy will hit 300 billion USD by 2025 as an increasing number of people embrace online apps, such as food delivery. This expansion marks a 200% growth rate over the next five years.
In Japan, immigrant detainees are going on hunger strikes in protest of Japan's tough stance toward asylum seekers.
The major Asian stock markets had a mixed day today:
Shanghai closed (public holiday)
Kospi closed (public holiday)
ASX 200 decreased 146.90 points or -2.21% to 6,493.00
NIKKEI 225 decreased 436.87 points or -2.01% to 21,341.74
Hang Seng increased 67.62 points or 0.26% to 26,110.31
SENSEX decreased 198.54 points or -0.52% to 38,106.87
The major Asian currency markets had a mixed day today:
AUDUSD increased 0.0040 or 0.59% to 0.6743
NZDUSD increased 0.0037 or 0.59% to 0.6304
USDJPY decreased 0.5000 or 0.47% to 106.6700
USDCNY decreased 0.0165 or 0.23% to 7.1291
Precious Metals:
Gold increased 14.14 USD/t oz. or 0.94% to 1,511.86
Silver increased 0.115 USD/t. oz or 0.66%% to 17.6361
Some economic news from last night:
Japan:
Foreign Bonds Buying increased from -164.8B to 869.2B
Foreign Investments in Japanese Stocks increased from -1,178.0B to -221.2B
Services PMI (Sep) decreased from 53.3 to 52.8
Australia:
AIG Services Index (Sep) increased from 51.4 to 51.5
Services PMI increased from 49.1 to 52.4
Exports (MoM) (Aug) decreased from 1% to -3%
Imports (MoM) (Aug) decreased from 3% to 0%
Trade Balance (Aug) decreased from 7.253B to 5.926B
New Zealand:
ANZ Commodity Price Index (MoM) decreased from 0.3% to 0.0%
Some economic news from today:
Singapore:
Manufacturing PMI (Aug) decreased from 49.8 to 49.5
EUROPE/EMEA:
The Trump administration added large tariffs on 7.5 billion USD worth of EU goods, mainly food products such as cheese and wine. The EU has announced they will also make retaliatory tariffs.  In which they did by introducing "rebalancing" tariffs on about 3 billion USD of US steel, agricultural, and other products. It will be interesting to see if other areas will be affected such as the automotive industry which is a key driver for Europe.
Germany seems to be slipping into recession. The composite managers index showed the European economy contracted for the first time in six years. The composite fell to 48.5 in September from 51.7 the previous month.
A senior Iranian official said that Iran has stopped a plot by joint Israeli and Arab spy agencies to assassinate the Islamic Revolutionary Guard Corps Major General Qassem Soleimani. Last weekend, Iran stated it now uses arrays of advanced centrifuges which can enrich uranium "much more beyond" current levels to weapons-grade material.
The major Europe stock markets had a mixed day today:
CAC 40 increased 16.00 points or 0.30% to 5,438.77
FTSE 100 decreased 44.90 points, or -0.63% to 7,077.64
DAX closed
The major Europe currency markets had a green day today:
EURUSD increased 0.0026 or 0.24% to 1.0984
GBPUSD increased 0.0104 or 0.84% to 1.2404
USDCHF increased 0.0005 or 0.05% to 0.9972
Some economic news from Europe today:
Spain:
Spanish Services PMI (Sep) decreased from 54.3 to 53.3
Italy:
Italian Composite PMI (Sep) increased from 50.3 to 50.6
Italian Services PMI (Sep) increased from 50.6 to 51.4
France:
French Markit Composite PMI (Sep) decreased from 52.9 to 50.8
French Services PMI (Sep) decreased from 53.4 to 51.1
Germany:
German Composite PMI (Sep) decreased from 51.7 to 48.5
German Services PMI (Sep) decreased from 54.8 to 51.4
Eurozone:
Markit Composite PMI (Sep) decreased from 51.9 to 50.1
Services PMI (Sep) decreased from 53.5 to 51.6
PPI (MoM) (Aug) decreased from 0.1% to -0.5%
PPI (YoY) (Aug) decreased from 0.1% to -0.8%
Retail Sales (MoM) (Aug) increased from -0.5% to 0.3%
Retail Sales (YoY) (Aug) decreased from 2.2% to 2.1%
UK:
Composite PMI (Sep) decreased from 50.2 to 49.3
Services PMI (Sep) decreased from 50.6 to 49.5
Norway:
House Price Index (YoY) (Sep) remain the same at 2.60%
US/AMERICAS:
China is the latest player in the Biden-Ukraine scandal. In 2013, Joe Biden's son Hunter allegedly accompanied his then VP father on a trip to China where he attempted to form a private equity fund. According to reports, China issued Hunter Biden a business license to operate in their country shortly afterward. However, President Trump has repeatedly noted that it would be in China's best interest to negotiate trade with a Democratic president, therefore asking China to investigate the Bidens could backfire.
The sell off in equities is correlating with a drop in mortgage rates in the US. According to Freddie Mac, the demand for mortgages has increased by nearly 50% YoY, largely due to homeowners refinancing to take advantage of the lower rates of interest. Compared to last year, rates have decreased by around 1.25 basis points: the average rate for 30-year mortgages now stands at 3.65%; 15-year mortgages averaged 3.14%.
Brazil's service sector strengthened to its highest level in six months, according to new IHS Markit PMI data. September's PMI reading advanced to 51.8 from 51.4 the month prior. This is the third consecutive month with a PMI level above 50, which indicates growth in economic activity. Nearly 70% of all economic activity in the country is derived from the service sector, signaling strength in the economy despite a recent plunge in Brazilian stock indexes.
US Market Closings:
Dow advanced 122.42 points or 0.47% to 26,201.04
S&P 500 advanced 23.02 points or 0.80% to 2,910.63
Nasdaq advanced 87.02 points or 1.12% to 7,872.27
Russell 2000 advanced 6.72 points or 0.45% to 1,486.35
Canada Market Closings:
TSX Composite advanced 58.06 points or 0.36% to 16,369.03
TSX 60 advanced 2.82 points or 0.29% to 978.16
Brazil Market Closing:
Bovespa advanced 484.60 points or 0.48% to 101,516.04
ENERGY:
The EIA report showed that this has been a record year in terms of average US crude oil exports. Canada was the top foreign destination, rising 3% this year. Chinese purchases of US crude fell by 64% due to the trade war, however western Europe rose by 66%.
The oil markets had a mixed day today:
Crude Oil decreased 0.74 USD/BBL or -1.41% to 51.7929
Brent decreased 0.63 USD/BBL or -1.09% to 57.1731
Natural gas increased 0.018 USD/MMBtu or 0.80% to 2.2639
Gasoline decreased 0.004 USD/GAL or -0.26% to 1.5428
Heating oil decreased 0.0277 USD/GAL or -1.48% to 1.8487
Top commodity gainers: Lumber (1.86%), Oat (1.59%), Lean Hogs(1.09%), and Cocoa (0.89 %)
Top commodity losers: Cotton(-3.09 %), Ethanol (-2.69%), Rubber (-2.30%), and Sugar (-1.86%)
The above data was collected around 11:15 EST on Thursday.
BONDS:
Japan -0.19%(-3bp), US 2's 1.46% (-2bps), US 10's 1.59%(-1bps), US 30's 2.08%(-1bps), Bunds -0.58% (-3bp), France -0.27% (-3bp), Italy 0.85% (-5bp), Turkey 13.34% (-4bp), Greece 1.36% (-34bp), Portugal 0.16% (-3bp), Spain 0.15% (-3bp) and UK Gilts 0.48% (-2bp).
French 10-Year OAT Auction increased from -0.36% to -0.24%
Spanish 10-Year Obligacion Auction decreased from 0.210% to 0.115%
US 4-Week Bill Auction decreased from 1.880% to 1.750%
US 8-Week Bill Auction decreased from 1.860% to 1.710%