Blog/Market Talk
Posted Oct 29, 2020 by Martin Armstrong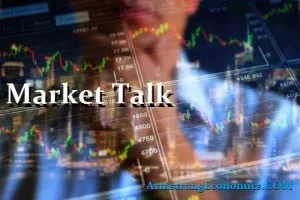 ASIA:
Chinese leaders met Monday to formulate an economic blueprint for the next five years that is expected to emphasize the development of semiconductors and other technology at a time when US is cutting off access to US technology. President Xi Jinping's government is working to promote self-sustaining growth supported by domestic consumer spending and technology development as tensions with trading partners hamper access to export markets and technology. The Five-Year Plan, the 14th in a series issued since the 1950s, is the foundation for government industrial plans in the heavily regulated economy.
China was the top foreign buyer of Indian steel between April and September, government data showed on Wednesday, marking a rare rise in bilateral economic activity at a time of political tensions that have triggered some trade curbs. China bought 1.9 million tonnes, cornering 29% of India's finished steel exports, which hit their highest in at least six years at 6.5 million tonnes, the provisional data analysed by Reuters showed. With the Indian economy contracting because of the coronavirus pandemic, domestic demand for steel has been weak, and producers have been offloading their surpluses to Chinese buyers.
Indian refiners have turned their focus to raising production of petrochemicals to cater for rising demand and help hedge against lower refined fuel margins, the country's oil secretary and company officials said on Wednesday. At present Indian refiners are geared up to maximize output of diesel, which makes up about two-fifths of refined fuel demand in Asia's third-largest economy. The country's top refiner Indian Oil Corp aims to raise the proportion of petrochemicals from each barrel of oil it processes to 20%, from the current level of between 8% and 10%, its chairman S.M. Vaidya said at the event.
The major Asian stock markets had a mixed day today:
NIKKEI 225 decreased 86.57 points or -0.37% to 23,331.94
Shanghai increased 3.49 points or 0.11% to 3,272.73
Hang Seng decreased 122.20 points or -0.49% to 24,586.60
ASX 200 decreased 97.40 points or -1.61% to 5,960.30
Kospi decreased 18.59 points or -0.79% to 2,326.67
SENSEX decreased 172.61 points or -0.43% to 39,749.85
Nifty50 decreased 58.80 points or -0.50% to 11,670.80
The major Asian currency markets had a mixed day today:
AUDUSD decreased 0.00327 or -0.46% to 0.70155
NZDUSD decreased 0.00391 or -0.59% to 0.66076
USDJPY increased 0.34 or 0.32% to 104.64
USDCNY decreased 0.00978 or -0.15% to 6.71608
Precious Metals:
Gold decreased 8.64 USD/t oz. or -0.46% to 1,868.42
Silver decreased 0.06 USD/t. oz or -0.26% to 23.350
Some economic news from last night:
Japan:
Foreign Bonds Buying decreased from 422.3B to -1,010.8B
Foreign Investments in Japanese Stocks increased from -93.9B to 228.4B
Retail Sales (YoY) (Sep) decreased from -1.9% to -8.7%
BoJ Interest Rate Decision remain the same at -0.10%
South Korea:
Manufacturing BSI Index (Nov) increased from 70 to 78
Australia:
Export Price Index (QoQ) (Q3) decreased from -2.4% to -5.1%
Import Price Index (QoQ) (Q3) decreased from -1.9% to -3.5%
NAB Quarterly Business Confidence increased from -15 to -10
New Zealand:
ANZ Business Confidence (Oct) increased from -28.5 to -15.7
NBNZ Own Activity (Oct) increased from -5.4% to 4.7%
Indonesia:
Motorbike Sales (YoY) increased from -46.90% to -33.10%
Some economic news from today:
Japan:
Household Confidence (Oct) increased from 32.7 to 33.6
India:
Federal Fiscal Deficit (Oct) increased from 8,703.47B to 9,139.93B
Infrastructure Output (YoY) (Oct) increased from -7.3% to -0.8%
EUROPE/EMEA:
Responding to concerns set out by Jeremy Miles, Wales's Minister for European Transition, UK minister Michael Gove said Britain will not back down on its demands to the European Union over fisheries in an Oct. 26 letter sent to a minister in the devolved Welsh government. He also said "The UK Government's view is that in all circumstances, the UK must be an independent coastal state, no longer be bound by the Common Fisheries Policy."
The United Kingdom has entered into a strategic partnership to develop India's fledgling international financial services centre GIFT City, and agreed to set up a new Fund of Funds to be managed by the State Bank of India group in order to route U.K.'s future capital investments into India. India and U.K. also signed off on a new infrastructure finance and policy partnership to help India execute its National Infrastructure Pipeline that envisages investments worth $1.4 trillion, at the tenth Economic and Financial Dialogue (EFD) between the two countries steered by U.K. Chancellor Rishi Sunak and Finance Minister Nirmala Sitharaman on Wednesday. Bilateral trade between India and the U.K. stood at £24 billion in 2019 and India is now the second-largest project investment source for the U.K, an Indian online news agency reported.
French President Emmanuel Macron and German Chancellor Angela Merkel ordered their countries back into lockdown on Wednesday, as a massive second wave of coronavirus infections threatened to overwhelm Europe before the winter. World stock markets went into a dive in response to the news that Europe's biggest economies were imposing nationwide restrictions almost as severe as the ones that drove the global economy this year into its deepest recession in generations. Under the new French measures which come into force on Friday, people will be required to stay in their homes except to buy essential goods, seek medical attention, or exercise for up to one hour a day. They will be permitted to go to work if their employer deems it impossible for them to do the job from home. Schools will stay open.
The major Europe stock markets had a mixed day:
CAC 40 decreased 1.45 points or -0.03% to 4,569.67
FTSE 100 decreased 1.05 points or -0.02% to 5,581.75
DAX 30 increased 37.56 points or 0.32% to 11,598.07
The major Europe currency markets had a mixed day today:
EURUSD decreased 0.00869 or -0.74% to 1.16611
GBPUSD decreased 0.00745 or -0.57% to 1.29115
USDCHF increased 0.00569 or 0.62% to 0.91627
Some economic news from Europe today:
Spain:
Spanish Business Confidence increased from -9.5 to -9.2
Spanish CPI (MoM) increased from 0.2% to 0.5%
Spanish CPI (YoY) decreased from -0.4% to -0.9%
Spanish HICP (MoM) increased from -0.6% to 0.3%
Spanish HICP (YoY) (Oct) decreased from -0.6% to -1.0%
Germany:
German Unemployment Change (Oct) decrease from -10K to -35K
German Unemployment Rate (Oct) decreased from 6.3% to 6.2%
German Unemployment (Oct) decreased from 2.899M to 2.863M
German Unemployment n.s.a. (Oct) decreased from 2.847M to 2.760M
German CPI (YoY) (Oct) remain the same at -0.2%
German CPI (MoM) (Oct) increased from -0.2% to 0.1%
German HICP (YoY) (Oct) decrease from -0.4% to -0.5%
German HICP (MoM) (Oct) increased from -0.4% to 0.0%
Italy:
Italian Business Confidence (Oct) increased from 92.6 to 95.6
Italian Consumer Confidence (Oct) decreased from 103.3 to 102.0
UK:
BoE Consumer Credit (Sep) decreased from 0.285B to -0.622B
M4 Money Supply (MoM) (Sep) increased from -0.5% to 0.9%
Mortgage Approvals (Sep) increased from 85.53K to 91.45K
Mortgage Lending (Sep) increased from 3.03B to 4.83B
Net Lending to Individuals increased from 3.3B to 4.2B
Euro Zone:
Business and Consumer Survey (Oct) remain the same at 90.9
Business Climate (Oct) increased from -1.20 to -0.74
Consumer Confidence (Oct) remain the same at -15.5
Consumer Inflation Expectation (Oct) increased from 12.5 to 13.3
Selling Price Expectations (Oct) increased from -1.3 to 0.6
Services Sentiment (Oct) decreased from -11.2 to -11.8
Industrial Sentiment (Oct) increased from -11.4 to -9.6
Deposit Facility Rate (Oct) remain the same at -0.50%
ECB Marginal Lending Facility remain the same at 0.25%
ECB Interest Rate Decision (Oct) remain the same at 0.00%
US/AMERICAS:
Wall Street closed in the green today after facing some of the worst losses seen this quarter on Wednesday. Apple led the Dow's advancement after rising 4.12%, followed by Chevron (3.05%), and Disney (2.9%). CBRE Group spiked 16.87%, leading the S&P 500's advancement, followed by Twitter (8.16%), and Martin Marietta Materials (7.21%). The Nasdaq was pushed higher by KLA-Tencor (5.81%), Facebook (4.8%), and IDEXX Laboratories (4.54%).
The US economy is recovering at a faster than anticipated rate, according to data released today by the Commerce Department. GDP growth spiked 33.1% in Q3, a firm rebound from the -31.4% plunge experienced during Q2. Although the economy is beginning to heal, the future remains volatile as more states continue to implement lockdown restrictions, and certain industries, such as travel and hospitality, remain weak. Unemployment still sits at 7.9%, which is over twice the number of Americans out of work before the coronavirus crisis began.
US Defence Secretary Mark Esper cleared rumors that the military was planning an attack on China through the South China Sea. In other news, Secretary of State Mike Pompeo is planning to visit Indonesia to strengthen ties in the area despite China's claims that it is "unlawful" for the US to hold military practices in those waters. "I am looking forward to co-operating together in the new ways to ensure maritime security protects some of the world's busiest trade routes," Pompeo said during a virtual conference.
Amazon grew 37% this quarter, reporting an astounding $92.7 billion in revenue. Earnings per share were expected to come in at $7.41 but reached $12.37. The stock advanced 1.5% in after-hours trading.
The coronavirus crisis has decimated the cruise industry. Royal Caribbean posted a negative revenue during Q3 after declining 101% YoY. Revenue for the quarter declined -33.67 million, with an earning per share of -$5.62. They expect to endure another loss during Q4 as restrictions continue to tighten and travelers actively avoid crowded cruise ships.
US Market Closings:
Dow advanced 139.16 points or 26,659.11
S&P 500 advanced 39.08 points or 1.19% to 3,310.11
Nasdaq advanced 180.73 points or 1.64% to 11,185.59
Russell 2000 advanced 18.3 points or 1.19% to 1,561.58
Canada Market Closings:
TSX Composite advanced 84.13 points or 0.54% to 15,670.7
TSX 60 advanced 3.93 points or 0.42% to 934.83
Brazil Market Closings:
Bovespa advanced 1,213.4 points or 1.27% to 96,582.16
ENERGY:
The oil markets had a mixed day today:
Crude Oil decreased 1.52 USD/BBL or -4.07% to 35.8700
Brent decreased 1.68 USD/BBL or -4.29% to 37.4400
Natural gas increased 0.29 USD/MMBtu or 9.51% to 3.2810
Gasoline decreased 0.04 USD/GAL or -4.02% to 1.0379
Heating oil decreased 0.03 USD/GAL or -3.02% to 1.0806
The above data was collected around 12:50 EST on Thursday
Top commodity gainers: Natural Gas (9.51%), Ethanol (4.08%), Feeder Cattle (1.17%), and Live Cattle (0.73%)
Top commodity losers: Crude Oil (-4.07%), Bitumen (-5.52%), Brent (-4.29%), and Rubber (-4.71%)
The above data was collected around 12:57 EST on Thursday.
BONDS:
Japan 0.03%(+1bp), US 2's 0.15%(-0bps), US 10's 0.81%(+3bps); US 30's 1.60%(+2bps), Bunds -0.62% (+0bp), France -0.35% (-2bp), Italy 0.69% (-8bp), Turkey 14.17% (+11bp), Greece 0.98% (-7bp), Portugal 0.12% (-5bp); Spain 0.14% (+1bp) and UK Gilts 0.22% (+1bp).
US 4-Week Bill Auction decreased from 0.085% to 0.080%
US 8-Week Bill Auction decreased from 0.090% to 0.085%
US 7-Year Note Auction decreased from 0.462% to 0.000%
Italian 10-Year BTP Auction decreased from 0.89% to 0.79%
Italian 5-Year BTP Auction decreased from 0.35% to 0.23%