Blog/Market Talk
Posted Oct 28, 2016 by Martin Armstrong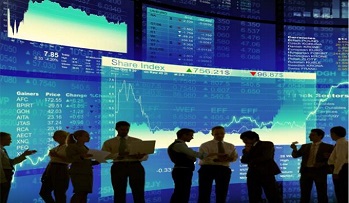 Energy prices were hit quite quickly after a significant bounce upon the EIA news and that played out overnight in Asia. Energy stocks dragged the Hang Seng lower again today with the index closing down around 0.8% on the day. In Japan BOJ governor, Kuroda, said that he would not be surprised if long term JGB's (>10yrs) yields were to rise a little. The Nikkei took this negatively, but then has recovered in futures trading since the -0.3% cash decline. It did start a bit of a sell-off in JGB's in Japan but is also unnerving bond markets in Europe – probably more a realisation that manipulating the bond market does not create growth.
Deutsche Bank and Barclay's earnings dominated the talk as the release beat forecasts but it was short-lived as economic data was soon to take the lead headline. UK Q3 GDP beat expectations of 0.3% with a print of 0.5% but below the previous 0.7% in Q2. It is significant in that the data is post the BREXIT vote and this morning we continue to watch the Gilt market re-price the BOE pre-vote alarms. GBP was the point of pressure as we saw the currency lose 0.75% against the USD on the day. Other core indices closed marginally unchanged (DAX +0.01%; CAC -0.01% and IBEX +0.1%) as the focus was more fixed-income that equity.
The US market opened on a positive note early session as it benefited from both currency declines and marginally better economic data (Home Sales est. +1.2% actual +1.5%). Durables were lower than forecasts but as it is such a volatile release it was considered acceptable within the range. However, the currency reversed course which turned stocks small negative and was hit as oil declined. By the close stocks were off small with the NASDAQ the poor relation closing 0.5% lower on the day.
Lots of nerves in the Bond markets today with economic data, the BOJ comment and additional supply all unsettling a market that is, not only due a correction has finally started to question the effectiveness of QE! After-all, Japan has hidden behind it since the early 90's and has still not recovered! All core markets were hit with US curve steepening 4bp today 2/10's.. 2's closed 0.89% against a 1.85% 10's. Europe certainly wobbled today after they heard Kuroda's comment around Super-long JGB's and all that led to 10yr Bunds losing 9bp to close 0.17% today. This puts the US/Germany spread at +168bp (2.5bp tighter than yesterday). Italy 10's closed 1.53% (+8bp), Greece 8.21% (+12bp), Turkey 9.75% (+5bp) also TRY lost over 1% against USD today – weakest in many years; Portugal 3.25% (+8bp) and finally UK Gilts 1.25% +10bp and the currency lost 0.75%.