Blog/Market Talk
Posted Oct 27, 2017 by Martin Armstrong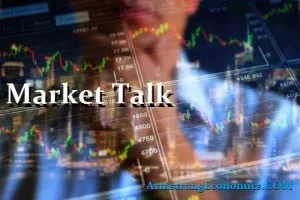 The close of a healthy week and the Nikkei manages a close above the 22k figure. It has been flirting with the 22 handle all week and finally takes the YTD close above 15% and the 1yr to 27%. Initially, the rally was helped by the weaker Yen, which earlier was trading 114.20. This move has been constructive for exporters but the banks really have found fresh impetus as talk of higher yields circulate the markets. JGB 10yr touched almost 8bp in early trading when back in September they were negative. Lot of talk that Japan is feeling optimistic again and hoping to get back to double digits that they saw in February of this year! Shanghai and Hang Seng were also bid with banks (+3%) again leading much of the advance. Interesting that many are now pointing fingers towards the ECB and claiming they are the pushing money away, but lots on next week could be volatile. Australian dollar was weaker again following the coalition lose in parliament. ASX still lower, even with a lower dollar, Maquarie (+4%) beat expectations but banks (-1%) on the whole were weaker. It did manage a bounce on the Spanish news but rolled again just at the US close.
Weaker Euro has helped European equity markets and were supported by earnings, but the move continues to unsettle nerves. The ECB would not have pushed purchases further if this were that simple – they obviously remain worried and that is being reflected in markets. The CAC (+0.7%) set fresh ten year highs and the DAX (+0.6%) new highs (Auto's better Banks lower). The late news that Catalonia had declared independence one hour after Madrid approved direct rule over the region; IBEX lost almost 1.5% on the day. Late in the day we hear that Spanish PM Rajoy has fired the Catalan leader and dissolved the government which will only accelerate the capital flow away from Europe given even more uncertainty. Probably good news its the weekend and see how things unfold over the next two days. Worth keeping in mind that the markets are not pricing this news in too much, many still believe it will be sorted soon….
NASDAQ and S+P hit more fresh highs in early trade on the back of continued earnings beat, with gains of over 2% and 1% respectively. Amazon, Alphabet (Google) and Microsoft recording huge daily gains. the news midday coming from Spain did hinder the DOW's run but looks to be only marginal. All this was helped by the Q3 GDP report which released at 3% against expectations of 2.5%. Late in the day Consumer Confidence just missed estimates releasing at 100.7 below the 100.8 forecast. We hear from BOJ, BOE and the FED next week with US unemployment next Friday. The BOE may well pass on any rate hike (given the this weeks Retail Sales print), while the FED and ECB work in opposite directions – what could possibly go wrong!
2's closed 1.59% (-1bp), 10's 2.42% (u/c), 30's 2.93% (u/c), Bunds 0.38% (-6bp), France 0.79% (-5bp), Italy 1.94% (-2bp), Greece 5.44% (-1bp), Turkey 11.59% (+4bp), Portugal 2.16% (-8bp), Spain 1.57% (+3bp), and Gilts 1.35% (-4bp).
The Spanish news did come late for many European markets so we will probably see more reaction on Monday. Much talk within the markets is still that the markets are broken with many just sitting on the side-lines or investing outside of their own core currency base.