Blog/Market Talk
Posted Oct 26, 2018 by Martin Armstrong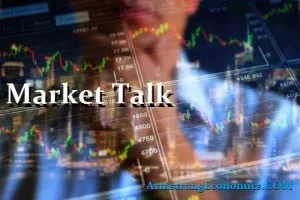 Initial early gains were lost as the lack of momentum continues to weigh on sentiment. Markets are getting used to large intraday price swings and the consequence is the lack of conviction and follow-through. Core China markets have suffered more than most this year, but the 8% decline in the Shanghai in October alone just adds to the uncertainty. Many had hoped that having already taken a beating this year, that it may have held-up a little better – that was not to happen. Money is leaving not just China but Asia. It is only late this afternoon in US trading that even the Yen is finding a bid in all the volatility. Chinese money has been de-leveraging as the fear of trade wars adds the unknown into the mix. Obviously, the strong US Dollar isn't helping and that looks to be about to enter a new phase of momentum. Talk that China will no longer purchase Iranian oil imports would certainly help assist when US trade talks commence. The heavily weighted HSI lost almost 1% on Friday as tech saw heavy liquidations. Financials led the SENSEX lower but also concerns over negative INR flow and fears of rising energy costs.
Europe traded heavy all day and dipped just ahead of the close as nerves over weekend headlines spooked longs. The CAC led the way south with a broad range of sectors helping it lower and closing off 1.3% taking its YTD return down to -6.5%. The concern for the CAC is that with todays decline it extends the month to date return to -10.34% but beaten by the Italian FTSE MIB at -13.15% (-17% YTD) and the DAX -13.3% on the month and -15.3% YTD. Financials and real estate have lost momentum this year, but interesting it is the tech that dominates headlines because of the sizeable shocks. Even in US indices its housing and real estate that underperform and that is much of European banks balance sheets, with the additional risky exposure to emerging markets. The ECB continues to play in core bond markets leaving only Junk credit to absorb liquidity, assuming they hedge fx exposure. Monday we'll hear more details
Semiconductors and homebuilders have been the underperforming sectors with losses close to 35% YTD. Many are blaming rising interest rates for real estate and over valuations for tech. The GDP figure released better than expected but the overhang from last nights tech earnings was to weigh on sentiment. Next week we still have Facebook and Apple to report but it remains the market mood that continues to dominate. The numbers for the month are a wake up call, but in comparison to global returns the US indices are fairing much better. Markets are concerned about upcoming mid-terms but only enough to bring them back to flattish for the year. The global demand for US Dollars is what will could be the major force into year end. With money returning home it needs to be deployed in-house, which may well explain recent CLO explosion releasing the demand for junk debt and even the flattening yields curve gets a mention. Month end next week so keep a very close eye on the levels.
Japan 0.10%, US 2's closed 2.81% (-5bp), US 10's at 3.08% (-6bp), US 30's 3.32% (-3bp), Bunds 0.35% (-5bp), France 0.73% (-4bp), Italy 3.44% (-5bp), Turkey 17.66% (-13bp), Portugal 1.90% (-3bp), Spain 1.56% (-2bp) and Gilts 1.38% -6bp).