Blog/Market Talk
Posted Oct 25, 2018 by Martin Armstrong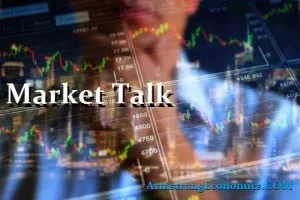 Asia woke to the 600 point drop in the DOW and knew it was going to be tough going from the opening bell. The Nikkei probably took the brunt of the punishment falling almost 4%, but what was interesting was that the Yen failed to see the safe-haven bid. The Nikkei is now down over 6% on the YTD reference, while the currency is flat year to date. The Yen has lost over 7% since its March highs. Given the global slowdown the impact is being felt not just on producer economies but also emerging markets such as the SENSEX. The A$ is seeing a little support in the high 0.70's, but it is the demand for USD forward funding that is spreading rising borrowing costs everywhere outside of the USA. It was the performance in the Shanghai index that Europe responded to and set US futures markets on their way back up.
Europe opened negative but a steady bid aided by strong UBS results, a large enough name to help restore confidence. The main event was always going to be the ECB announcement lunchtime followed by the Q+A session at 13:30 BST. Following the expected unchanged across the board, it was left to currency to react to Mr Draghi's headlines. These led to more US Dollar performance in both spot and forwards. By late US trading Sterling was flirting with a 1.27 handle, a decline of -0.55% and the Euro had fallen -0.4% trading mid 1.13's. Seeing the unchanged announcement did very little, but the comment that rates would probably remain with little change until summer 2019. Maybe he is not seeing the same set of economic data we are, but looks as though the December meeting may have to be some back-tracking! He does not see any reason to doubt the inflation forecasts offered last month (picking-up by year end) – oh well, makes a market! Italian debt was supported after the ECB conference call, tightening over 11bp to sub 3.5%. More ratings clarification Friday. Core indices rallied between UK FTSE +0.5% to CAC at +1.6%. UK FTSE at close this evening is down 9% YTD and DAX off 12% YTD. Interesting that both the Euro and GBP have also lower by 5% against the US Dollar, not a great year for US money being away from home. Actually, over three years GBP has lost 16% against the USD. Late US we see the headline, "BREXIT talks put on hold as May government cannot agree"! Sterling breaks down to 1.27 figure.
Fresh money, good volume and more solid earnings (TESLA also announced $311mio profit) and they turn and chase the offers. Yesterday you could find a bid and today its offers they search! A couple of big names report after the close, but this performance will go a long way to boost Asia even if only the equity markets. Good to see the corporate results are building on the Q1 and Q2 trend. The currency market has seen Dollars bid everywhere. Even the traditional safe-haven Yen was not top be this week. After hours some disappointing key releases have turned the tech sector futures. Amazon and Alphabet retuning some of todays gains, but remember still sitting pretty on YTD returns. Sentiment for tomorrow will be reflective of these results, but also looking at Europe and notably Italian credit rating and BREXIT headlines for the weekend. Big question may well be should attention be moving away from tech sectors for the next few weeks – keep an eye on next weeks month end closes!
Japan 0.11%, US 2's closed 2.86% (+3bp), US 10's at 3.14% (+3bp), US 30's 3.35% (+2bp), Bunds 0.4% (+1bp), France 0.77% (u/c), Italy 3.49% (-11bp), Turkey 17.79% (-53bp), Portugal 1.93% (-4bp), Spain 1.58% (-4bp) and Gilts 1.44% (-1bp).