Blog/Market Talk
Posted Oct 25, 2017 by Brittany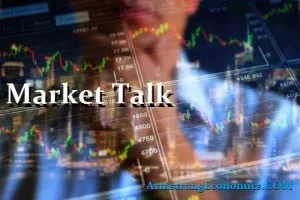 As you probably expected, Asia opened firmer following the strong US performance. For the majority this remained the trend for the day but not for the Nikkei. Having seen 16 positive closes in a row, today was time for a rest. We saw some profit-taking and a reversal after the strong open, eventually drifting close to 200 points in afternoon trading. Since the cash close we are seeing the Yen trade weaker which is being reflected positively in the Nikkei futures. We are seeing some reaction to the A$ decline after domestic Q3 CPI missed (1.8% release but 2% forecast). The A$ weakness has extended into European and US trading taking the days decline to -1.15% at 0.7685. In late US trading Nikkei futures have weakened with US indices but only marginal (-0.3%). Shanghai and Hang Seng cash markets both closed better finally putting any internal structural announcements behind them. However, the futures are reacting to US markets and are currently around 0.8% lower from the close.
Europe is really keen to wait and see how the ECB goes tomorrow before disclosing its hand. However, time is one commodity it is not control of and so we saw indices decline in sympathy with US markets. The currency took its toll on the UK's FTSE, closing over 1% lower on the day. The GBP did help international investors however, with a 0.9% climb against the USD. This came on the back of better than expected GDP at +0.4% against an expected +0.3% forecast. In Germany the IFO Business Climate Index rose more than the expected 115.3 to release at 116.7. The news most have been waiting for this week comes tomorrow if the form of the ECB. Clearly, todays US weakness took its toll, markets are trading nervous so lets wait for the ECB news.
In a week where we have so many top corporates reporting it took a few misses to turn sentiment. Boeing was probably the start and we did not recover from there. From the opening bell stocks traded heavy and at one stage saw a 200pt decline in the DOW. We did manage a midday bounce but only to be sold yet again. Durable Goods Orders bear the 1% expectation, releasing at +2.2% but this is a notoriously volatile number anyway. Still a batch of Tech earnings due tomorrow but markets has shown it is not a one way play guaranteed. GDP releasing later which should shed some light on the potential FED December move. Next FED Chair still a hot topic but we did hear late that Gary Cohen is doubtful to be the chosen one.
2's closed 1.60% (+2bp), 10's 2.44% (+3bp), 30's 2.95% (+3bp), Bunds 0.48% (+1bp), France 0.88% (u/c), Italy 2.02% (-2bp), Greece 5.48% (+3bp), Turkey 11.38% (+3bp), Portugal 2.26% (-2bp), Spain 1.63% (-2bp) and Gilts 1.40% (+5bp).