Blog/Market Talk
Posted Oct 23, 2017 by Martin Armstrong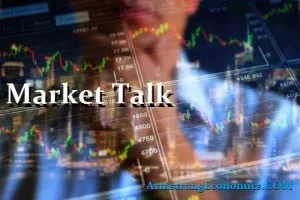 In Japan Shinzo Abe is back in, Czech Republic has taken a step to the right, Catalonian crisis is back in the headline (if it were ever out in the past few weeks), China unemployment hits a low and even an almost political edge from Janet Yellen on Friday evening has given us food for thought to open trading for this week. The success of the LDP Party helped the Nikkei make two decade highs by adding another 1% today, which continues to look strong, but remember to be wary of the currency (seen late today closing-in on the 114 handle), especially with Abe now in a stronger position and BOJ at month end. The Nikkei has gained 8% in three months. A$ has seen no support and now drifts through the 0.78 level. Late in US trading day we watched a weak close which saw the Yen gain a bid trading close to the 113 handle.
Spain's IBEX suffered from the opening with continued political uncertainty and resulted in a -0.7% decline on the day, which even hit Portugal's index that closed down -0.3%. Core Europe watched Asian strength and that helped confidence with positive closes for DAX, CAC and FTSE. It could be an exciting week as we approach the ECB meeting on Thursday. The key many will be listening for is guidance surrounding QE and any expectation of reducing participation in the peripheral bond market. Interesting that although core indices closed better, we still saw weakness in some of the European financials with BBVA, Banco Santander, Deutsche Bank and Commerzbank all down around 1.5% on the day, worth monitoring the difference with US banks. The Euro also saw pressure against the USD losing -0.5%.
US Q3 GDP later this week will be a major focal point especially for the Tech industry with many of them releasing results after hours Thursday. GE had another volatile day after Fridays fun and games. Having traded down over 7% on Friday, the stock did manage a positive close, but that was not to be the case today with a 6.5% decline taking the YTD decline of close to -24% and eventually had a negative effect on the DOW on rumours of a dividend cut. We have just opened a huge earnings week with 172 companies in the S+P to reporting over the next few days. It should not really be a surprise therefore, that record morning highs for the S+P, NASDAQ and DOW were all rejected by the close, in anticipation of eventual profit-taking. The final hour of trading looked heavy with all sectors being hit into the close led by the Russell -0.8% and NASDAQ -0.7%. As stocks drifted so we saw a revived bid for gold. Not really that much but was obvious the safety bid did play a role. Given this uncertainty treasuries found a bid with a 1bp parallel decline across the curve.
2's closed 1.57% (-1bp), 10's 2.37% (-1bp), 30's 2.88% (-1bp), Bunds 0.43% (-2bp), France 0.83% (-3bp), Italy 1.99% (-4bp), Greece 5.47% (+1bp), Turkey 11.30% (+3bp), Portugal 2.26% (-1bp), Spain 1.61% (-4bp), Gilts 1.31% (-2bp).