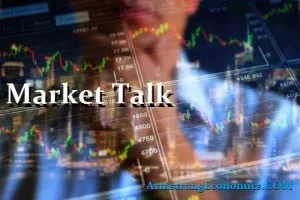 The weak US session did not help retain Asia's confidence overnight and we see the result of nerves returning. Yesterday's performers were todays victims, with most losses being centred round the Nikkei, Shanghai and the Hang Seng. The interesting thing for Japan is that although we saw a 2.65% decline in the Nikkei and we hardly saw a flight to safety in the Yen. Even with US markets hitting their days lows (-2.5%) the Yen managed to retain the 112 handle after a brief flurry into the 111's. Shanghai and the Hang Seng closed off 2.26% and 3.08% respectively and both on their days lows. ASX also on the low, off 1.05% but with the currency now threatening to breach into a 69 handle confidence around the whole region is looking weak. Index performances remain poor as capital flows West, any rally is being sold but more concerning is the lack of fresh money finding its way there. Leverage is being unwound and finding solace back in short term money instruments and tangible goods.
Disappointing earnings, the Italian budget surprise (for some), BREXIT and geopolitical uncertainties continue to scare markets. Renewed fears of slowing growth also hit exchanges with the DAX being hit hardest (-2.17%). The European Commission has rejected the Italian budget offer and suggested they reconsider their proposal. Italy now has three weeks to calculate a new offer. At 2.4% they are under the 3% of GDP allowed, but their heavy debt burden (130% of GDP) counter-balances this number. By comparison Greece stands at 175%, Portugal 125% and Belgium a touch over 100%. This announcement obviously hit BTP's out 10bp (closing at 3.59%) which widens the Germany/Italy 10yr spread to 318bp. Italian 10yrs has lost 76bp (lower price higher yield) this month and almost 160bp YOY. In all this panic we also saw Turkish debt lose ground widening over 50bp to 18.86%. In all regions investors are nervous especially given the variety of performances across the globe. Money continues to make its way west with the reserve currency benefiting all the way. US indices remain the stars and the currency building daily. Year end funding is still bid for USD's but it will be interesting if this time the pressure actually releases come January!
In higher than normal volume the US market had a whipsaw of a day, but only to finish still down. At one stage all of the major indices were off nearly 2.5%, which put them then over 7% lower for the month. However, as we saw the bounce back was very impressive and with higher than normal volume bodes extremely encouraging for the Asia open. Earnings are still in season for both sides of the water but European numbers will be watched very closely for health. It is Europe that continues to underperform, as most have already thrown in the towel for Asia. Energy prices have suffered with all the talk of slowdown but also on the talk that Saudi is prepared to make-up for any shortfall in production. At least this should provide a short-term relief for India.
Japan 0.14%, US 2's closed 2.88% (-3bp), US 10's closed 3.17% (-2bp), US 30's 3.37% (-1bp), Bunds 0.41% (-4bp), France 0.78% (-4bp), Italy 3.59% (+11bp), Turkey 18.86% (+51bp), Portugal 2% (u/c), Spain 1.66% (-3bp), and Gilts 1.47% (-6bp).
The US equity bounce came too late for European markets to react and so we should look for the reaction upon Wednesdays opening. Peripheral debt and the Euro will offer leads for month end targets.